by Colleen Bell|Arts & Culture Editor
The 13th annual Individual World Poetry Slam (iWPS) was held in downtown Spokane last week, Oct. 11-14. The four-day festival included a slam competition between 96 of the world's premier slam poets, as well as open mics and workshops at a variety of downtown venues.
Slam poetry is a medium by which poets compete through recitation, or performance poetry. The style of competition was developed in Chicago in the 1980s as a method of moving poetry out of academia and into the general audience, according to Poetry Slam, Inc.
iWPS aims to continue this mission on an international scale. The competition includes a series of preliminary rounds, with the top fourteen poets competing on the final stage. This year, the finals were held at the Bing Crosby Theatre.
The event is entirely coordinated by volunteers. Even the judges are selected from the audience. As the audience assembles, event volunteers make their way through the crowd asking if anyone would like to judge, until five audience members have volunteered. Poets are scored on a scale of 0-10 by each judge, with the highest and lowest scores being neglected and the remaining three added to yield a score from 0-30. Bouts consist of two rounds with varying time limits, and poets cannot repeat poems throughout the competition.
Candy Coleman, this year an event coordinator and master of ceremonies, will be taking over the coordination of iWPS entirely as of the 2018 competition, following the retirement of the previous coordinator, Inkera Oshun, and she says she is grateful for the chance to do so.
"This event means so much to me. It's an opportunity to give poets an opportunity to share their gift. That in itself is rewarding," Coleman said.
Slam poetry is a way for poets to express themselves, and as such the topics of the poems are widely varied, and often politically charged. This year's material included such topics as race and religious issues, mental illness, family issues, grief and poverty.
To some poets, this self-expression outranks the competitive aspect of slam.
"My philosophy on slam is that it's just practice," poet RJ Walker said. "It's a proving ground to test skill and find growth. Poetry is about the art. It's about radical honesty, not points."
To others, the competitive aspect has some value.
"It's my job," said poet Anthony McPherson, who took second place in this year's slam. "I'm going deep in my bones, emotionally exhausted. It's my job to drain myself emotionally."
This year's slam title was claimed by poet Arvind Nandakumar, who spoke in his poetry of Asperger's Syndrome and his Indian heritage. Nandakumar was somewhat of a wild card in the competition, only claiming his spot in the Last Chance Slam, a competition held Wednesday night to determine the final competitor on the iWPS roster.
It was not an easily-won title for Nandakumar. After the first three bouts of finals, Nandakumar and McPherson were tied with a score of 29.9 each. They each presented another poem as a tiebreaker, and yet again tied with a 29.9. The tie was eventually broken by a vote among the judges, resulting in a competition that was anything but boring.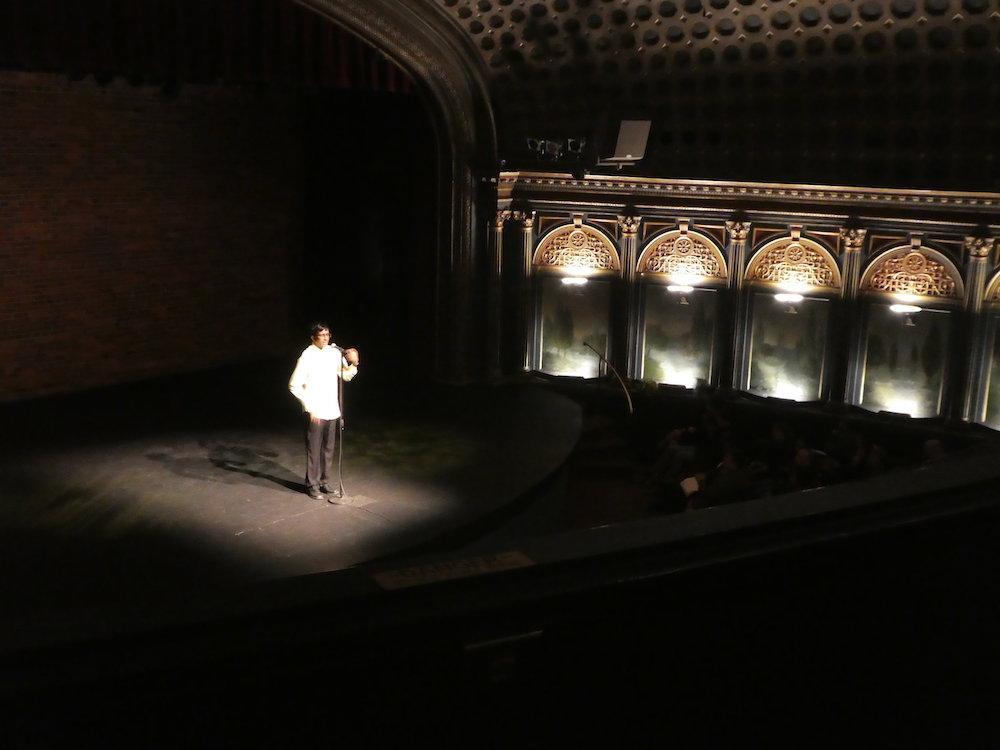 iWPS is not the only slam poetry event in Spokane — there's plenty of ways to get involved. Every Wednesday at 6:30 p.m., Neato Burrito holds "Broken Mic", an open mic event. Spokane Poetry Slam is held at the Bartlett at 8:00 p.m. every first and third Sunday, with sign ups beginning at 7:00 p.m.. There's also 3-Minute Mic, and open mic event held every first Friday at 8:00 p.m. at Auntie's Bookstore. These events are open to poets of all ages and skill levels, so there's truly something for everyone.