by Jordan Coleman | Staff Writer
Junior Lexi Chvatal hosted a mental health panel and discussion called "The Mind and Heart of Whitworth." This name came from the idea that mental health is based from the mind and the heart because it takes compassion when talking about mental health, Chvatal said. The discussion intended to help students cope with their mental health struggles and become more educated about what mental health looks like. Chvatal experiences her own difficulties with mental health, and is voicing her story.
Throughout high school, Chvatal experienced depression, and at Whitworth she also realized she had an eating disorder, she said. However, she did not realize that this was going on inside of her as she was not aware or educated about what eating disorders look like.
"This hindered a lot of my classes and my social life," Chvatal said. "And, it caused a lot of pain for me because I didn't know exactly what was going on. I just knew something was wrong with me."
She became aware of exactly what she was dealing with when she fell sick last April from a stomach ulcer caused by her eating disorder. Yet, she did not want to believe it and tried to push the truth out of her head.
Chvatal struggled with body image, self-worth and a low appreciation for her own mental health, she said. She felt isolated and alone.
"I pushed everyone away and my brain had been convincing me that no one liked me, no one wanted to be my friend, I'm weird and I have nothing good to say," Chvatal said. "I didn't feel the need to interact with others."
Mental health issues are one of the most prevalent struggles that affect academic success among college students, according to Active Minds, a leading nonprofit organization that empowers students to speak openly about mental health.
Untreated mental illnesses such as the ones Chvatal experiences like depression, anxiety and eating disorders are associated with lower GPA and a higher likelihood of dropping out of school, according to Active Minds.
Chvatal was advised to leave school at the end of her sophomore year, yet stuck with it because the pressures from her family to push through and finish her last month of school, resulting in a harder experience.
"At that point, I felt the lowest I had ever felt in my life," she said. Although treatment is beneficial, many people experience unnecessary shame as mental health issues are seen as uncomfortable or threatening to the community, according to Psychology Today. Mental health is not typically discussed, causing many students to suffer alone, yet many college campuses are working to expose the issue.
"I really hope that people will be able to see that there are others who are struggling like they are and that there is someone out there who will always care for them," Chvatal said. "All I can hope for is that they eventually see that the Whitworth community will open up to them and support them in the same way that they have to me."
Chvatal's panel consisted of four Whitworth students who spoke about their mental health, along with information about self-care during times of struggle. Panelists also discussed how individuals can be support systems for those dealing with the distress of mental illness. Representatives from the counseling center were present to provide resources and answer questions along with the panelists.
Chvatal came up with the idea for the mental health panel and discussion from her own experience of not feeling like there was enough support for those in her situation.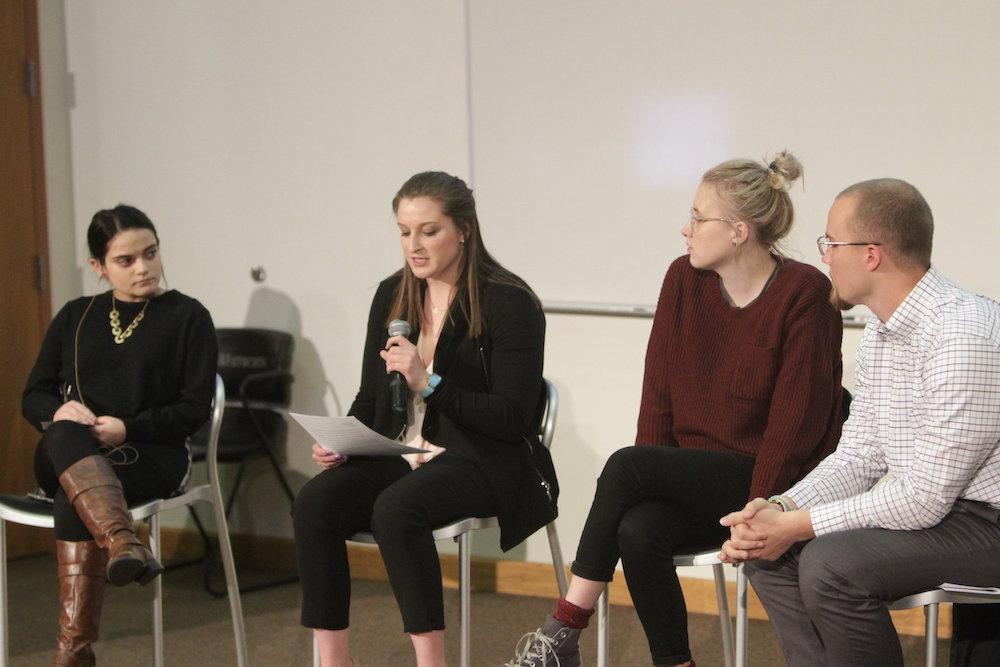 "I was trying to think of how I would personally want to be supported at Whitworth and it spiraled into having students reach out to me and talk to me about their mental health stories," she said. "We all came together and thought that we should have something at the university to break mental health stigmas and start a conversation."
Removing the stigma that surrounds mental health issues will help create a comfortable environment for an open conversation about mental health issues on campuses nationwide, according to Active Minds.
"It's important to talk about things that you struggle with in your life that people would never know about otherwise," Chvatal said. "Mental health is really taboo and it likes to be shamed and hide, and the more that we talk about it, the more we can do something to fix it and help people."
Although Chvatal led the event and is trying to become a support figure for those who are struggling with their mental health, Chvatal continues to have a difficult experience as well.
"It's definitely been challenging with my anxiety coming back to school," she said. "But, it's also been really rewarding because I believe that the Whitworth community has surrounded me and supported me in a new way that has made me feel comfortable to be open about my experience and heal from that."
After experiencing tough times of loneliness and coming to terms with who Chvatal believes she is, she came to the understanding that she is tougher than before and is ready to face her depression, eating disorder and anxiety head on.