by Jordan Coleman | Staff Writer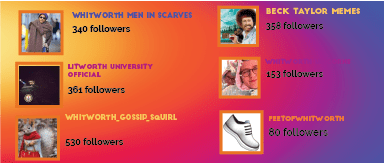 Whitworth has several parody social media accounts enjoyed by students and staff members alike. Six active parody accounts display behind-the-scenes campus life and feature students and faculty from within the Pirate community.
The active accounts on Instagram are Whitworth Men in Scarves, Beck Taylor Memes, Feet of Whitworth, Gossip Squirrel, Whitworth Unicorns and Litworth University Official. However, they were not the first accounts to post about life as a Pirate. Three older accounts became inactive this year: Whitworth Confessions on Facebook, Humans of Whitworth on Instagram and Beck Taylor Facts on Twitter.
Whitworth Men in Scarves is the most active, having posted 40 candid pictures of men around campus wearing scarves. The subjects in the photos are often unaware of their picture being taken. The captions of the posts usually include ratings of their scarf choice regarding warmth, color and boldness.
"My favorite [account] is Men in Scarves because they're good at posting a lot and what they say is agreeable, like the ratings," sophomore Ein Huie said.
Beck Taylor Memes comes in a close second for most active, with 39 posts of Beck Taylor's face photoshopped onto movie or television backgrounds, such as "The Bachelor" or "Star Wars."
Taylor is depicted as a motivational character in the captions of the photos, and several students respond positively to the posts about their president.
"The Beck Taylor Memes is probably one of my favorites," sophomore Mae Curtis said. "I feel like we have such a good relationship with our president to make an account about him."
Gossip Squirrel holds the lead for popularity with 536 followers, posting candid photos and videos of people at campus events or performing daily tasks as a spin-off of the TV show "Gossip Girl." Although it has the most followers, some students have mixed feelings about the Gossip Squirrel account.
"Gossip Squirrel does not meet up to my expectations," Huie said.
Some students feel that the account does not regularly interact with its followers compared to the other parody accounts.
"Gossip Squirrel is kind of inactive and they don't post frequently," Nguyen said.
On the other hand, some students reflect positive attitudes toward the account.
"I think it's funny and they do a great job about not putting students down," Curtis said.
Litworth University Official has 361 followers and posts various photos about President Taylor, the weather, etc. Beck Taylor Memes has 358 followers. Only three parody accounts—Beck Taylor Memes, Whitworth Men in Scarves and Beck Taylor Facts—are followed back by Taylor.
Huie follows four of the parody accounts, including Whitworth Men in Scarves, Beck Taylor Memes, Gossip Squirrel, and Feet of Whitworth. He enjoys that they are made by students, Huie said.
"I wanted something in my feed that I could relate to and something that was out of the norm," Huie said. "I also wanted something that would make me laugh."
The account owners remain anonymous to the majority of the university. Students are reluctant to share who runs the parody accounts because they desire to remain unknown, Nguyen said.
"I like them because … they have that mystery behind the posts," Huie said.
There are also several official social media accounts from different departments at Whitworth that follow some of the parody accounts, such as the official Whitworth University Instagram account.
"It's something we do occasionally," assistant director of marketing Elizabeth Strauch said. "Whitworth is a small campus so we want students to know that we see them and what they post on the internet can be seen by anyone, and because we sometimes think it's funny."
The Whitworth community also values students' creativity for coming up with new ways to represent the university.
"I am always delighted by students' creativity," Strauch said. "We follow the accounts as long as it continues in a fun theme and is fun to follow along."
The accounts are also seen as a creative way for students to connect with others at the University.
"I think it's honestly sometimes a way for people to direct their creative energy in a way that is funny for Whitworth students," junior Melia Deters said. "Instead of just meaninglessly scrolling through Instagram or Twitter, they can make a Beck Taylor Meme, and make people laugh."
However, it is not a guarantee that the official Whitworth accounts follow the parody accounts.
"We don't always follow them because prospective students might be looking to see who we follow," Strauch said. "It's not always in our best interest to point prospective students to those accounts … because we can't always be sure about the content."
Staff who manage the office of communications don't believe that the satire accounts change Whitworth's image. The office of communications does not pay too much attention to the details of the parody accounts since there are legitimate communication accounts that are easily accessible for people to find the correct information, director of university communications Nancy Hines said.
The communications office focuses more on ensuring that the official logo is not inappropriately being used rather than spending time combating the student discussions on the parody accounts, Hines said.
Some students said that they especially enjoy the media posts when their friends are pictured.
"It's funnier when my friends are in the posts because I can laugh at them and relate to the posts more," sophomore Brittany Williams said.
Many student subjects are featured within the various parody accounts.
Huie is the subject in one of the posts by Whitworth Men in Scarves, while also in the background of a post by Gossip Squirrel. He said he loves being in the posts because, "Who doesn't love having their face on social media?"
The parody accounts are a fun way to connect on campus, and are examples for why students should choose Whitworth, Curtis said.
Contact Jordan Coleman at jcoleman20@my.whitworth.edu