by Samantha Holm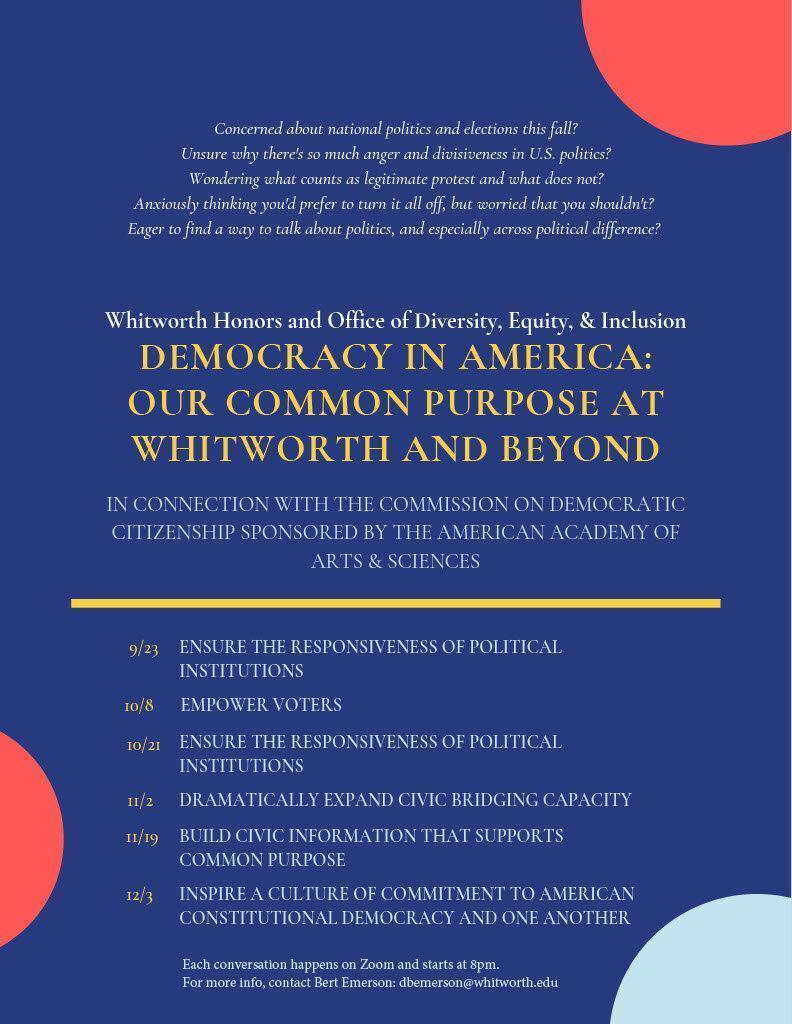 The third "Democracy in America" session was held by the Office of Diversity, Equity and Inclusion, as well as the George F. Whitworth Honors Program and their constituents over Zoom on Wednesday, Oct. 21. 
George F. Whitworth Honors Program Director Dr. Bert Emerson and Vice President of the Office of Diversity, Equity and Inclusion Lorna Hernandez Jarvis worked over the summer to build this six-week project.  
"We wanted to create a forum in which students could get together with faculty, staff and other interested parties and find ways to think through challenges in the most constructive way possible," Emerson said.
The first two sessions addressed methods to increase voter participation. The quandary posed during this Wednesday night's forum was ensuring the responsiveness of political institutions.  
"It's important that we recognize that once we vote, the job's not done," Emerson said. "We need to be able to interact with representatives, and they need to be able to respond to our interests." 
After debriefing students on this political participation strategy using the publication Our Common Purpose, Dr. Emerson asked students to think of a time when their voices were heard by an institution. Students were then sent to breakout rooms for 30 minutes to share their responses.
During these conversations, students were able to convert the responsiveness of their chosen institutions into expectations for national government representatives. Students shared these ideas in a large group discussion toward the end of the session. 
Dr. Emerson said that during a divisive election season, students' participation in civic engagement, no matter their political affiliation, and willingness to listen to each other's perspectives is crucial.  
This session was the third out of six that will be held. The remaining sessions will take place on Nov. 2, Nov. 19, and Dec. 3 over Zoom from 8-9 p.m. To join the next session, "Dramatically Expand Civic Bridging Capacity," as well as those following, join the Zoom meeting here.