by Samantha Holm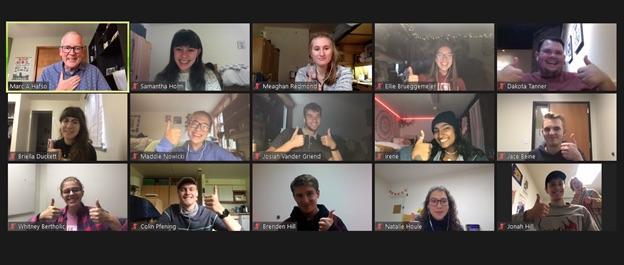 Whitworth University's acclaimed vocal programs have sustained their distinguished reputation for years. In order to maintain this status of excellence and to ensure student safety during the COVID-19 pandemic, faculty diligently prepared voice lesson and ensemble work for Fall 2020 based on available information about the virus. Even though specific plans for vocal study remain uncertain, the Whitworth Voice Department is committed to protecting students by teaching in either remote or modified in-person settings.
Fortunately, music educators are not alone in navigating this crisis. Whitworth Choir Director, Dr. Marc Hafso, said, "There's been a tremendous sharing of ideas within the choral community, which has been helpful."
The department of vocal study will take pains to ensure student safety for the 2020-2021 school year. As a precaution, instructors have decided to hold private voice lessons and music labs over Zoom this semester. Students will still meet with their instructors once a week and practice repertoire on their own time.
Safe ensemble work provides its own set of challenges. The National Biotechnology Institute says choral singing is a high-risk activity because singers produce more respiratory particles that may carry the virus. Bearing this knowledge in mind, Whitworth's choir directors opted to hold their first rehearsals completely over Zoom last week. For the next two weeks, voice faculty will continue to conduct rehearsals remotely. They will base future rehearsal decisions on COVID-19 developments in Spokane County.
If no dramatic increase in cases occurs, rehearsals will commence in octets in Whitworth's new choral rehearsal room. The 2,400 square foot room will allow singers to distance 12 feet from one another. Singers will also be required to wear special singers' masks, sing at low volume, and rehearse for no longer than 25 minutes. Afterward, the room will be properly sanitized and left empty for 30 minutes.
Even with the complications that this layout presents, Hafso believes it will not only allow for "building community within our choral groups, but keeping [singers] active and positioning them for the day when we can come back to some sense of normalcy".
Due to COVID-19 regulations for live performances, choir events for this semester have been cancelled. While live audiences are not a guarantee for second semester, Hafso and other voice faculty members are determined to deliver performances, either virtually or socially distanced. Despite such disappointments, Hafso can reassure voice students that Whitworth is prepared to preserve their health and still deliver an excellent educational experience.
Music can be joyful whether it be online or in person. For this school year's vocal students and faculty, the quest to bring that joy remains, COVID-19 or not.