by Denali Herrick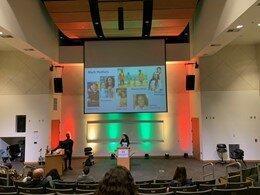 Whitworth's Black Student Union (BSU) hosted a vigil for Black lives on Sep. 24 to remember those lost as a result of racial injustice and police violence. The event was held in Robinson Teaching Theater while being broadcasted live both in the chapel and over Zoom. Around 70 members of the community attended the vigil either in-person and virtually.
Taylor Pannell, co-president of BSU, said she wanted to hold this event because of everything that happened over the summer and because racism has been an issue in the United States since the beginning of this country.
"[The vigil] is meant to be a time and space to honor the dead, and then actively reflect, and actively look at our own actions so that hopefully one day we don't have to do this anymore," Pannell said. "Just because we don't have some of the same energy as at the beginning of the George Floyd protests, doesn't mean that this isn't an issue anymore."
President Beck Taylor opened the vigil with the word "devastating." This descriptor rang through the room, accurately describing what the Black community and their allies have been feeling. Taylor's speech reflected on this past summer, as well as all the violence and heartbreak that Black Americans are facing. He ended by saying that Whitworth is working hard to become an anti-racist institution and that "with God's help" the university can defeat racism.
A powerful and emotional letter written by BSU member Ibrahim Diop, who is taking classes virtually from New York, was read aloud by BSU officer Christopher Clay.
"This is much greater than a fight," Diop said in his letter. "No lives matter until Black lives matter, until all Black lives matter."
Clay later shared about his own experiences, as he described almost losing his mother to racism.
Pannell led the vigil in silence for eight minutes and 46 seconds – the length of time George Floyd said he could not breathe. The silence was a time to pray and reflect on the hate and devastation that the Black community has been experiencing. After the time of silence, Pannell read aloud the names of Black men and women that have recently been killed as a result of hate crimes in an effort to prevent these deaths from becoming just a number.
"There is a huge power in saying the names of the people that we've lost to racial injustice," BSU co-president Munya Fashu-Kanu said.
In response to the vigil, BSU member Alexis Dubreuil said that she is happy that BSU organized this event because the movement is growing, and more people are trying to educate themselves.
Pannell said she doesn't want people to walk away from this vigil feeling like they just "checked a box," but rather she hopes that it leaves them impacted and inspired to go back into the world and make a change.