by Daniel Lee
A 90-year-old former professor was welcomed back to Whitworth to share her passion for art with the school once again.
Pauline Anderson Haas was invited to display her work in the Bryan Oliver Gallery, with a opening lecture Sept. 10. Haas spoke about her inspiration and her craft to a diverse audience.
Haas' use of line and color adds a unique element of depth and beauty that sets her work apart, student attendee and freshman Elise Stoner said.
Much of Haas' artwork depicts scenes of nature from different parts of the Northwest. Haas began drawing pictures when she was a child, she said. The hobby evolved throughout her life, eventually becoming an expression of her appreciation for the world around her.
"I am overwhelmed by the beauty of the Northwest," Haas said.
From a young age, Haas and her family had traveled throughout the region to destinations including lakes, forests, mountains and open fields. She asked her brother what he saw on each trip, and said she always felt she saw just a little more than her brother had seen.
The minute details she caught in nature also appear to be caught in her artwork. A simple, singular color of green in her paintings may actually be a collection of dissimilar colors, including different magentas, reds, oranges and yellows, art lecturer Robert Fifield said. Haas' skill with colors is similar to that of Impressionist artists, Fifield said.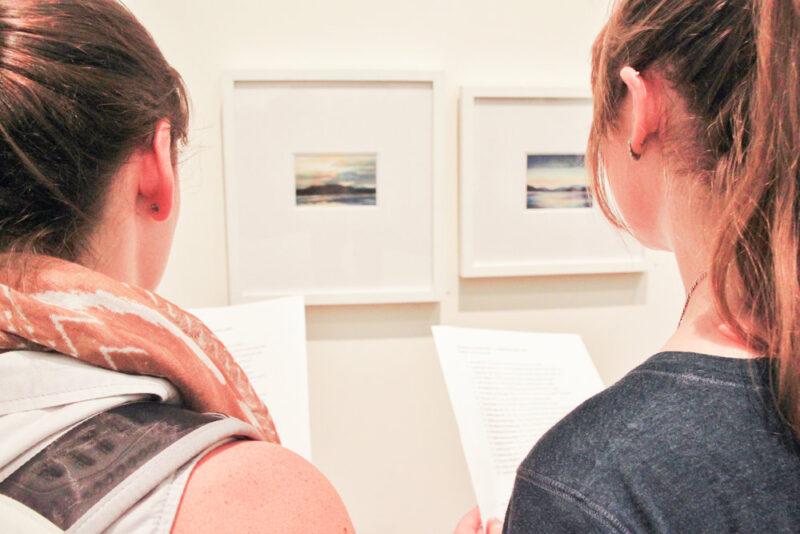 However, just as noteworthy as her skill, Haas appears to have a strong sense of dedication that gives her drive in life, Fifield said.
"This exhibition was also in honor of [Haas] turning 90, which is incredible to see someone continuing to work and continuing to work at the scale and the drive that she continues to have," Fifield said.
As a new faculty member, Fifield said he was inspired by Haas to live with the same kind of passion she exhibits.
All the artwork being displayed at Whitworth are pieces Haas completed within the last three years, said Lance Sinnema, art professor and gallery director.
"It's not a retrospective," Sinnema said. "It's not a group of work that comes from a larger span of time. She's continually making. She's continually active."
Nearly 250 alumni, community members and students came to Haas' lecture, and many expressed appreciation for what she gave to the local community through her art and her life. Haas taught at Whitworth for more than 20 years, from 1962 to 1986.
After her retirement from the university, she maintained close ties to the school and students, Sinnema said. It was for this reason and many others that Haas was invited to return and display her work.
Haas had previously done a show at Whitworth on the year of her 80th birthday, Sinnema said. She has continued her work since then, leading up to the current exhibition. As a result, many are hopeful to see what the future may bring in the next decade.
Contact Daniel Lee at daniellee17@my.whitworth.edu