by Alyssa Brooks
Along with his current commitments such as teaching at Whitworth, serving as board president for a local organization, writing poetry and editing a professional literary journal, senior English lecturer Thom Caraway can now add the title Poet Laureate of Spokane to his curriculum vitae.
When Spokane started seeking its first poet laureate, Caraway ceded to many urgings to apply and sent in his materials, which included a resumé, cover letter, and a selection of his work.
"Then there was a private panel of folks from the arts around Spokane, the Arts Fund," Caraway said. "Kenn Nesbitt was on it, who is the Children's Poet Laureate of the United States. It was quite an honor."
Caraway was announced as Spokane's official poet Oct. 5 at the Individual World Poetry Slam Championships, which was the start of his two-year term.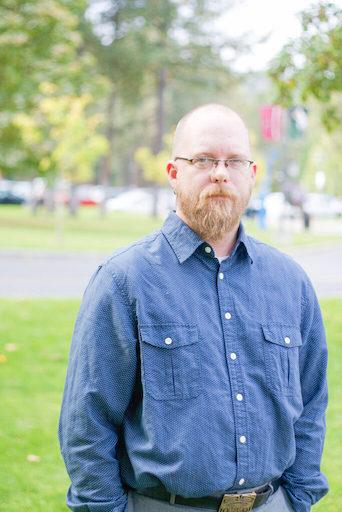 Caraway's role brings new responsibilities that he will balance with his current commitments. Caraway will take on a set of public duties within Spokane poetry in his new role.
"My contractual duties include three public readings a year and assisting the Spokane Public Library with a reading list," Caraway said. "There's a talented, active and vibrant community of poets in Spokane that people probably don't know that much about, so I would like to find ways to bring that to public attention."
Caraway has more goals that for his role as Spokane's Poet Laureate go beyond contractual duties. He hopes to create a centralized and comprehensive poetry events calendar to make events more accessible to the public.
"Kids love poetry," Caraway said. "Something happens, and I don't know when it happens, but by the time they're high school graduates or college graduates, they don't have that same sense of fun and play about it they had when they were young."
He said he encourages other writers to remember that language is fun and that it can accomplish goals that other mediums cannot.
Caraway also serves as board president for Project HOPE Spokane, a local organization focused on disadvantaged youth in Spokane's West Central and Emerson Garfield neighborhoods.
"I think there's an approachability to Thom, and there's a genuine love of community in him that I think really reflects the spirit of Spokane," English professor Laurie Lamon said.
Caraway also works as the editor-in-chief of Rock & Sling, a bi-yearly professional literary journal based at Whitworth. The editors of Rock & Sling see reading and writing literature as a way of using language to witness to the truth in life as a type of testimony, according to Rock & Sling's website.
Caraway deeply cares about his craft, said Senior Karina Basso, a student of Caraway's who also works on Rock & Sling with him.
"He really pays attention to the craft of poetry and the spirit of poetry," Basso said. "I think that those two things combined set him apart from other poets or amateur poets."
Caraway really cares about truth in poetry and truth in emotion without being overly sentimental, she said.
"His energy, his connections with the poetry community [in Spokane] and his connection with West Central [reflect the spirit of Spokane]," Lamon said. "He's one of those people who make everything look effortless."
Caraway draws inspiration from Spokane, writing about topics that define the city, he said.
"I live in the West Central neighborhood," Caraway said. "And there's a lot of interesting stuff going on there, great opportunities for growth and development. There's also conflict there, so I end up writing about the personalities I come across or the things I see."
Caraway's work has been published in several dozen literary journals.
"I usually start [poems] with an image or a line," Caraway said. "I kind of kick that around in my head for a while, sometimes a couple of hours, sometimes a couple of weeks, and see what sticks to it."
The theme of place in Caraway's writing can also be seen in his book, "A Visitor's Guide to North Dakota," a collection of poems about the state.
Caraway's new position does not mean he will stop writing. On the contrary, he has a few pieces in the works right now.
"One of the lines that I've been kicking around for a couple weeks, and I haven't found a way to approach it is, 'Sometimes, Spokane, I want to give you a hug," Caraway said.
Contact Alyssa Brooks at abrooks17@my.whitworth.edu