By Hannah Foster | Staff Writer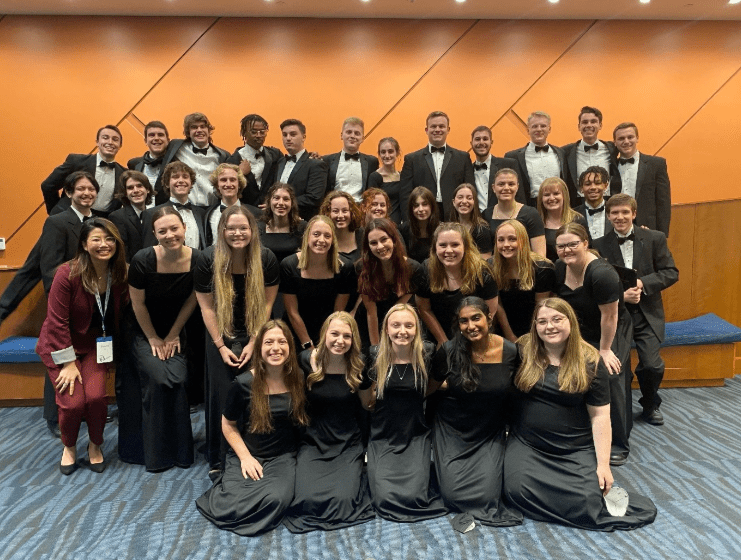 The Whitworth Choir recently participated in the American Choral Directors Assocation (ACDA) conference at Gonzaga University on March 9. In collaboration with the choirs from University of Portland, Pacific Lutheran University, Western Oregon University, University of Alaska Fairbanks and Boise State University, the Whitworth choir sang "Lux Aeterna," a five-movement masterwork by Morten Lauridsen. Lauridsen, a Portland, OR native, attended the conference and listened to the choir perform his own piece.
Whitworth Choir president Isaac McDonald says, "What made this conference meaningful for the Whitworth Choir was the chance to work with the phenomenal conductor Edith Copley and to hear from the composer of 'Lux Aeterna,' Morten Lauridsen, about his life and his thoughts on the piece." Edith Copley is a professor emeritus at Northern Arizona University and acted as the director of choral studies until 2021. She has received a plethora of awards for her directing and is an esteemed leader.
McDonald notes that this year has been an eventful one for the Whitworth Choir, and the process leading up to the conference involved lots of practice and preparation of the piece.
Whitworth's Choir director Xiaosha Lin, Ph.D., mentions that, "It was a great honor for the Whitworth Choir to perform at the American Choral Director Association Northwest Division Conference in March," says Dr. Lin. "It was also a precious opportunity for me, as a new director to the region, together with the choir, to represent Whitworth, Spokane and Washington in front of all the choral directors in the Northwest."