by Emily Goodell | Staff Writer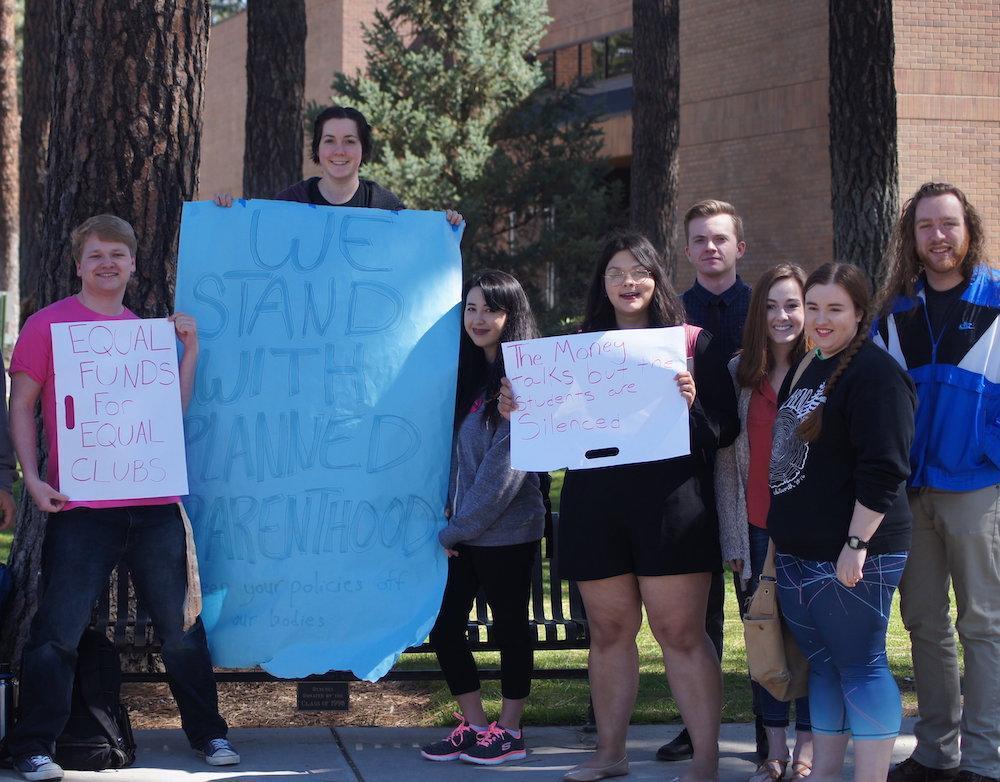 President Beck Taylor's decision not to renew a limited formal relationship between the university and Planned Parenthood last week raised concern from pro-choice individuals and both praise and criticism from pro-life individuals.
President Beck Taylor's decision not to renew a limited formal relationship between the university and Planned Parenthood last week raised concern from pro-choice individuals and both praise and criticism from pro-life individuals.
The relationship between Planned Parenthood and the university referred to in this decision is the ability for students to serve or complete a for-credit internship with the organization through the Dornsife Center for Community Engagement, which has existed for more than ten years.The impact for students in the following years will be an inability to have work done at Planned Parenthood formally recognized by the university through credits.
Pro-choice individuals voiced concerns that this decision was a step away from neutrality rather than a move to create more room for dialogue. Junior Kaitlynn Kleinbach, the public relations officer for the pro-choice student-led campus group affiliated with Planned Parenthood, Generation Action, said her group is frustrated with the decision and its relation to the inability of the group to receive a charter.
The group initially presented their application for charter to ASWU in December. ASWU approved their charter and sent the paperwork to student life coordinator Rhosetta Rhodes to be approved by the administration. The charter was put on halt by Taylor, who said he wanted to hold off on chartering the club while he was considering the formal relationship with Planned Parenthood.
Not being an officially chartered club comes with challenges to access and representation on campus, as they do not have the resources that other clubs have, such as the privileges the Students for Life club has, Kleinbach said.
Kleinbach said Generation Action reached out to the president of the Students for Life club, Heidi Thom, to ask for their support, not for their cause, but their right to exist as a club. Kleinbach said Thom declined to support the club, saying supporting their existence would be effectively supporting their cause, which frustrated Kleinbach and other club members.
"If this was happening to them, I would be frustrated for them," Kleinbach said. "I think if they were in our position I would fight for them."
Thom said that Students for Life supports having a pro-choice group on campus but cannot condone Generation Action's relationship with Planned Parenthood. She said if they choose to partner with a different organization, their group looks forward to working with the pro-choice group to promote conversation on campus.
Thom said Students for Life is planning on creating an initiative next year to focus on resources for pregnant women on campus such as a diaper drive, changing tables in restrooms and advocating that some scholarship funds be advocated for pregnant and parenting students. She said they hope the pro-choice club will be chartered, without the Planned Parenthood affiliation, and they will be able to work together on the project.
However, the inequity regarding national affiliations is still a concern for both Generation Action and Taylor himself. In his statement to the university he acknowledged that his decision raises issues of equity about the process of chartering and the existing relationships other clubs have with national organizations."
"The Generation Action students have voiced their concern that there are inequities in the way those clubs and organizations are chartered, specifically the Students for Life organization has a relationship with a national organization that provides many of those same kinds of resources and I recognize that inequity," Taylor said, "We need to work to ensure that we can truly put student organizations on as level a playing field as possible; and so I've asked Rhosetta Rhodes to form a representative task force of people—students, faculty, staff—who can give this issue some real energy and time to think, because I think we need to do better there."
Taylor said he has informed Whitworth's Students for Life club that implementation of the task force and whatever recommendations they may have, could have implications for their affiliation with the national organization.
Taylor said he informed Generation Action leadership members of their options moving forward. The main option is for the pro-choice students to partner with a different organization that is more in line with the university's mission, Taylor said.
"I've frankly said that the university would certainly work with them to find such an organization, but I think that's their burden and not our burden to do," Taylor said, "But I think we're open to finding organizations that advocate for the rights that I think are important to students in that area without affiliating with an organization that directly provides abortion services."
Kleinbach said that finding such an organization has not been easy.
"All of the other organizations I came across in my research were either pro-abortion, which is not what we are," Kleinbach said, "Or, they were specifically for women, which are awesome organizations, but there are also men that go to Whitworth that we want to include in these conversations in their healthcare and everything."
Kleinbach said after evaluating many options, she still believes Planned Parenthood is the best fit to represent Generation Action's goals.The group is evaluating all their options going forward and is not planning on giving up.
This week, they started a petition to the university to allow them their club charter that received more than 500 signatures from students, alumni and other individuals. They also held a demonstration in Weyerhauser on Friday, where Taylor was meeting with the board of trustees, carrying signs and expressing their frustrations with Taylor's decision.
Planned Parenthood of Greater Washington and Northern Idaho released a statement on Taylor's letter, in which chief external affairs officer Joy Peltier expressed support for the Generation Action students.
"We were disappointed to hear that Whitworth students who volunteer with us will no longer have their contributions acknowledged by the school," Peltier said, "We would welcome Whitworth President Beck Taylor to join us in a discussion, to visit our health center and to speak with our staff who attended Whitworth to learn more about how to support students and where our values align."
Generation Action and pro-choice individuals aren't the only ones vocal about the decision. The national Students for Life of America organization posted an article in which they described Taylor's decision as "a huge win for the Students for Life group at Whitworth University."
The article also criticized Taylor for not being explicit in his statements about Planned Parenthood.
"This week when I announced that we were ending this partnership, the national Students for Life organization was actually quite critical of my communication because it was too nuanced for them," Taylor said.
"The email from the president of Whitworth University is obviously pained and while inaccurate (Planned Parenthood provides abortions, not 'abortion-related services'), it is a big step in the right direction," the article from Students for Life of America reads.
Kristan Hawkins, president for the Students for Life of America, also made statements in the article regarding her position on the decision. These statements come shortly before her scheduled speech on campus in May regarding the topic of "real feminism."
"The school deserves credit for cutting Planned Parenthood from their campus community and providing an example of a Christian university making an attempt to educate and support students, rather than send them to the nation's largest abortion provider," Hawkins said.
"The email reflects the current nature of the college campus environment, where abortion advocates don't think twice about offending pro-life students, vandalizing their property, or threatening them on social media," continued Hawkins. "But we are so proud of our pro-life students, who face adversity with courage and resolve every day and never back down from defending pre-born lives and the women betrayed by Planned Parenthood and the abortion industry."
Taylor said he is working with provost Carol Simon and Rhosetta Rhodes in thinking of ways to incorporate pro-choice students into the conversation surrounding this speaker. Taylor said he also wanted to make it clear that he is in no way trying to privilege the Students for Life of America organization.
"I will tell you that I've been no fan of the Students for Life national organization. I haven't been a fan of their tactics," Taylor said, "Back in the fall, when they activated their groups to do some, I think, very unethical things related to their communication and unwillingness to hear the entire story and the ways that they have bombarded us with hate-filled messages."
Taylor's statement about the situation in the fall refers to the national organization's reaction to an op-ed written by James Silberman which appeared in the Whitworthian last fall, in which he criticized the university's relationship with Planned Parenthood. The article also sparked Taylor's consideration of the relationship, he said, because he had no idea Whitworth had any formal relationship with Planned Parenthood at all.
"That was the first that I knew that we had a formal relationship with Planned Parenthood and, frankly, it surprised me," Taylor said, "It surprised me because it felt like a step too far in one direction on this very contentious issue."
Taylor said, as a Christian, he believes the Christian church should stand for equality and healthcare for women, but also for life.
"In my opinion, Planned Parenthood requires someone who wants to stand for women to also stand for something that I think for many Christians is abhorrent, morally abhorrent, and that's the taking of life," Taylor said, "So it's hard for me to reconcile how one would work for the justice of one group while committing injustices against another."
Taylor said he recognizes that many are upset about his decision because they are committed to issues of equity for women.
"What I would want those people to hear is that I am committed to those things too. I have two daughters," Taylor said. "I want to be a champion for women, but I don't think I have to sacrifice the institution's care for life either in doing so."
The discernible immediate impact for students in the following years will be an inability to have work done at Planned Parenthood formally recognized by the university through credits. However, students right now are being impacted by this decision.
Taylor said there were several reasons why he chose to present his statement in a public way at this time. One reason was his desire for open communication with the community and transparency in the decision. Another was to give an answer to Generation Action about their charter.
Taylor said that some have speculated that the timing of the announcement had to do with money and donors. The speculations are partly based on Taylor's meeting this week with the Board of Trustees and the Day of Giving, an annual fundraiser for scholarships for Whitworth students, which is happening next week.
"Some have speculated that this is about money or donors or whatever," Taylor said. "Look, if that were the case I would not have made decisions both in the fall and the spring which would have successfully made everyone angry and that's essentially what I've done."
Taylor said he would have preferred not to announce the decision while the board was on campus because it has limited him from being able to talk with people. He said he has also apologize to those in charge of the Day of Giving program for any negative impact the timing of his decision may have on fundraising next week.
In Taylor's letter sent out this week that officially announced his decision not to renew the university's relationship with Planned Parenthood, he said:
"Given the prominent place that Planned Parenthood holds in our nation's discourse on issues of freedom of choice and sanctity of life, I have decided that Whitworth's relationship with the organization , even as tangential and limited as it currently is and has been, sends a confusing signal to many of our constituencies…"
The faith and mission-based rationale used for the decision has left some feeling disjointed from the conversation. Kleinbach said that the university is, probably unintentionally, putting pro-choice Christians and non-Christians in a challenging position.
"It's hard for me because there's all these statements about faith and doctrine and biblical references, but there are Christians here that would disagree," Kleinbach said. "And so it's kind of saying like, 'Your Christianity, your view on this, is wrong.'"
Taylor said that is not what he intended by the decision at all.
"I would apologize if this move, in any way caused the perception that I or the university is questioning the faith of people who are on the pro-choice side or supporters of Planned Parenthood," Taylor said. "I would acknowledge that Planned Parenthood is an organization that provides some goods to society…But as I said before, it's difficult for me to reconcile how we can work for justice with an organization like Planned Parenthood in one domain and ignore the injustices that are happening in the same organization."
Taylor said he personally is pro-life, but that he would have made the same decision for the university even if he did not hold that belief. He said that because the Christian church has historically stood for life, that it would be difficult to reconcile any kind of formal partnership with an organization which among other things, ends human life.
"It was not an easy decision," Taylor said. "I knew in making this decision either way there were going to be constituencies of the institution that felt disaffected and felt like it was the wrong decision and I knew that going in, but it was my decision."
Kleinbach said although Taylor said this move was toward neutrality, she feels that this move is taking a step toward the other side and saying the university is endorsing a particular view of the issue.
In Taylor's statement he said that "being connected to an organization like Planned Parenthood sends the unintended message to many that Whitworth has taken a side in this social and political debate."
In response to criticism toward his attempt for neutrality, Taylor said having a relationship with Planned Parenthood may crowd out conservative voices from the conversation who cannot reconcile the good the organization may do with it providing abortion services.
"I realize that this move feels like for many a move away from neutrality," Taylor said. "But I would ask the hypothetical question: If the university had no affiliation with Planned Parenthood and the decision was made to bring Planned Parenthood back on campus, the other side on this debate would feel very much like neutrality was broken."
Taylor said the decision in no way prevents freedom of thought or discussion on campus, but hopes that the decision will create an equitable space where all voices can engage.
"There's nothing about this decision that prevents students from holding certain views, from expressing those views, from advocating for those views," Taylor said. "There's nothing in this decision that would limit the free expression of students or anyone else on this matter."
Taylor often uses the metaphor of a narrow ridge to describe the university's mission, to provide "its diverse student body an education of mind and heart, equipping its graduates to honor God, follow Christ and serve humanity."
The narrow ridge Taylor articulates is that Whitworth stands on a hill between the mind and heart, between quality education and faith-based learning. In the same token, Taylor said he hopes to stand on the narrow ridge between both sides of the issue and to be the place where those sides come together.
"I don't lament that people are angry with me: that's just part of the job. What I lament is that this has created a fracture in our community," Taylor said. "And so I want to find ways to bring us back together. That doesn't mean we have to agree with one another, but it brings us back together to constructive dialogue."
Contact Emily Goodell at egoodell18@my.whitworth.edu