by Cambria Pilger| Staff writer 
Lisa Factora-Borchers, editorial director of Bitch Media (a non-profit feminist multimedia organization), visited Whitworth on March 5 to teach students and faculty about intersectional feminism and what it means to her. The purpose of her presentation was to offer the audience reflection and let them think about what kind of a campus culture they want to have, she said.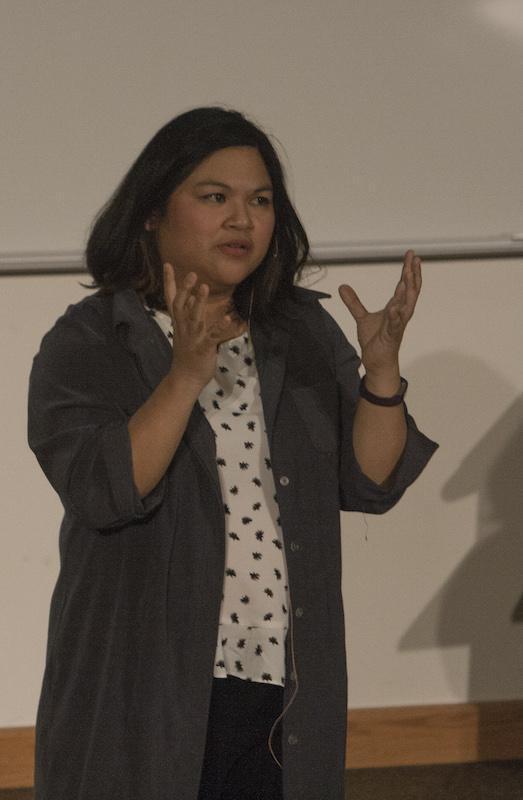 After a brief introduction from senior Austriauna Brooks, Factora-Borchers spoke about the history of feminism (more specifically the three waves of it), from the original fight for equal contract and property rights to the broader debate about rights that continues today.
Kimberlé Crenshaw first coined the intersectionality theory. It focuses on how factors like race and class shape women's experiences and influence how they interact with other genders.
Factora-Borchers referenced the quote, "Give people more grace," by Evette Dionne, senior culture editor at Bitch Media. She explained the importance of the quote in relation to intersectional feminism.
We experience intersectionality in multiple layers and dimensions, Factora-Borchers said. Intersectionality is a lens, not a state, she said. It is about finding a way to approach and give grace to people of all backgrounds, not about finding a way to be right.
Mainstream media began catching onto and applying these ideas of intersectional feminism with Cosmopolitan magazine and other new feminist newsletters and editors.
"The gift of being able to write and say what you want is rare," Factora-Borchers said.
In many institutions, it might be hard to write about prominent topics like the wage gap, but Bitch Media tackles those issues without sugar-coating them, sophomore Daniel Miller said.
The presentation focused on the importance of listening well and being open to talk about one's past. It is beautiful that it is becoming normal for people to share their stories and relate with others' stories, Brooks said.
After Factora-Borchers spoke about different feminist icons and their impact in culture, she opened the floor to let audience members ask her questions.
During the question-and-answer portion, she paused after each question and thought about her response before responding, just like she encouraged the attendees to do, professor Nichole Bogarosh said.
"How do you even identify if you have privilege?" Miller said. "Even asking that question feels very privileged…at least in my mind."
What is important is recognizing that you have privilege, taking advantage of it, and thinking about how you can use it to help others, Miller said.
Miller's question for Factora-Borchers was very honest, and some people do not always think about that, Brooks said.
"We need to listen to understand, and that's how we are going to progress as a community," Brooks said.
When you find a common ground with others who either do or do not think similarly to you and work with them, you can make change, Brooks said.
Bogarosh said that Factora-Borchers' presentation was a very good introduction to intersectionality and how one must approach it. Hopefully, students who attended the presentation now have a better understanding of intersectional feminism and, "the start of a way…to talk about it with other people," she said.
Whitworth has a small, but active, student feminist population in terms of the ones who are active on campus, Bogarosh said.
Factora-Borchers said that it is important to apply intersectionality to every moment that has the power to shape views, especially interactions with others. Intersectionality can be learned through talking with those similar and different from oneself and through reading books by feminist authors.
"I really like that we have the kind of community where we can have speakers like this come and speak on these topics," Miller said.
There are a lot of mixed views on the term "feminism", but no matter what one's feelings toward that word are, it is important to educate themselves on it and get evidence to back their opinions, Miller said.
The Women's & Gender Studies faculty committee has been bringing speakers in for multiple years to present on certain subjects. The theme for this year is gender and pop culture.
"We also really wanted to hit on intersectionality and really start to talk about how different identities overlap, because oftentimes that's missing from the discussion," Bogarosh said.
In order to bring Factora-Borchers to Whitworth, Bogarosh helped coordinate with Bitch-on-Campus, Bitch Media's college-visiting program, and a Washington organization that assists with bringing speakers to college campuses.
Around mid-April, the women's and gender studies department will bring in another pop culture speaker to talk about another current women and gender studies issue in relation to pop culture, like Lisa Factora-Borchers did. On April 27, they will hold the annual Take Back the Night event, an event that aims to end sexual, relational, and domestic abuse.