by Cambria Pilger | Staff writer 
Nine Whitworth students will share their stories alongside singer, speaker, educator and 'RAPtivist,' Aisha Fukushima, as part of the Diversity Monologues. The theme of the Diversity Monologues this year is beauty and how one comes to know beauty throughout their life. The event will take place on Thursday, March 15 at 7 p.m. in Cowles Auditorium.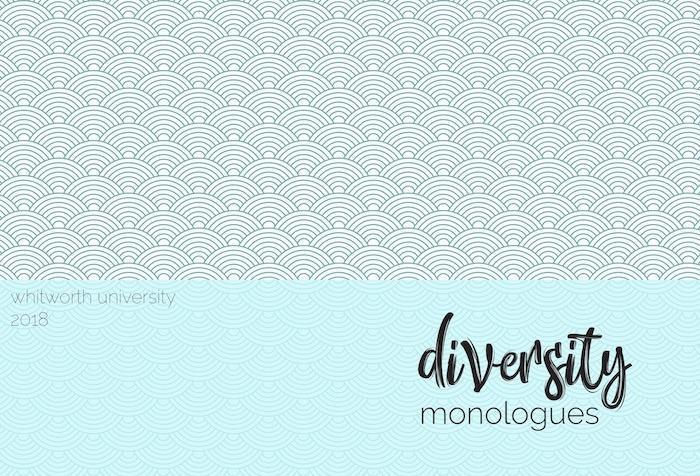 "This is an opportunity for us as a Whitworth to write a new story of what it means to be…radically inclusive," said assistant dean of student diversity, equity and inclusion, David Garcia.
The Diversity Monologues follow Whitworth's mission of mind and heart, Garcia said. More than 100 people are involved in the planning and producing of the event, from Whitworth Composition Commons consultants to theater performance and tech assistants to sponsors. Forty-three students will be published in the Diversity Monologues publication, designed by junior Meghan Foulk.
"I never thought stories could be so powerful," sophomore Utsal Shrestha said. Shrestha will be performing his monologue, called "Beauty of a Companion" at the event. "Even if you don't go through that experience, a monologue is something where you can listen to someone, try to feel how they feel, and learn something from it, hopefully [bringing] some positive change."
When you first hear someone's story, you both start on different tracks, but as you get to know it more, you find similarities between one another and eventually end up on the same track, Shrestha said.
Freshman Ribenson Darcy, one of the student performers, said he hopes the audience will keep an open-mind, listen well and try to find experiences or feelings that they have in common with the speakers.
"You get from it what you choose to get from it," Darcy said.
Senior Hannah Howell, another student performer, said that she encourages the attendees to lean into what they hear and embrace the vulnerability of those sharing as well as those attending. It may be challenging for both the presenters as well as the audience members to learn about and relate with other students' stories, she said.
"It's open to everyone, really, to just tell their story, whatever it is," sophomore Karen Sobtafo Alambong said. Sobtafo will also be performing at the event.
Garcia hopes that students come to hear narratives from fellow undergraduate, graduate, and continuing studies students and recognize that the performers will share "narratives that have been historically silenced and contain solutions to life's most complex questions."
Diversity Monologues is about the process bringing many people together to work with one another and share narratives, Garcia said.
"The Diversity Monologues is one way in which [Whitworth is] doing more to show…students, specifically of color or underrepresented students in general, that we are interested in their stories and we value them as students here," Howell said.
At last year's performance, students shared about issues that are not often openly talked about like living up in a different country before coming to America, being an orphan or growing up in a violent family, Shrestha said.
Shrestha attended the most recent Diversity Monologues and developed a new sense of the performers and what motivates and has shaped them. Last year's performance gave him hope to share his own story and reasoning to make it worthwhile.
Michael Benitez Jr. started the Diversity Monologues at Penn State in the 1990s and later spread it to other universities. Garcia has led the event at Whitworth for three years. The theme of Whitworth's first Diversity Monologues in 2015 was "community," and Benitez Jr. joined the students during the performance. The second annual Diversity Monologues took place in 2017, focusing on the idea of hope, with spoken-word poet and actress, Yazmin Monet Watkins, as the guest. The theme for the third annual Diversity Monologues is beauty, and the event will feature Aisha Fukushima.