by Cambria Pilger| Staff Writer 
As the new Beeksma Family Theology Center construction is underway, president Beck Taylor held a blessing ceremony for the new space. The ceremony took place in the chapel on April 12 with attendees from the board of trustees as well as Whitworth students, faculty and staff.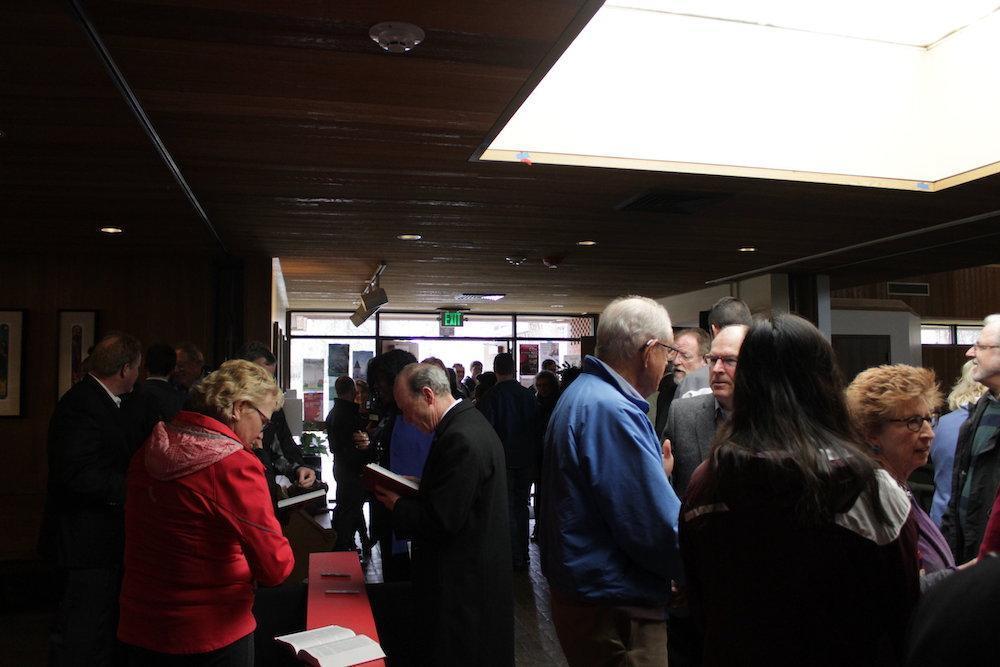 Breaking ground on a new project is always exciting at Whitworth, Taylor said. It is a tradition to gather and pray for safety of those working on the project as well as for successful completion, he said.
During the ceremony, Taylor introduced another gift for Whitworth's campus ministry. The donors, who wish to remain anonymous, gifted $3 million to establish an endowed dean of spiritual life position. This gift will allow for expanded campus ministry programs and increased chapel staff. It is believed to be the first of its kind among the nation's Christian colleges and universities, according to a Whitworth press release from April 12, 2018.
"I think one of the main focuses and part of why this is happening is to keep Christ in the center, and this ceremony is a good way to bring everybody together and reaffirm that and just to pray over everything to come and to continue to keep Christ in the center," sophomore Andrew Beeksma said.
Campus pastor Forrest Buckner said the ceremony was a time to acknowledge God as the giver of all gifts and to take time to receive this gift from God. It is also a chance to thank the amazing people who have given these gifts to make the project possible, he said.
It is a celebration of where the university is headed and a chance to get excited about what campus ministry and life in the chapel will be like next year, junior Tom Dale said.
There have been many supporters and sponsors for the project. The biggest contribution came from the Beeksma family, primarily Barney and Joyce Beeksma, for whom the project is named. The family donated $1.5 million in total.
Along with their donation, Barney and Joyce Beeksma charged Whitworth with the task of keeping Christ at the center of all that happens on campus, Taylor said.
Whitworth's mission is to expand God's kingdom through higher education. The recent gifts and chapel expansion contribute to that mission of honoring God, following Christ, and serving humanity, Taylor said.
"I love creating new spaces for students to congregate, to relate to one another, to grow in relationship, to walk through life together," Taylor said.
Buckner said the new space will also allow more students to engage in campus ministry and have natural connection with other faculty, staff, and students.
The Seeley G. Mudd chapel was first constructed in 1978. Increases in the theology department caused the department to recenter to Westminster. Theology professor Jerry Sittser originally presented his idea for the expansion to Taylor. He had a vision to re-center the theology department back into the chapel.
The renovation will be finished by the beginning of fall 2018, and there will be a formal dedication of the completed project on Oct. 11, 2018.
The theology center expansion will bring new offices for more than 20 faculty and staff as well as new student spaces. There will be a new audio and video system, more restrooms and increased seating.
The ceremony ended with a prayer of dedication from Buckner and a congressional sing of "Amazing Grace".