by Annika Bjornson | Staff Writer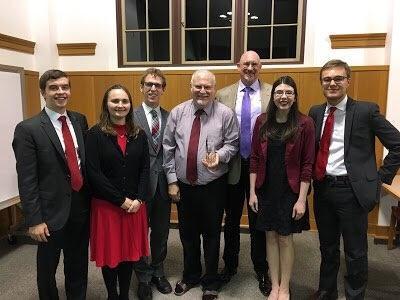 The Philosoraptors once again proved their tenacity in the National Intercollegiate Ethics Bowl in Baltimore, MD. Whitworth's Ethics Bowl team brought home their third national title in the past eight years on Mar. 2 and 3 at the Association for Practical and Professional Ethics, this time remaining undefeated in every round against the 36 other teams, which included Yale University, the United States Military Academy, and last year's national winners, Santa Clara University. Whitworth is the first Christian college, as well as the first liberal arts university of its size, to have won the national Ethics Bowl.
Team members include sophomore Eric Anderson, senior Jacob Dunning, senior Jacob Farrell, sophomore Maia Ketteridge, and senior Rylee Walter. The coaching team is made up of Mike Ingram in the Communication Studies department, Keith Wyma in the Philosophy department, and former student Rebecca Korf in the Communication Studies department.
In the Ethics Bowl, the participants of one team receive an ethical question and are given two minutes to prepare a 10-minute presentation to answer that question. The second team then takes five minutes to respond to the first presentation, and the first team in turn responds to what they offer. Finally, the three judges, typically either professors, practitioners, or graduate students, ask questions for ten minutes about their presentations. The two sides then switch roles for the second half of the round.
"The team prepared to analyze 15 different cases written by the Association for Practical and Professional Ethics," Ingram said. "The cases covered a wide range of topics including using robots for sex, the use of [CRISPR-Cas9] gene editing, whether to provide humanitarian aid to the North Korean government, which might divert the aid away from those in need, using social media to post pictures and 'out' those attending political rallies, and the [lack] of prominent movie roles for older actresses."
Ingram and his coaching team is very pleased with the team's performance and believes that the students' education at Whitworth helped prepare them for success in the tournaments.
"Whitworth is very intentional about using ethics theory to frame our answers," he said. "We benefit from the great ethics knowledge of Dr. Keith Wyma and we benefit from Core 250, that all of our students have this background from the Core program. We also do a lot of research and practice, so we have lots of information and we have practiced lots of different ways to approach the topics."
Rylee Walter is a senior who has been involved with both the Ethics Bowl and forensics during her Whitworth career. Though the time commitment is heavy, and she has had to miss a lot of classes for tournaments, she believes they give her valuable skills in different ways.
"I think it makes me a better public speaker and competitor in both realms," she said, "because I have that experience to draw on from both debate, which is a little more direct, and Ethics Bowl is much more about advancing the conversation and not necessarily disproving somebody, but providing the best way to think about an issue."
She jokingly added that, as a result of her commitment to both teams, "I feel like I've sold my soul to Mike Ingram."
Ingram explained the difference between the Ethics Bowl and forensics this way: "The Ethics Bowl team is a team of five, so it's a little like basketball; all five players on the court at the same time. One person may be speaking but all five are engaged. Speech and debate is more like track and field."
Rebecca Korf, who graduated from Whitworth in 2015 as a biochemistry major, was also involved in both the Ethics Bowl and forensics and, after receiving her Master's in Environmental Philosophy, now teaches a section of Core 350 and serves as the assistant coach of forensics. However, she also helps on the Ethics Bowl team and provides insight into ethics cases that involve environmental issues.
"My favorite moment in competition was when Eric was showing off his
research, " she said. "We had a case about when it is ethically acceptable to put drug addicts in involuntary commitment in order to help them into recovery, and Eric had actually talked to a mother whose son died in overdose. She had [successfully advocated for] a law
that would allow involuntary commitment…and we were responding to another [team's] argument [when] Eric pulled it out to make a seamless transition into why they needed to consider care ethics. It was beautiful."
Walter said the most rewarding part of winning the championship was seeing the immense time and effort pay off.
"My general feelings about things like Ethics Bowl are that even if you don't win, it is still really valuable because of the skills that you build and the types of thinking that it encourages you to do, the way that it asks you to view complex issues in the world with charity towards both your views and others' views," she said. "To be able to see all that result in something like a national championship was really nice."
Korf encouraged people to consider joining the Ethics Bowl team for a good way to challenge themselves. The requirements are to take an ethics course, as well as to have comfort with speaking in front of a crowd. Korf said, "If you find that you are enjoying your classes but are really looking for more of an intellectual challenge, Ethics Bowl will give that to you."
Keep an eye out for the forensics team's hopeful success in the upcoming tournaments.