by Samuel Roeber | Staff Writer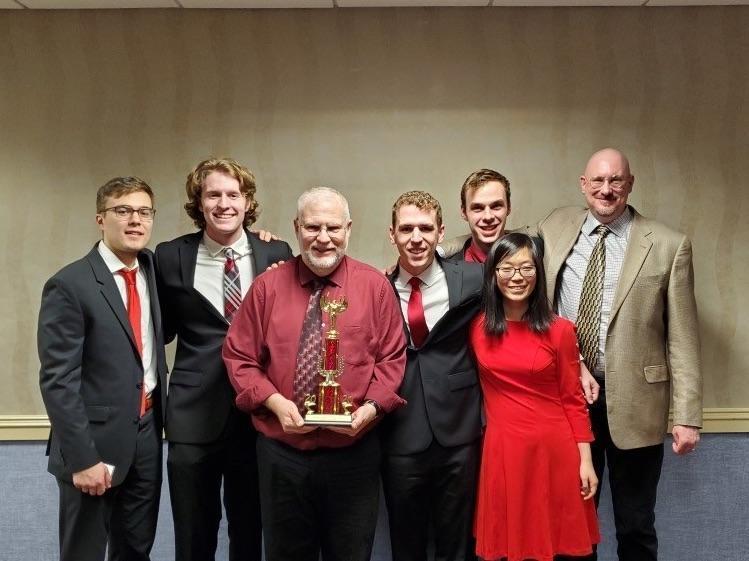 The Whitworth Ethics Bowl team recently returned from the 24th Annual Intercollegiate Ethics Bowl in Atlanta where they took third place.
The "Philosoraptors" are composed of five Whitworth students: seniors Jacob Dunning and Eli Min, juniors Drew Craddock and Eric Anderson, and sophomore Zakris Pierson. The team is coached by Whitworth professors Mike Ingram and Keith Wyma.
Ingram said the team defeated University of Rochester, Oakland University (Michigan) and Wake Forest University in the opening rounds, as well as tied with the University of California-San Diego. The team then beat the US Naval Academy in the quarterfinals and lost the semifinal round by one point to eventual champion Youngstown State University.
To qualify for nationals, the team had to enter a regional competition in the fall with schools such as WSU, Whitman and Seattle University. Finishing second in the regional tournament earned them a berth in the national competition for Whitworth
Competing against top-level teams such as Stanford, Yale and other high-profile schools is no easy feat for any school, Whitworth included.
According to veteran team member Eric Anderson, the Philosoraptors held their own because of two reasons.
"First, we practice more than anyone. But second, and more importantly, our coaches are phenomenal. Coach Wyma brings a level of deep philosophical knowledge and a profound ability to see the strengths and weaknesses of the different positions we develop. As for the presentation and speech portions, Coach Ingram helps us communicate clearly, organize our thoughts and direct our research," Anderson said.
Much of the work for this competition was done in a short amount of time. Because of Whitworth's Jan term, the team was missing three members while the rest of the teams in the tournament got a head start. Making up the lost time was no easy feat. According to Anderson, the team met for at least 18 scheduled practice hours a week and used every available resource to make up ground.
Anderson said the dedication to detail from each team member was paramount to their success. He cited books, countless interviews, expert advice and hard work as the driving forces behind the team's overall success.
Anderson said he felt that all this time spent researching and practicing together built valuable chemistry with his teammates, which all culminated with their performance during the semifinal match with Youngstown State.
"We were able to make a lot of really insightful points that cut to the core of their argument while still being winsome and collegial. We took turns adding each of our own thoughts in a smooth, organic way that can only grow out of hours and hours of practice together," Anderson said.
Part of building that chemistry is understanding the people you are on the team with and where each of their strengths and weaknesses lie, said Pierson, a first-year team member
"With only seven team members, five students and two coaches, you begin to develop really tight feedback loops, and it becomes a really intentional community of learning," he said.
The team is on hold until the fall season when prep for the regional competition begins, but there are still many things to be working on in the off-season.
"Ethics, in this competitive sense, is meant to be more of a conversation and it is something I hope we will work on more, moving forward," Pierson said.
For more information regarding Ethics Bowl email either: Coach Mike Ingram at mingram@whitworth.edu or Coach Keith Wyma at kwyma@whitworth.edu.