by Annaclare Splettstoeszer | Staff Writer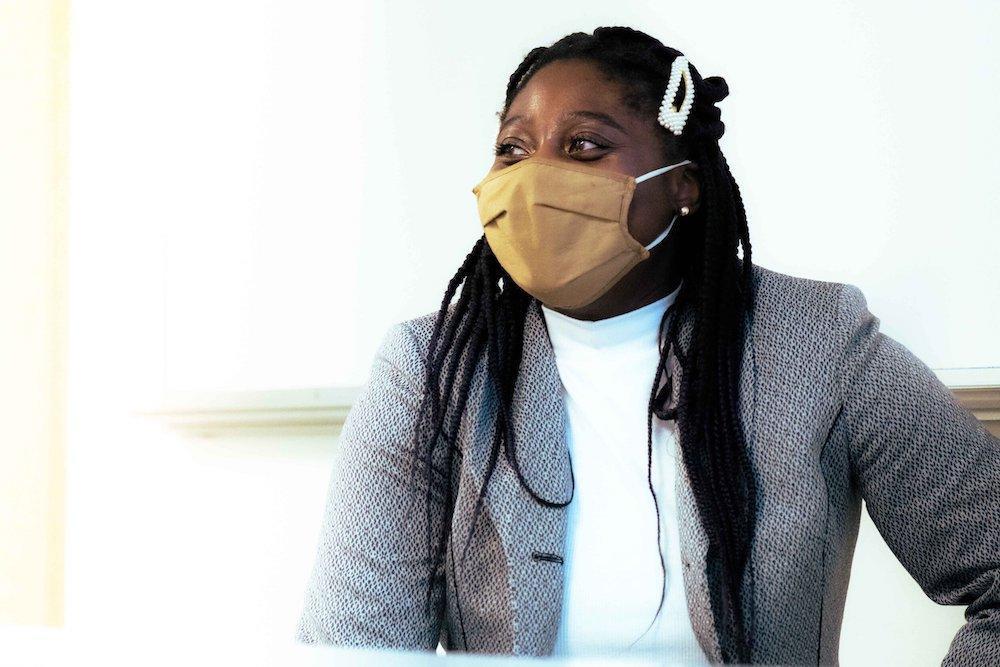 The Arguing Bucs, Whitworth's forensics team, just finished a successful online season, ranking as the top forensics program in the Northwest Conference and taking home multiple national titles. Head forensics coach and professor of communication Mike Ingram called it "the most successful season in program history."
The team won the national title at the National Christian College Forensics Association's national tournament, placed fourth at the national Pi Kappa Delta tournament and placed first in both the varsity and junior varsity divisions at the International Public Debate Association's national tournament.
The Arguing Bucs also received historic recognition at the regional level from the Northwest Forensics Conference. This regional conference hosts tournaments that Whitworth has been competing in for almost two decades. Cumulative wins at tournaments throughout the season made Whitworth the top program in the Northwest Conference, beating out rival Boise State for the first time in over a decade.
Additionally, Whitworth received awards for having the top two competitors throughout the entire five-state conference. Junior Chauncella Koulibali received the Brent Northup Award as the top-ranking individual competitor in both speech and debate events. Koulibali's champion performances were followed closely by those of junior Jericho Simone, who was ranked the second-best competitor in the region, making Whitworth home to the top two Northwest Conference competitors for the first time ever.
The team was able to accomplish all of this despite the pandemic that has affected all aspects of travel, community gathering and competitions.
For head forensics coach and professor of communication Mike Ingram, competing during the coronavirus pandemic made this season stand out in comparison to his 19 years of coaching the Arguing Bucs.
"We had to learn camera centric skills in presentation… Students had to gain confidence speaking into a laptop and staring at a camera, instead of looking around a room full of judges and audience members," Ingram said.
Competitions this year were facilitated largely through Yaatly, an online platform designed specifically for virtual speech and debate tournaments. During tournaments, teammates frequently communicated with one another through a combination of Zoom calls, Discord threads and Snapchat group chats.
While the exclusively online format did present challenges, it also provided opportunities for new kinds of contributions to the team. Sophomore Travis Plunkett was able to use his photography skills and filmmaking to assist with lighting, recording, and uploading videos of speeches for certain asynchronous tournaments.
The online format also enabled the team to attend tournaments that otherwise would have been inaccessible, allowing this season's Arguing Bucs to compete in three national tournaments for the first time in Whitworth history.
The team was able to draw on its strong alumni network even more because of the unusual, exclusively online season. Two alumni, Lori Welch and Dr. Stephanie Gibbons, returned to the team to serve as remote assistant coaches. On top of the coaching assistance, a dozen alumni were Zoomed in from seven different states to assist with judging at tournaments.
The online format even made the transition to competitive speech and debate easier for some newcomers. New to the team this year, sophomore Kacie Foster spoke about her experience learning to compete through video calls.
"I think it was an easier way to learn because you're speaking by yourself and just looking at a camera and not the whole host of people that you're competing against," Foster said.
Koulibali expanded on another opportunity unique to this online season. Since the team typically travels all across the country, in the past, it has not been easy for her friends and family to watch her performances.
"What I did this year that I couldn't do any other year was send links to my friends and family. They could come in and watch my rounds," Koulibali said.
There were challenges, however, to competing in a team sport during the pandemic.
"It's so hard to social distance and to not get close to one another when you need to prep right next to each other because you're prepping the same case," said Foster.
Despite this, Foster said the team worked together and has grown especially close.
"Teamwork has been really, really important, especially for me as I didn't know what I was doing for part of the year," Foster said.
Being able to come together as a team was especially important for the Arguing Bucs this season due to their head coach having to travel unexpectedly.
"My parents were ill during the season and my mother died during spring term, so I was in North Carolina for two long stretches of the season," said Ingram. He said that the team "rallied together" in his absence, working hard with one another and with the assistant coaches.
"This spirit of helping one another when facing new challenges from my absence, trusting each other and seeing student leadership take on more responsibilities was amazing and humbling. This is a very special team, and I am grateful for their work," Ingram said.
As for the future, many on the team are hopeful that next year's season will be a little less virtual to allow for even more bonding.
"We have a really cool team," Koulibali said. "I really want to see those relationships grow through those things we used to have, like restaurants and long van rides and Coach singing a song in the parking lot at the end of a tournament."
Those traditions will hopefully return alongside more awards as the Arguing Bucs are poised to have another successful season.
To learn more about the Arguing Bucs, follow them on Instagram @arguingbucs.