by Craig Russell | Staff Writer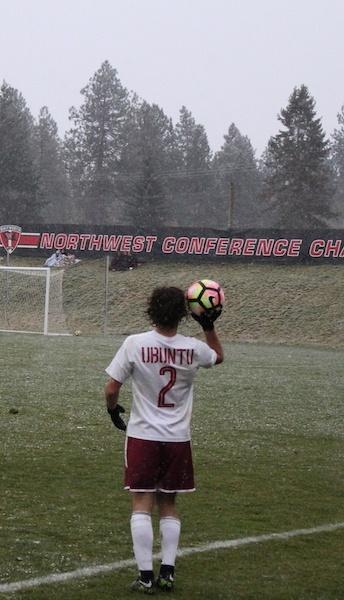 The men's soccer team's primary core value, "ubuntu," is printed on the backs of the team members their jerseys. Traditionally, this is where the last name of each player would go. But for this team, everyone has the same word—ubuntu.
"Ubuntu" is a central focus for the men's soccer team this year. Coach Morgan Cathey established "six core values" for the team. They include: positive, industrious, friendship, free, discipline, and ubuntu.
As freshmen, the players are required to memorize ubuntu and its meaning even before the players get to enjoy this experience. The players describe the word as the "I am, because we are" mentality.
In Jan. 2016, Cathey took the men's soccer team to Nyanga, a township in Cape Town, South Africa. The purpose was to serve the community in a lesser developed area, and to expose the players to this different culture.
"The boys got to see soccer as more than just a sport, but as a tool to build relationships,"Cathey said.
The team played multiple soccer games against local academies, and hosted a free clinic in the township.
The team was able to go into a prison to play one of their games. "It was a unique experience for our guys to experience this, but also for the prisoners to see these American men wanting to come and befriend them. I don't think the players will ever forget that," Cathey said.
Ubuntu is the name of the academy in Africa that assisted Cathey in organizing this trip, and one of the teams the boys got to play against. Ubuntu is a South African word that means to have compassion and humanity, but to the soccer team, ubuntu is more than just that.
The team was able to not only learn about this word, but see it for themselves. Cathey explained that even though it was January here, it was summer in South Africa and was at least 100 degrees. Since most of the kids did not have soccer cleats, their feet were starting to burn on the hot astroturf.
"What we started to see was the kids with cleats started taking them off and sharing with those who didn't," Cathey said, "or we'd give one kid a bottle of water and he'd run over to ten others would surround him, and the first would make sure everyone got some of the water." Cathey explained that the selflessness that the kids showed naturally is what ubuntu is all about.
"It was never just one kid for himself," Cathey said, "That really is what ubuntu embodies."
"I remember in particular, one of the kids camps there were two brothers. They wore the same pair of shoes, but one wore the right because he was right footed and one wore the left because he was left footed," senior Austin Cassity said. Each of these brothers make sacrifices to ultimately benefit them both.
"Only 11 players get to shine at a time, but really the performance those players are showing is from all 33 of our guys working in different ways," Austin adds.
The team puts "ubuntu" on their jerseys to establish equality between the players, and shift away from the thinking of themselves as individuals, but as a single team.
"In world soccer, they have their names printed on the back of the jerseys. Then when they have a big goal they usually point to their name, but we point to ubuntu," senior Eric Espinoza said.
These are just a few examples of what ubuntu really means to the team. Ubuntu means to take care of the community around you, because that comes back to support yourself.
Cathey plans to return to South Africa every four years, so that every class gets this experience. This allows the team to embody this idea together.