by Andrew Goodwin | Sports Editor
No matter what happens at this weekend's Northwest Conference softball tournament, the 2017 Whitworth Pirates can already claim they've brought something brand new to the program.
Hosting the conference tournament and winning a regular season title are nothing new to the program after consecutive titles in 2015 and 2016. This year's Bucs will leave a lasting mark on head coach Cristal Brown's home in the form of a new puppy, the result of a deal with assistant head coach Randy Clark.
"I have three dogs currently, and they're getting older," Brown said. "They asked Randy and he said 'if you win conference then you can have a puppy,' not understanding the full ramifications of that."
---
We knew we had something special when we swept a competitive team with this freshmen group."

— Head Softball Coach Cristal Brown
In many ways, the Pirates' growth as a program may resemble that of their new puppy, maturing from young and energetic to fierce and protective; this year reaching a stage where they're serious but fun.  
The Bucs know the growth they've had to achieve as a program hasn't come easily, but each senior said it has been worth it.
Brown began coaching at Whitworth in 2011, and found her team had a different feel than she wanted.
"Every team has a bit of a different makeup," Brown said. "When we first got here it was almost not serious enough, so we wanted to bring in people who were."
Brown's focus on seriousness led her toward three of the four seniors on this year's squad: Madi Perez, Shannon Wessel and Tessa Matthews.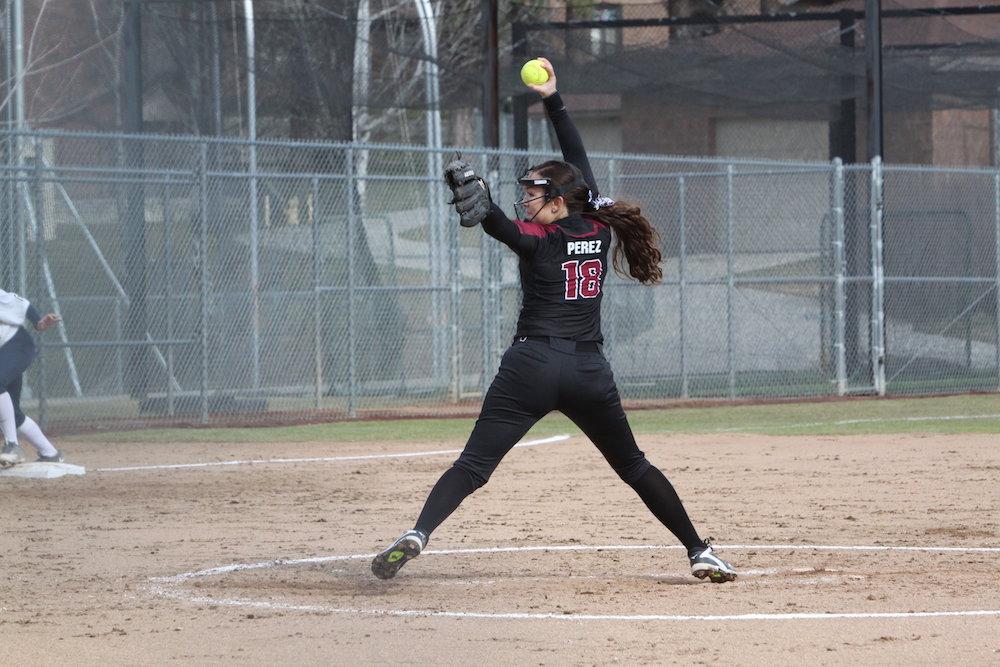 "We knew we were bringing in a class that talent-wise was going to change the scope of Whitworth softball," Brown said. "To have four seniors contribute on the level they're contributing is so special."
Prior to communicating with Brown and Clark, none of the three had Whitworth on their map, they said. All three wanted to play college softball, and Whitworth happened to end up in the picture through various events.
For Madi Perez, the combination of a size disadvantage and an academically-inclined personality pushed her to visit Whitworth. She loved it.
"I was told about Whitworth by another high school's coach, and he told me Division III would be a good option for me," Perez said. "Division I colleges don't exactly look for 5'3" pitchers."
Fortunately for the Bucs, Brown did look at the 5'3" Perez, who lit the Northwest Conference on fire as a freshman en route to an 1st team all-conference selection. Perez, Wessel and Matthews were three freshmen who helped lead the team to a third place finish in the Northwest Conference in 2014, paving the way for a historic sophomore season.
"We were playing George Fox at home that year, and I looked out onto the field every position player was a freshman or a sophomore," Brown said. "We knew we had something special when we swept a competitive team with this freshmen group."
Brown was right. The next season, powered by many of those same players, Whitworth would win their first conference title in the school's history. The Bucs split with perennial power Linfield on the second-to-last weekend and took three of four games from Lewis & Clark to clinch the championship.
"It was really fun to see how everyone came together," Matthews said. "Everyone was on board, and everyone put in the extra work and the extra time."
Wessel, Matthews and Perez racked up the post-season accolades. The trio were all named to the all-conference softball team, and Matthews made the all-region third team.
The team's growth swung their makeup in opposite direction from Brown's first season. While the 2012 group wasn't quite serious enough, Wessel described the 2015 team as "intense." The team had something to prove, and they earned it, she said.
"Everyone was very focused all the time," Wessel said. "Coach would have to remind us that this game is fun."
The 2016 team brought its share of new additions, one in the form of 2015 conference position player of the year Myranda Ramirez. The now-senior left Willamette looking for a nursing degree and family atmosphere, she said. Coming off a conference championship, Brown said she was all too glad to add Ramirez's bat to the lineup.
All of Ramirez's fellow seniors were excited to add the transfer to their team as well, they said. For her part, Ramirez came in trying to prove she belonged with the conference champions, and did so, earning all-conference accolades after the season.
Thanks to the addition of Ramirez and contributions from several returning players from 2015, Whitworth took home the Northwest Conference title once again. The Pirates also earned their second-ever selection to the NCAA tournament. For Ramirez, the wins were special because of the group she got to win with.
"When we won, and won together, I was ecstatic. I'd never been on a team that supported each other the way our team does at Whitworth," Ramirez said.
The support and family atmosphere has carried into this season as well, Brown said. "Fun" is a word all four current seniors, as well as Brown, used to describe the 2017 Bucs. The team matured from an intense team with high expectations to a confident squad who wants to win and also have fun, Perez said.
Her quiet, but intense game day personality fit better initially with the 2015 team. After struggling as a junior, posting an ERA a full run above her sophomore campaign, Perez entered this season wanting to win but hoping to have a fun year playing.
Perez and the other seniors said they did enjoy this season. Wessel called this season "the most fun year of softball I've had," and Matthews said even when the team is behind "you can't tell, because you don't feel like you're losing."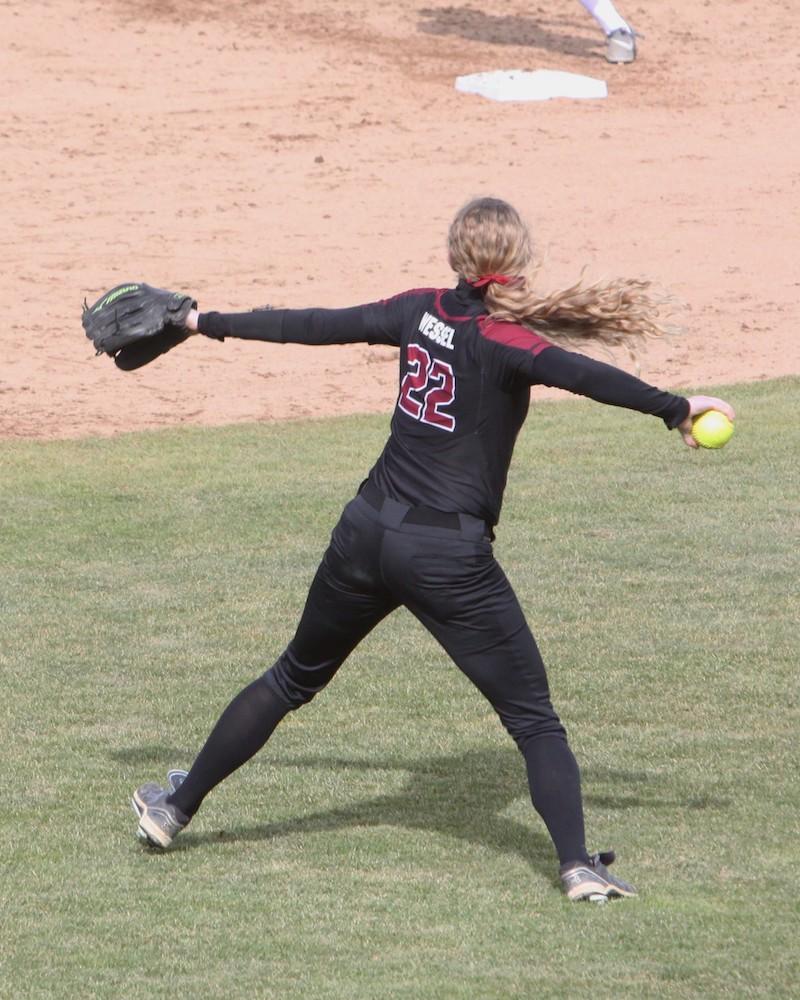 The team's mentality shift comes with the addition of several new freshmen to the lineup. The four seniors each said they enjoy the presence of their new teammates because they remind bring a different attitude to the team.
"Our freshman class has such a joyful energy," Wessel said. "It makes going to practice and game days fun."
Now, the fun freshman class gets a chance to help their four seniors achieve one more Whitworth first before they graduate. Despite hosting the past two seasons, the Bucs are still searching for their inaugural Northwest Conference tournament championship.
To say the rest of team wants to get it done for their seniors may be an understatement.
"They have looked out for us not just throughout the season, but the whole year," freshman Kinsey McNaught said. "This is their last shot at the tournament so it would mean a lot to send them out with no regrets."
The senior Bucs said that while it would mean plenty to them to win the conference tourney, they're focused on taking each game and pitch individually. That means their eyes are on their first game where they hope to come out rolling on all cylinders against a George Fox squad the Bucs swept over Spring Break.
The tournament will be Whitworth's first home weekend of the season with students on campus. Their first came over the final weekend of Spring Break. Whitworth's opener is at noon, and all four seniors said they would love to see packed bleachers at Diana Marks Field tomorrow afternoon.
"I think this tournament is going to be a fun one," Ramirez said. "It would be a game-changer for us to have a true Whitworth home softball game."
And if Whitworth is able to string some wins together this weekend, a puppy won't be the only new thing the 2017 Pirates leave behind. There will be some new hardware in Coach Brown's office as well.