by Anesu Mujenge | Staff Writer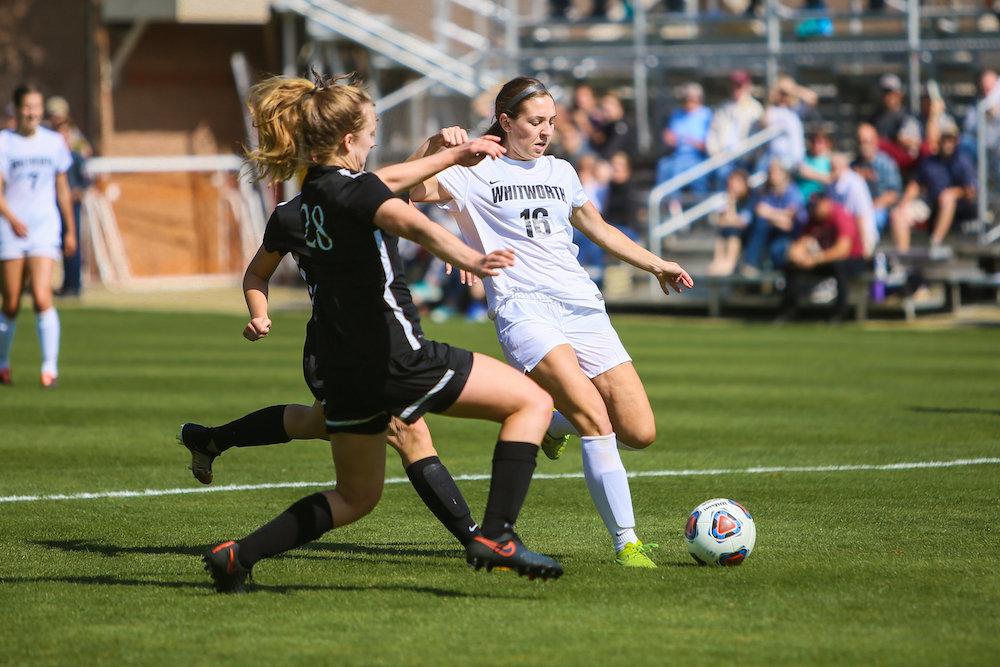 The women's soccer team cruised to second place in the Northwest Conference last weekend after a confident display saw them beat Lewis & Clark 3-0 at the Whitworth soccer field, securing back to back wins, and their third overall win this season.
A vivacious start by the Pirates led to a brilliant long range strike from right-back Jadyn Baumgartner, '21, putting the Pirates 1-0 up in the 7th minute. Baumgartner's offensive play inspired fluency down both flanks. Expansive wing play characterized the game.
Fellow defender Sydney Weiller, '19, scored a superlative goal after darting past several midfielders and striking the ball into the top corner from long-range to double the score. Less than four minutes later, Leah Corra, '18, thumped a rebound shot into the net from inside the penalty area to make it 3-0, five minutes before half-time.
Despite relentless pressure from the Pirate attack, the score remained 3-0 at full-time.
Firm fists from goalkeeper Sienna Tanner, '18, and disciplined defending helped the Pirates secure their second clean sheet this season. Possession also proved pivotal in the Pirates win.
"We want to dictate the game always, through our thought process, making great decisions and really valuing the ball," coach Brian Olson said.
Coach Olson also acknowledged the role the fans played in securing this back to back win.
"We love playing at home, we love our field, we love our fans, the atmosphere; it's a great place to play," Olson said. "The road is something that we will be ready for also."
Confidence on the ball was epitomized by Baumgartner and Kelly Wucherer, '19, who exploited gaps and quickened the pace when necessary. They were integral to the powerful display of possession.
"We really pride ourselves in selfless work to get open for teammates," Wucherer said. Whilst she dominated the center of the field, she credited the flank play by saying, "Our wingers are amazing, they work super hard, and we like to exploit the wide space because we have really good players out there."
The Pirates will be looking to build on this solid performance as they go on the road this weekend. They face George Fox University on Saturday at 11 a.m. and Pacific University on Sunday at 12 p.m.
These games could secure an impressive four back-to-back wins for the Pirates and propel them to the summit of the Northwestern conference if they keep up the inspired form.