by Jackson Bell | Staff Writer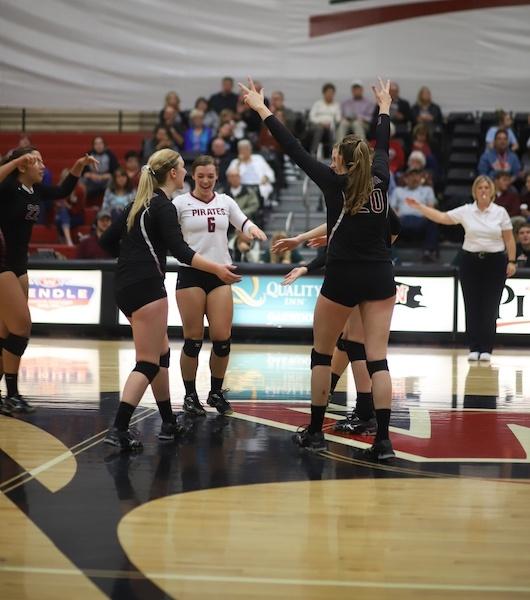 Whitworth Pirates Volleyball takes two wins versus Whitman Blues and Willamette Bearcats last week in the first home games of the season, improving their conference record to 3-1 (6-6 overall).
On Wednesday, the Pirates defeated the Blues 3-0, boasting a season-high hitting percentage of .315. The Pirates took the first set 25-15, the second 25-17, and the final set 25-11. Emiko Kahler, '20, led the Pirates offense with 11 kills in the match against the Blues, followed closely by Cassandra Mendoza, '18, with nine.
Libero Taylor Wicht, '18, also stood out for the Pirates, with 20 digs and four of the nine Pirate service aces. Madison Douglas, '20, made a name for herself as well, posting a hitting percentage of .467 and earning seven kills against the Blues.
The Blues were wrought with errors and miscommunications Wednesday, leaving gaps that the Pirates exploited, while being tooled by the powerful attacks from Kahler and Mendoza.
The majority of the Blues offense was led by Kalli Dickey, with 11 of the Blues' kills.
The second game of the week, versus the Willamette Bearcats, was also dominated by the Pirates. Winning 3-0, the Pirates put up a .278 hitting percentage and out-digging the Bearcats 58-37.
The Pirates cruised through the first set 25-10, then were met with a more prepared Bearcat team in the second and third sets, winning only 25-22 in both sets.
The first set was a blowout, allowing Pirate head coach Kati Bodecker to reach deep into the roster for playtime. The Pirates hit .468 with 15 kills in the first set.
Willamette wasn't finished though, and fought ferociously in the next two sets. The Bearcats kept it close in the second set, leading 19-18, until a 6-1 run from the Pirates, which was finished by a kill from Mendoza to close the set.
The third set was just as competitive, with the Bearcats' Kendall Fox, Emma Liband, and Jaiden Mason communicating well up front.
Mendoza pulled out 13 kills in the match, along with Douglas with seven kills while hitting an impressive .636. The offense was tied together by Gracie Meiners, '18, who put up 39 assists.
Defensively, Corrine Bell, '18, and Lauren Budde, '19, led with four blocks each.
The Pirates will face off against Lewis & Clark next Friday, Sept. 29 in Portland.