by Henry Miller | Staff Writer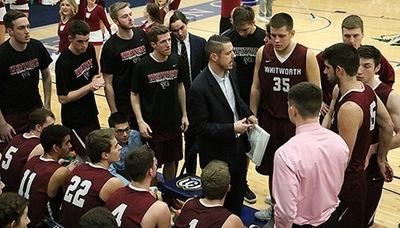 Head Coach Matt Logie has been coaching the Whitworth Pirates for seven seasons and has brought the program some of its greatest triumphs. 
Logie started his basketball career playing at Mercer Island High School. From there he went to play at the collegiate level for Lehigh University in Pennsylvania from 2001 to 2003. After graduating from Lehigh, Logie went on to play a season of professional basketball in the United States Basketball League. This league is essentially a minor league to the NBA. After playing professionally, he knew that playing professionally wasn't for him and he started pursuing coaching.
Logie volunteered at Lehigh as the director of basketball operations and began learning the ins and outs of collegiate basketball management. His first year on staff, Lehigh made a NCAA tournament berth for the first time in 16 years.
"For me that was an awesome experience because I had put so much into the program as a player," Logie said.
This led to an assistant coaching position at Lehigh the following two years as Logie pursued his master's degree in educational leadership. After his time at Lehigh, Logie was hired as the director of basketball operations at Kent State University in Ohio. He then returned to Lehigh after a coaching change was made to act as the full-time assistant coach.
However, the pull of family and home coupled with the opportunity to coach in the Pacific Northwest again drew Logie to Spokane to coach the Pirates. Logie said he was immediately impressed by the basketball culture at Whitworth and credits to the program's continued success. Since joining the program in 2012, Logie has earned six Northwest Conference Championships and a streak of five straight from 2012 to 2016. He has been named NWC coach of the year three times and has amassed a record of 173 wins and 28 losses.
"The exciting thing about this year, and this team, is that we only have one senior. We will return almost everybody and will have an opportunity to build on everything we have accomplished this year," Logie said.
After Saturday's electric finish to earn Logie and the Whitworth pirates the Northwest Conference Championship, the top ranked Pirates look to make a major push in the NCAA tournament and bring home a National Championship.