by Henry Miller | Staff Writer
Men's basketball looked to dethrone the first ranked Whitman Blues on Tuesday. The Pirates (19-3) opened up the first half of play with what looked to be an answer to Whitman's high-octane defense. After the first half, the Pirates led 57-54 with a commanding performance from Kyle Roach, '19, who scored a career high 45 points while also leading the pirates with three assists. Despite shooting a combined 56 percent from the field the Pirates weren't able to pull off the upset. With 14 seconds remaining and Whitman leading 98-96, Ben College, '20, caught a pass from Roach and made a three pointer to put the Pirates up by one. On the ensuing drive Roach was called for a blocking foul sending Tim Howell to the line for Whitman who made two free throws sealing the win.
"[Roach's output] was one of the best clutch performances I've ever been part of," said Whitworth head coach Matt Logie. "He has put us on his back these last two games and just carried us."
The Pirates struggled with turnovers turning the ball over 21 times resulting in 23 points for the Blues. The Blues also made 25 of 34 free throws whereas the Pirates only made 11 of 14.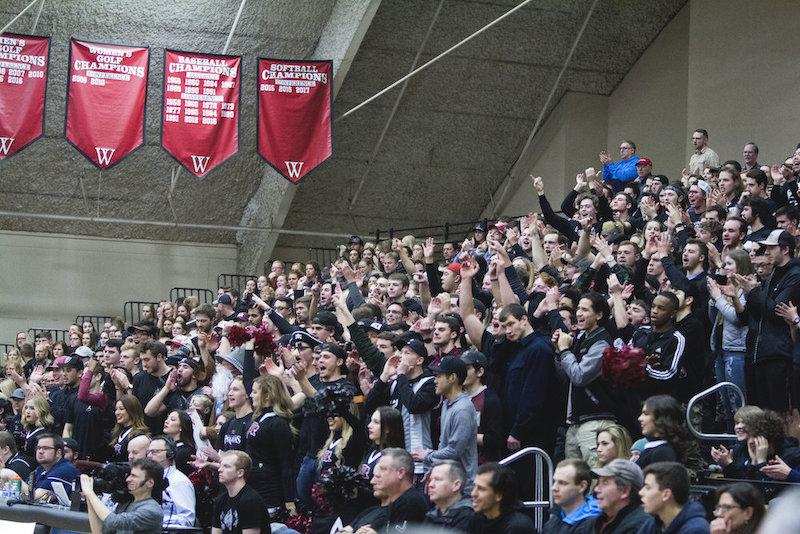 With the loss the Pirates are now two games back of the first place Blues. The number one ranked Blues have dominated the NWC this season including a commanding season from the 2017 NWC player of the year Tim Howell. With the win the Blues improve to 22-0 with this being their 37th straight NWC win. The Bucs travel to Newberg, Oregon to battle George Fox on Friday Feb. 9th before traveling back to Spokane to play Willamette on Feb. 17th.