by Henry Miller | Staff Writer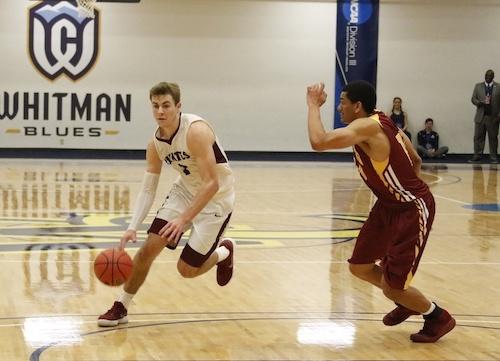 The Pirates were stunned Friday night by Claremont-Mudd-Scripps 83-82 in Walla Walla. The Pirates were riding high after their last-second win over No. 1 Whitman, but made an early exit in the 2018 NCAA Tournament. Claremont (20-7) came in fighting to advance in the tournament. With great performances from their seniors including 31 points from Michael Scarlett, 11 of those points coming in the fourth quarter. The pirates led at the half, but a strong performance by the Claremont back court would lead a second half comeback that would put the Bucs away.
The Claremont back court, including Michael Scarlett and Scott Lynds combined for 59 points.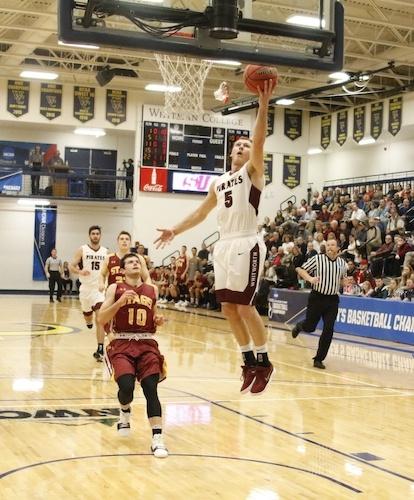 Claremont had everything going their way Friday night. Shooting 53 percent from the field and 55 percent from three-point range. 2018 NWC player of the year Kyle Roach, '19, was held to only 14 points. Jared Christy, '19, of the Bucs, lead all Whitworth scorers with 23 points. He also lead in rebounds and assists. Ben College, '20, shot five for ten from three-point range and had 19 points.
In the end Claremont out-played Whitworth.
"All credit goes to CMS because they forced some really tough shots," Roach said.
Despite the defense the Bucs finished with five players with over 10 points. The game was close until the very end, with a pair of Claremont free throws finally end things.
"We've got to tip our hat to CMS, their back court was special tonight," said Whitworth head coach Matt Logie. "The way their guys made shots was the difference in the game."
Claremont went on to lose to Whitman 89-84 in the second round of the tournament.
Whitworth will have all of their players back for next season except for senior Joel Gabriel. We look forward to seeing the Bucs take home another NWC championship next year.