by Henry Miller | Sports Editor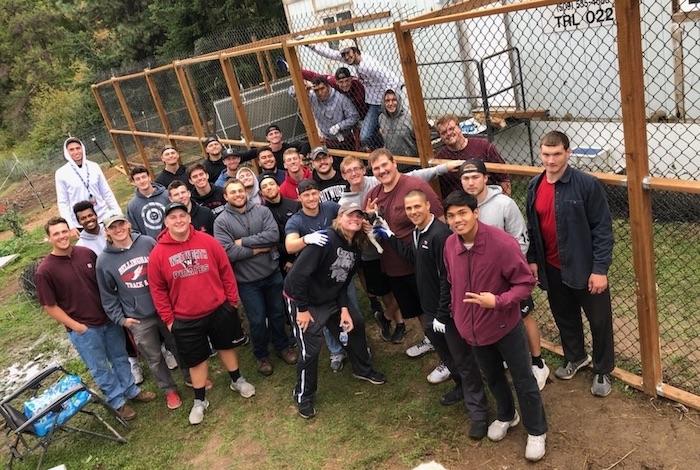 Whitworth's Community Building Day is a longstanding tradition of giving back to the community for one day every fall. Providing some of the efforts are Whitworth's student athletes, who come together to serve the community and Whitworth in whatever ways they can. 
This fall the Whitworth football team volunteered with Camp Dart-lo and with the Higher Ground animal sanctuary.
Camp Dart-lo is a part of Camp Fire Inland Northwest, and their mission of "Thriveology." They wish to enable youth to achieve their full potential. They have been able to encourage kids to live healthy lifestyles, stay in school, and explore their sense of purpose.
The Higher Ground animal sanctuary is driven to provide rescue and rehabilitative services to animals that are abandoned, injured, or homeless.
"We have been a part of Camp Dart-lo for the past four years. That was when we started the all-football community building day event," said assistant coach Duke DeGaetano.
"We feel like we get a lot of support from our community, and the best way we can show our appreciation for that is to pour into the community surrounding us," DeGaetano said.
The experience for the Bucs at the Higher Ground animal sanctuary was a special one.
"They have 30-40 rescue cats there and they can't stay outside with hawks and eagles nearby," said Senior wide receiver Taylor Kolste. "We built this pen so they can go outside and still have a roof over their heads."
As with most volunteering experiences, there is always a rewarding value found by the volunteers when the work is done.
"It's the least we could do. We get a ton of support from the community," said Junior defensive back, Bryce Hornbeck. "A big goal of our program is to keep perspective. It's not just about us."
Whitworth student athletes also went to work on campus. The Back 40 trails and roads were serviced by the Pirates baseball team.
"We are lucky enough to be in such a great place. It is our duty to pay it forward and help the community flourish," said Junior outfielder Grayson O'Neil.
The Back 40 is one of the most frequented areas of campus for walks, trail rides, and Frisbee golf.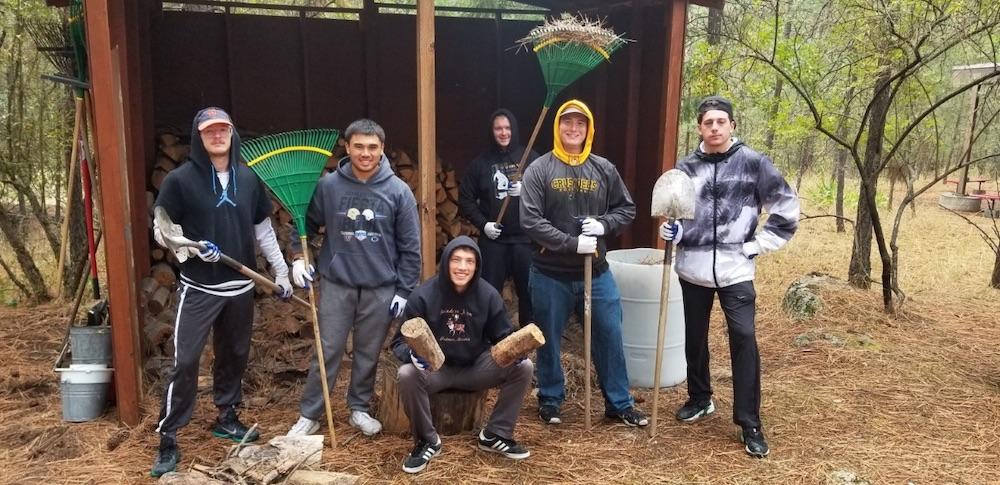 The experience of volunteering as a team helps bolster team chemistry and allows for a better relationship between teammates and with all of Whitworth.
"Our goal as a team is to better ourselves both on and off the field. Volunteering within our community allows us to become better people away from the yard as well as become closer to our teammates which will transition into better play on the field," O'Neil said.
Community building day would not be nearly as successful without the help of our student athletes and their effect on the community is felt all around Spokane.