by Luke Schwartz | Sports Editor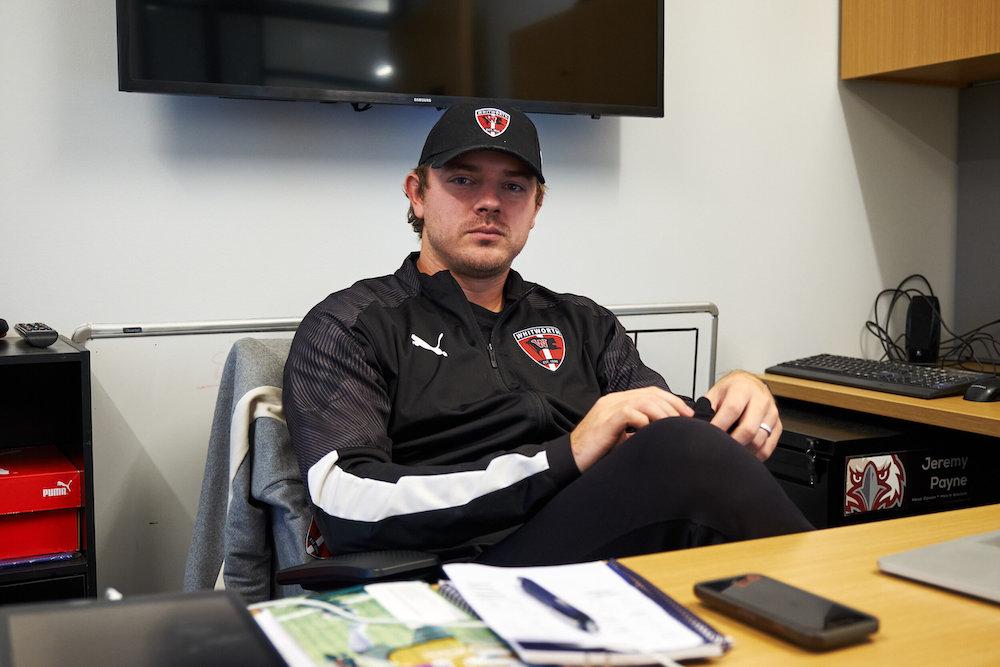 Jeremy Payne traveled over 2,131 miles away from his family and previous job to take over as the new head coach of the men's soccer team at Whitworth. 
Payne was a two-time NCSAA Player of the Year in 2012 and 2014 for Messiah College, as well as a three-time first team All-American. He spent three years as the head coach for Eastern University in St. David's, Pennsylvania where his overall record was 42-17-5. In 2018, Payne and his coaching crew won the honor of Mid-Atlantic Coaching Staff of the Year. Whitworth wanted him here, and the feeling was mutual.
"When I got here, I was blown away. You step on campus and I feel like there's a different kind of energy," said Payne. "I think there's everything here that you need to be successful."
Success has been a key narrative for the program in the past. From 1994 to 2012, Sean Bushey led the pirates to an overall record of 210-92-34 as the winningest coach in school history. Morgan Cathey, the previous head coach to Payne, took over in 2013, and from 2014-16, the team won three straight Northwest Conference titles and made three straight appearances in the NCAA Division III Tournament.
However, the past three seasons haven't shown the same success for the Pirates, with a 25-28-6 overall record that didn't even surpass .500 or make the tournament. Payne is looking to turn that around in the future.  
"I think my hope is that I can help bring the toughness and grittiness to what has already been put in place here," said Payne. "Making sure that we're continuing to bring in guys that can compete for time, that can push each other. We want a competitive environment. With the results mattering – trying to find a balance between style – we want it to be fun to watch. We want our guys to enjoy playing. But the other side of that is like a toughness and grittiness."
Not only is Coach Payne looking for a reinvigorated toughness to the team, he wants his players to be proud of their physical strength like he was in college. "I really took pride in being physically fit…Like you know, I'm a big guy, like I've probably played around like 180 pounds. I took that physical side as really important, because I thought my game wasn't very good when I got tired," said Payne. "In order for us to be at our best, well, then physically, I think we need to be at a high level."
This program cares deeply about winning, but their success is derived from the relationships that they build on and off the field. "In my interview, I had about probably a little over an hour with the guys and I think it became clear that it was a group that cares deeply as far as the program and each other," Payne said. "Intentional time. Spending time together away from the field getting to know each other. It's such a big part of it."
Although COVID-19 has thrown a wrench in Payne's plans, the team is doing everything they can to stay together and make the most out of this unprecedented situation. "The positive right now is like, I get to know my team now really well. Before we actually are able to compete, the guys are going to be able to understand how I use my mannerisms and my wording," said Payne. "We're going to be super excited to get back out there, but I think, you know, give us whatever we can right now, and we're happy for that. We'll have enthusiasm and we'll have energy."
Still not sold on Jeremy Payne? Here's what he's bringing to the table, "Somebody who's young, ambitious. I think somebody who has, as far as a coach, has pretty good ideology and a really good feeling of where I want to take the group, but not so embedded, not so dug in that I can't be flexible. I think somebody who has a really strong work ethic when it comes to all sorts of things. Somebody who's prepared, somebody who is going to care about the guys."
"I think that Jeremy is going to be a really good fit for our program, and I think he's going to challenge our team in new ways that we haven't seen before," said Drew Wilson, junior on the soccer team.