by Katelyn McLean | Sports Writer
by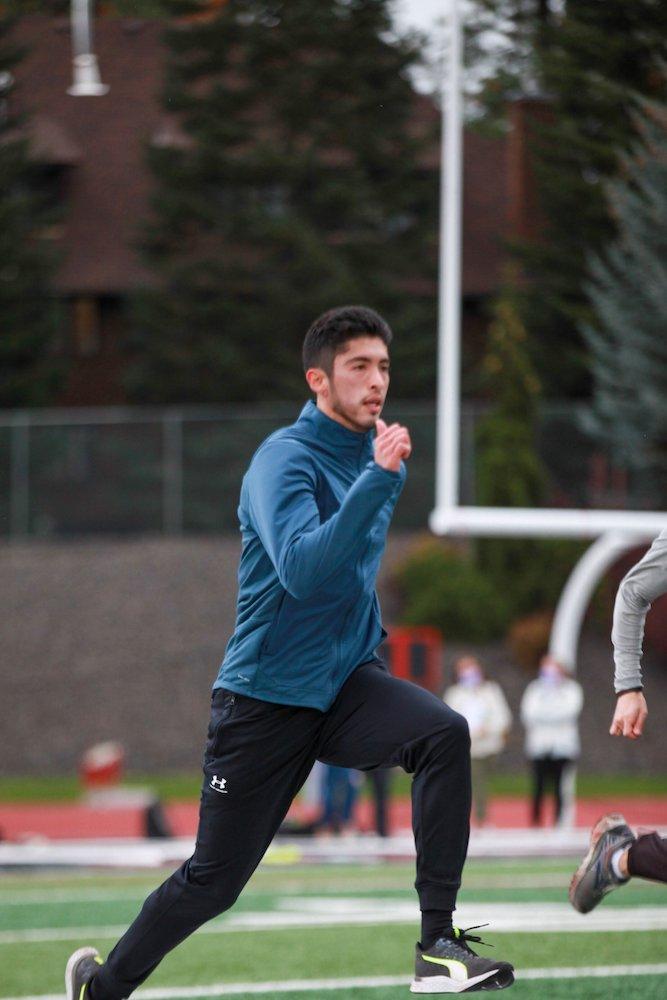 COVID-19 has turned the college sports world on its head. With sports at Whitworth postponed and possibly canceled, athletes are left reeling, and the international athletes may have taken the hardest hit. 
According to Whitworth's website, international students come to Spokane from "40 countries and every major continent." 
However, over the summer, many of these students, who fill such a crucial role in Whitworth's community, doubted that they would be able to return at all, much less to play sports. "One of the main reasons why I came to the United States was to play sports, so, that really helps me to be disciplined and motivated through all of these times," junior track athlete Xavier Betancourt said. 
Back home in Cuenca, Ecuador, Betancourt broke national records in the 200m dash in 2016 and the 4 x 400m relay in 2017. "I realized that I had a chance here to compete at a university. I was thinking about many different colleges – Division 1, Division 2, Division 3, but I realized that Division 3 is what I was looking for in terms of academics and sports as well," Betancourt said.
Over the summer, Betancourt was unsure about whether he would be able to get back to Whitworth and to the sport he fell in love with. "I don't know if I go back to my country if I'm going to be able to re-enter here safely. We're facing the bannings this year from the government, so there was a lot of uncertainty at that time. I didn't know what I had to do," Betancourt said.
The international student restrictions were part of a July 6 order by the Trump administration, barring international students from continuing their studies in the United States if colleges moved classes online for the 2020-2021 school year due to the coronavirus pandemic.
International students who were in their home country would be banned from returning, and those currently residing in the United States at the start of the school year would be forced to return to their home country or face deportation, according to Deirdre Shesgreen and Chris Quintana for USA Today.
The order was reversed on July 14, after 17 states and the District of Columbia filed lawsuits against the Trump administration over the policy, according to USA Today. However, the policy still had a notable impact on international students.
"When I was back home this summer, the entire time I was telling my coach, 'Well, this new law came out that international students from these countries can't go back into the U.S.,'" senior cheerleader Ana Murdock said.
Spain, Murdock's home country, was one of the countries affected by this international student restriction. Murdock said she received advice to fly from Madrid, Spain, into a country that was permitted to fly into the U.S., like Argentina, and stay there for two weeks in order to fly into the U.S.
Lucky for Murdock, the order was rescinded before she ran out of other options, but fears about the status of international students and athletes in the U.S. remain. "There's still the chance of someone saying, 'That's it, international students out,' and kicking us out," Murdock said.
The idea of being forced to leave a university and a sport for which the athlete travelled thousands of miles is devastating. "Being able to continue with something that I love so much while I'm so far away is really important to me, and Whitworth cheer has just been literally a family since I got here. I had no idea what I was doing or where I was, or what school in America worked like," Murdock said.
Murdock grew up in Madrid, Spain, where her gymnastics and dance background led her to discover competitive cheer. "It's a little different because sideline cheer doesn't exist. That's a very American thing, so it was mostly just competition and going around Europe," Murdock said.
Murdock learned sideline cheer when she got to Whitworth, and immediately fell in love with it, as well as the Whitworth community. "It's been the best experience of my life and I'm so grateful for everything, and Whitworth cheer has just been, again, my family," Murdock said.  
"I was so scared before coming into school the first time. I remember flying here and regretting every decision I've ever made. I was like, 'No, I just want to stay home,' and my first practice, I was already texting my mom. I was like, 'I'm in love with this place, I'm never leaving,'" Murdock said. 
For incoming international athletes, the excitement of their first college sports season was thrown into jeopardy. "It was just tough to decide if I was going to come here or to stay at home and do it online depending on how strict the border rules were."
Siemens grew up in Abbotsford, British Columbia, Canada, and began playing baseball at age four. It was the baseball community that eventually connected Siemens with Whitworth.
"I was actually at a tournament in Arizona last fall, so probably about a year ago now, and I met…Dan Ramsey. He used to be the head baseball coach here…He told us about Whitworth, and we got connected with Coach Perry," Siemens said.
Leaving Canada as an international student was a relatively easy process for Siemens, because international students are considered essential and therefore allowed to travel. "Other than crossing the border, and [Canada Border Services Agency] asking a couple questions, they were totally fine. They understood that we were students and that we had to get across," Siemens said.
For international students, like many of us, not having sports remind us of the role they play in our lives. "I really take it for granted. I shouldn't have complained about it when I had it," Murdock said.