Katelyn McLean | Sports Editor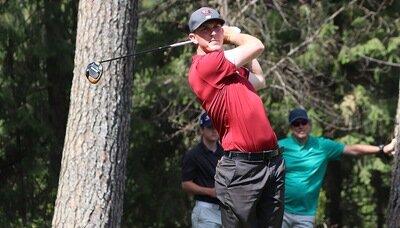 Whitworth men's golf rallied from being down 13 strokes on Saturday, April 17 to score their best round in a decade on Sunday, April 18 and win the NWC Championship.
"I think the guys just freed themselves up and just competed. We don't have anything else to lose. This is the final round – we might as well just go out and play," head coach Scott Kramer said.
Senior Reilly Hegarty had the best round of his Whitworth golf career, shooting 66 and finishing six under par. Hegarty was one of three Whitworth golfers to finish in the top five. Senior Will Alexander tied for third and senior Caleb Belton finished fifth.
"I just couldn't be more thrilled for them to be able to kind of go out on their own terms; that is the way those guys expect to play. They put the work in to have those type of results," Kramer said.  
Freshman Issac Janzen tied for fifteenth and sophomore Gabe Cach tied for twenty-first to help the Pirates edge Willamette and secure a victory.
Hegarty was in 13th place and seven strokes out of the lead entering Sunday's round.
"My only goal on Sunday was to move up as much on the leaderboard as I could and to help out my team," Hegarty said. "It was going to be my last round of college golf so I just kind of wanted to leave everything out there that I could."
On Sunday, Hegarty finished with a career-best score of 66, six under par, to win the tournament, edging out Austin Davis of Willamette.
"Actually, I didn't think about winning once until I got off. I got off the last hole and my assistant coach said, 'Congratulations, you just won.' I had no idea," Hegarty said. "So I tried to keep it out of my mind the whole day. My only thought was to shoot the lowest score I could."
His performance all season, culminating with his career-best performance in the tournament, earned Hegarty Northwest Conference Player of the Year honors.
"It just shows how hard I've worked over the last four or five years. I was probably the worst player on the golf team my freshman year, so it's really cool to be able to just show that if you work really hard for something, that hard work can pay off," Hegarty said.
"Reilly will go down, no doubt about it, as one of the all-timers in the history of the Whitworth golf program," Kramer said. "He chose to come back this year to do what he did on Sunday. He was basically graduated and was going to go start playing professional golf. Whitworth means so much to him and he means so much to us that he chose to come back this spring.
This NWC Championship will conclude the men's golf season, as the DIII tournament bid comes from a combined score in all three championship events—the NWC Fall Classic, the NWC Spring Classic and the NWC tournament. Willamette edged the Pirates by two points in the combined scores and will receive the tournament bid.
Hegarty plans to begin competing in professional golf qualifying tournaments in September and hopes to play golf for as long as he can.