by Tyler Jezierski
Defense proved to be the story of the day for the Pirates against the Whittier Poets at the Pine Bowl Saturday, Sept. 14. Following the win against St. Scholastica, the Pirates returned to their home field and kept their undefeated record alive, defeating the Poets, 38-17.
Whittier got off to a quick start, jumping to a 7-0 lead after the first possession, but it was Whittier's last offensive touchdown.
The Pirates struck back when junior defensive back De' Hall intercepted the ball, putting Whitworth on the eight-yard line. Freshman running back Griffin Hare ran down the middle two plays later for Whitworth's first touchdown with 3:10 left in the first quarter, tying the score at 7-7.
A touchdown pass from junior quarterback Bryan Peterson to senior wide receiver Devon Lind early in the second quarter gave the Pirates their first lead at 14-7.
The Poets shortened the lead going into halftime with a 43-yard field.
Whittier continued its scoring run, coming out of halftime with a pick-six off a pass from Peterson to take a 17-14 lead.
Whitworth retaliated with a 53-yard pass from Peterson to sophomore tight end Lucas McGill. Peterson then ran right down the middle to put the Bucs ahead, 20-17.
The Pirates' defense continued to leave their mark on the game as Hall and senior defensive back Tevin Tyus both recovered fumbles to stop the Whittier offensive attack.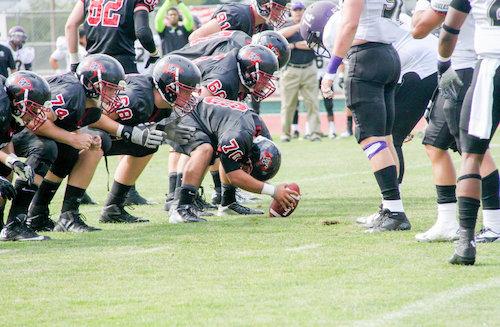 Sophomore defensive back Jerrell Norman recovered another fumble, resulting in a 29-yard field goal by freshman kicker Kyler Gracey to put Whitworth up 23-17.
Tyus then increased the gap after intercepting a pass and returning it for a touchdown, bringing the score to 29-17. Tyus ended the game with a sack, a forced fumble and an interception.
"It was live. Probably one of the best feelings I've felt in a long time," Tyus said. "Our team was fighting all day to get separation in this game, and I felt like that touchdown was a big blow to their offense and an even bigger boost for our team's confidence."
Senior wide receiver Kekoa Turbeville succeeded the touchdown return with a pass to senior tight end Wade Meyer for the two-point conversion, making the score 31-17.
As the fourth quarter ran down, senior running back DJ Tripoli had an explosive run down the sideline for a 54-yard touchdown, increasing the Pirates' lead to 38-17.
Along with Tyus, senior defensive end Aaron Cochran had a big game, finishing the game with two sacks and nine tackles.
"It's cool to make those plays, but we had an all around good defensive performance, and that's what allowed [them] to happen, everyone was flying around." Cochran said. "It was a fun game."
The Pirates were fundamentally balanced with a good passing and running game, Tripoli said.
"Team cohesion—trusting everyone to do their job and never giving up when we had our backs against the wall," Tripoli said.
The six forced turnovers enabled Whitworth to take control of the game, defensive coordinator Kirk Westre said.
"Tevin's interception return and his sack were big. Aaron Cochran with the big sack and timely turnovers," Westre said. "We did a good job at hawking the ball. It was a good team win, offensively and defensively, [as we] responded well to the adversity."
The Pirates compete at home against La Verne next Saturday, Sept. 21 at 1 p.m.
Contact Tyler Jezierski at tjezierski14@my.whitworth.edu