by Kailee Carneau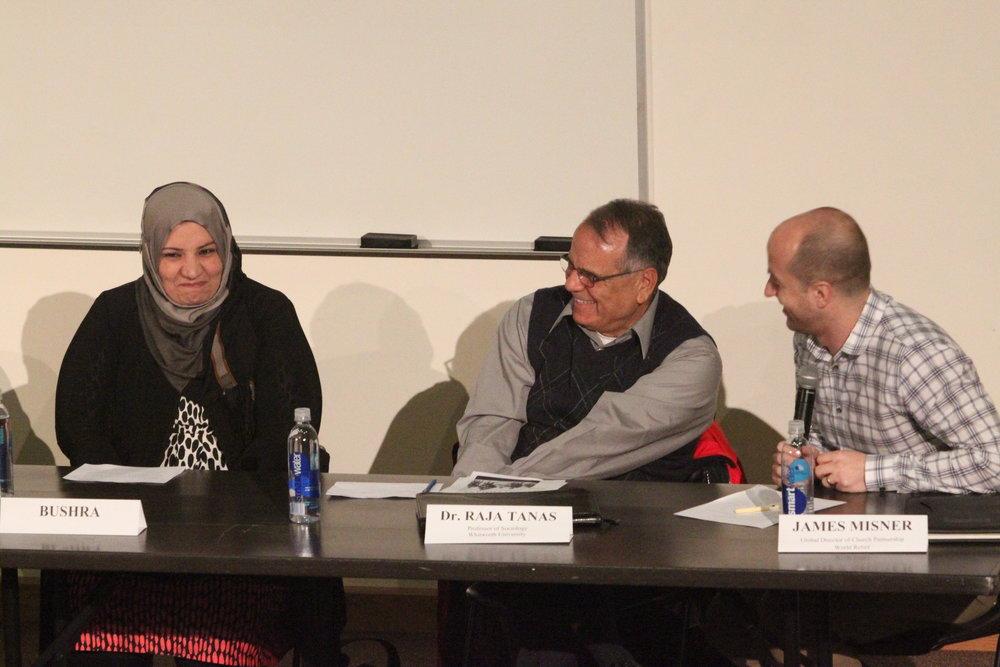 Whitworth students and other members of the Spokane community filled the Robinson Teaching Theatre last Wednesday night for a Q&A panel discussion centered around the topic of the Syrian refugee crisis.The panel consisted of six individual panelists, each bringing different perspectives on the issue and different levels of experience with refugees.
Three of the panelists work with World Relief, an organization that helps settle and integrate refugees after they arrive in a new country.
Among them were professor of political science and environmental studies at Gonzaga University Jon Isacoff and sociology professor Raja Tanas.
The final panelist sharing her insight was Bushra Alshalah, a civil engineer and refugee from Iraq.
The event was organized by senior Juliana Zajicek, who wanted to provide an opportunity for open dialogue around the subject.
"There is a lot of hype and commotion right now about Syria, the Middle East and the refugee crisis," Zajicek said. "I really wanted to carve out a space for our community to talk about it."
The session began with a brief introduction on what the Syrian refugee crisis is and how it affects people by Myron Jespersen, the Middle East program director for World Relief.
"The one takeaway I hope that you have, if you don't understand the situation already, is that it is an incredibly complex situation and there isn't a simple fix,"  Jespersen said.
Each panelist opened with a description of themselves and the aspects of the Middle Eastern refugee crisis that are important to them. Alshalah spoke of her transition from Iraq to the United States.
"It's a big risk to stay there, and a big challenge to come here," Alshalah said. "My decision [was] to come here, to be more safe and to protect my family."
Mark Kadel, director of Spokane's World Relief office, followed up with some statistics on refugees.
"Out of nearly 20 million refugees in the world today, the United States resettles less than one half of one percent," Kadel said. "The average length of time that a refugee is in a refugee camp, before having an opportunity for a solution is 17 years."
The rest of the time was left open for the audience to ask the panelists questions about the crisis and the work World Relief is doing in Spokane. One audience member asked how big a community needs to be and what resources it needs in order to sustain Middle Eastern refugees.
"How many? Well, if you drive between Spokane and Seattle, how many communities do you meet?" Tanas said. "There's Ritzville, there's Moses Lake, Ellensburg, and the rest of Washington state is vacant."
Washington has the space and resources to accept refugees, Tanas said. Kadel followed up Tanas's comment with some information on the government regulations on refugees.
"This year, because of the staggering refugee crisis around the world, the greatest crisis since World War II, Obama set that cap at 85,000 [refugees], and out of that 85,000, up to 10,000 of them can be from the country of Syria," Kadel said.
World Relief and other like-minded organizations have petitioned the state and national governments to increase the number of foreign refugees to be over 85,000.
Several panel members mentioned education was a key step toward both alleviating the crisis and correcting any misconceptions people may have about it.
"I think the answer to your question is education," Tanas said. "Education, information, there's so much misinformation via the media, the social media especially, and our leaders, some of them give us false information."
Kadel had similar sentiments about education.
"The best thing to do is to educate yourselves and make sure you are giving the right information when you're having discussions with people," Kadel said.
Those interested in knowing more about World Relief or working with them locally in and around Spokane should contact Johnna Nickoloff at jnickoloff@wr.org or visit www.worldrelief.org/spokane.
Those interested in learning more about the Middle East should contact the Middle East Club, which is open to new members. For more information about Middle East Club, contact Catherine Rishmawi at crishmawi18@whitworth.edu.
Contact Kailee Carneau at kcarneau@my.whitworth.edu