by Theresa Vimbanayi Chowa | Staff Writer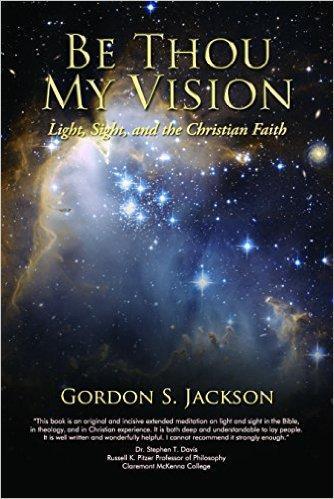 Professor emeritus Gordon Jackson's latest book titled "Be Thou My Vision: Light, Sight and the Christian Faith" explores the concept of light and sight in the Bible and how this can be applied  by Christians.
The book was released on February 22 2017. He also released a second book that is only available in the kindle version titled "Assuring Alexis -306 Quotes of Encouragement and Hope for Withstanding the Trump Era" which is only available as a Kindle ebook.
On April 21 there will be book reading and signing of Jackson's latest book "Be Thou My Vision: Light, Sight and the Christian Faith. The event will take place in the HUB at 4 p.m. Jackson will lead a discussion with audience about various chapters of the book which he wishes for the readers to pay close attention to or wants to highlight.
He was inspired to write "Be Thou My Vision: Light, Sight and the Christian Faith" for three reasons which he outlined in the book introduction.
He came across a biology professor who was teaching about the physics and chemistry of sight and how incredibly complicated it is. He started thinking about how this connects to the Christian views of sight and vision, Jackson said.
The Bible's references to and teachings about sight and light inspired Jackson to further research those concepts.
"The more I looked in the Bible, I found references on virtually every page to something about light or sight, or concepts that are related to that," Jackson said. "For example, if you are looking at the rainbow and fire and other light phenomenon, all of these have to do with light and sight."
Jackson also explored and researched the concept of blindness as it relates to the Bible and the Christian faith. He discovered that there is lot of content about blindness in the Bible where people are healed from blindness. There are also a few instances where God deliberately blinds people.
His personal experience suffering from glaucoma prompted him to examine blindness.
Glaucoma is an eye disease that affects the optic nerve and can lead to blindness, according to medicinenet.com. Jackson has had glaucoma for several years, but has received adequate treatment.
"All of us are terribly concerned about our eyesight and we cannot imagine what it would be like to lose our eyesight," Jackson said. "For those of us who have eye injury or disease we are especially sensitive to questions about sight."
Writing the book took a lot of research and preparation, Jackson said. The book has 600 footnotes and the writing process was a balance of working on the outline and reading research articles he came across in the scholarly journals and books.
"I began with my own library and I looked at quotations.I looked at what are some of the interesting things people have said about light," Jackson said. "So you will find lots of quotes in the book.Then I would do particular research about a chapter."
The target audience for his book would be mature Christian readers, people who are familiar with the Christian faith and young people who have grown up in the Christian faith, he said. The book is designed for readers who take the Christian faith seriously and want to grow and gain a better understanding of their faith.
"I would be interested in reading Jackson's book because it has references to the Bible, however I would look through the first few pages to see if his views align with my Christian views and then decide if I want to finish reading it," sophomore Rose Arnold said.
The book will help Whitworth students to see better how important light and sight are in God's dealing with us, and something you might want to look at is the thesis statement that says God has chosen the metaphor of light as a primary means communication with humankind and it demands a closer look, Jackson said.
"The main point of the book is for the reader to gain a whole new insight and understanding on how God worked, or works through these two metaphors of light and sight," Jackson said.
The men's Bible study group at his church is using his book and it has been interesting for him to have discussions with them about the book and see their various views on what he has written, Jackson said.
"I should add that I am not a scientist and I am also not a theologian, I am a person with a journalistic background and what I have done is pull together ideas and I am sure there are theological weaknesses," Jackson said. "There might be scientific weaknesses as well but it is not meant to be a theology text or a science text . It is meant to be for ordinary non-specialist readers."
Jackson taught in the communications department from 1983 to 2015. He also served as the associate dean of Academic Affairs for seven years. He is a published author and speaker and consultant. He has served as a consultant for various Christian and educational organizations in the United States, Egypt and Lebanon.
Jackson has written 13 books which include seven books of quotations and two scholarly books. His first novel is set to be released in June 2017 and is titled "The Church That Used To Be St. Elmos."
"The novel (The Church That Used To Br St Elmos) is a story of a church that gets a huge amount of money anonymously on condition that it will change its name and what happens to the church afterwards," Jackson said.
Communications professor Mike Ingram worked with Jackson for 27 years after Jackson hired Ingram for the department in 1988.
"He has a love for quotations and he has published several books on quotations and collected various quotes on different topics," Ingram said. "I have read them and enjoyed them.I purchased many of them, one for my personal collection and to use in the debate program, there is a category of speaking called impromptu speaking and I use many of the quotations from Jackson's books."
Ingram has read several of Gordon's books and enjoyed them, he said.
"I appreciate his innovative thinking and his ability to connect two things that not everybody connects together or in the case of the vision book to look at something in a new way or in a different way, I think good writers have that ability," Ingram said.
Contact Theresa Vimbanayi Chowa at tchowa20@my.whitworth.edu