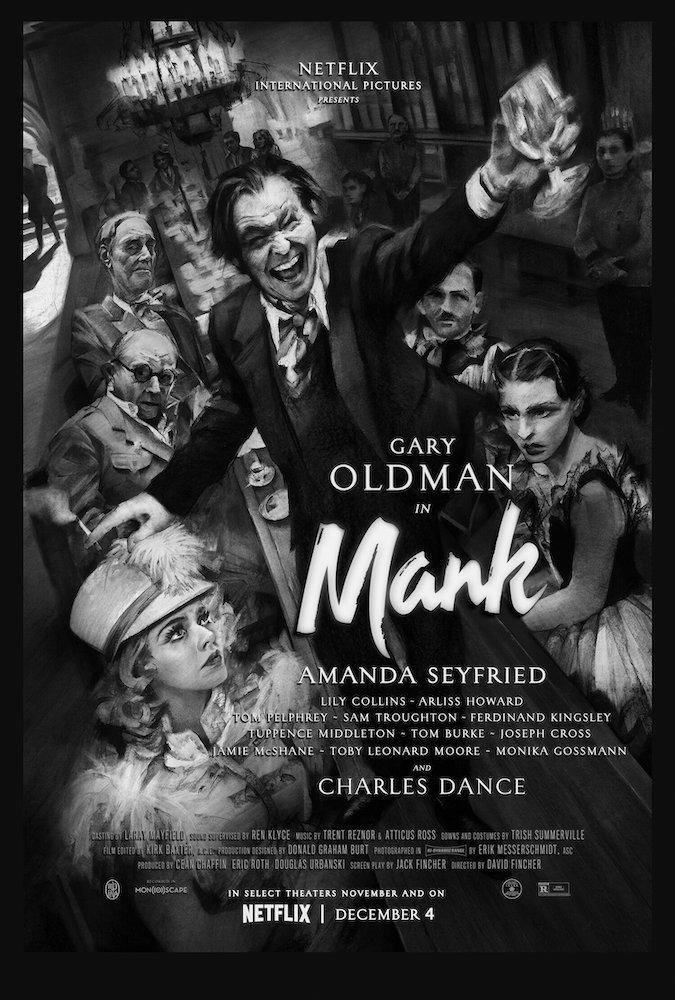 When I told my friend that "Mank" is David Fincher's latest film, he asked me if "that was the guy who did Twin Peaks?" I said no; David Lynch created Twin Peaks. Fincher, despite the similar name, is quite different from Lynch and generally much more accessible. We began the film and were instantly greeted with fast-paced and nearly impenetrable dialogue. The first five minutes consisted almost entirely of conversation between characters to whom we had yet to be introduced, who threw around literary references, visceral imagery and clever punchlines. 
This opening certainly wasn't what I was expecting from one of Fincher's films. 
"Mank" is a character portrait following Herman Mankiewicz (Gary Oldman) as he writes the script for the film "Citizen Kane." Released in 1941, "Citizen Kane" in many ways cemented cinema as a medium that was capable of the complexity and artistry of literature and theater. "Citizen Kane" is also very reflective of Mankiewicz's own life, and "Mank" tells the story of these parallels. 
"Mank" is one of Fincher's most ambitious films and definitely his least accessible. It throws you into the deep end through a series of dialogues and flashbacks, relying on the viewer to contextualize and interpret the events. Not only is the storyline dense, but the themes are as well. The movie features commentary on everything from economic injustice and the rise of Nazism in Germany to fake news and the artistic process. Many of these topics run parallel to the socioeconomic climate of today. Some claim that Fincher is recontextualizing the past in order to find parallels to the present, though the film's script was written by Fincher's father more than 20 years ago. This fact showcases how none of the issues we currently face are as new as they may seem. 
The cinematography is beautiful throughout the film. It was shot in black and white, which gives a richness to the frame. It also blends more modern and classical styles of cinematography in a way that delights the viewer, and the transitions between these two styles never feel jarring. 
All this being said, "Mank" may actually be lesser than the sum of its parts. During the opening stretch of the movie, I was compelled by its extremely smart, witty and fast-paced dialogue. I wasn't expecting this film to leave me laughing aloud but was pleasantly surprised. The film is also self-referential in ways that are interesting, funny and satisfying. As the film progresses and the drama became more compelling, the humorous writing is left behind. Much of the film's progression feels odd and disjointed, and while most of its individual moments are enjoyable and insightful, it constantly feels like it's going in tangential directions. The whole movie builds up to an underwhelming final conflict and an ending that lacks the ability to tie the film together thematically. If one views the film as a reflection of Mankiewicz's life, this choice makes sense,ife doesn't neatly tie itself up into a satisfying conclusion. 7/10 Pinecones 
"Mank" is streaming now on Netflix. "Citizen Kane" is streaming now on HBO Max.