This article was updated on January 13th, 2020 to correct information about streaming services and digital rights
by Samantha Holm | Staff Writer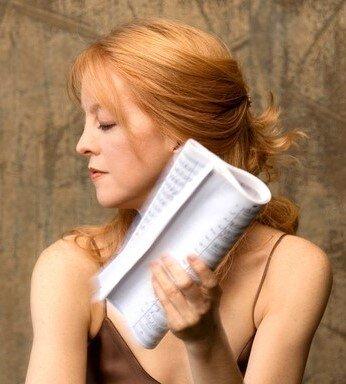 Compositional process, music theory and advocacy are Maria Schneider's areas of expertise. On Dec. 2 at 7 p.m., over 100 Whitworth students joined her workshop over Zoom to ask her questions about these topics and more. Schneider has won several music awards for jazz and other genres – most notably, five GRAMMY Awards and 14 GRAMMY-nominations.  
Hailing from Windom, Minnesota, Schneider grew up playing piano and other instruments. After studying at the University of Minnesota for her undergraduate degree, she honed her composition and music skills at the Eastman School of Music. Post-graduation, she landed a job as a copyist for the well-known composer Gil Evans.
 "If you are working hard and you're meeting people, you will get recognized," Schneider said. 
After receiving recognition, Schneider said that the battle for musicians becomes monetizing off their music.  
Artists can have difficulty profiting off their work because music streaming services, particularly Spotify, pay out next to nothing to most artists who have often invested thousands of their own money into their recordings. A fierce advocate for digital rights, Schneider herself testified before Congress about intellectual property and piracy.
And, in the case of the user-generated content site YouTube, it asks zero verification questions of the uploader. "Anybody could put my music up, no questions asked," Schneider said. "If I want to take it down, I have to swear under penalty of perjury it's mine." 
Schneider also shared about her compositional process and offered advice to Whitworth's composition students.
She said that it takes her anywhere from weeks to months to complete a piece of music. She recommended that composition students write out their pieces first rather than create them on a digital platform. "I urge you to think about your music in a more organic, musical way, figure out how to notate it and then put it in a computer," Schneider said.
Students reacted positively to her advice and insights. Many jazz students were present because Schneider was supposed to be this year's collaborative guest artist. "She brought so much valuable insight into both the composition process and her understanding of music, as well as the complexities of the music industry as a whole and some of the problems with how the industry currently operates," said junior Nathan Beine, a member of the Whitworth Jazz Band. 
If circumstances permit, Schneider will return to campus in-person to collaborate with the Jazz Ensembles next fall as part of Whitworth Jazz Ensembles' annual tradition of bringing in the world's greatest musicians for fall concerts. 
To learn more about Maria Schneider, visit her information page here. To peruse some of her works, visit her discography page here.