by Luke Schwartz | Sports Editor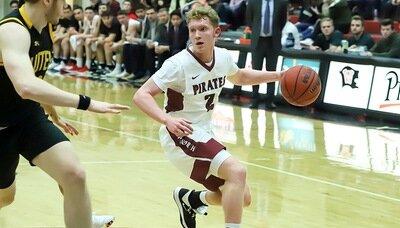 The last time Pacific Lutheran beat Whitworth was on January 14, 2006 with an 81-72 victory – until this weekend.
Thirty-two straight wins for the Pirates were erased after three starters returned from COVID protocols, where they missed last weekend's games against Puget Sound, but couldn't get the rhythm back. The team shot just 30% from the field as well as 30% from 3-pt range. These statistics showed an improvement from the '06 game where they ended at 14% from the 3-pt line, but they were still not good enough to seal the victory. 
Brad Lackey, selected as the NWC men's basketball player of the week last weekend while averaging 22 points in two contests, missed every shot he took, going 0-6 on the night. It didn't help that Seth Hall for the Lutes dropped 31 points on the Pirates, the first time Whitworth has allowed any player to score 30+ points on them this year. This was also the largest margin of victory over the Pirates in the NWC in more than a decade at 84-59, a 25-point loss. The last time Whitworth lost by more than 25 points to a conference opponent was on January 14, 2005 in a 114-88 loss to Puget Sound.
Rowan Anderson, when asked what the contributing factors to the loss were, bluntly said, "We sucked." These two words completely summarized game one's outcome, but the team remembered that luckily, with 2021's COVID-adjusted schedule, the Pirates had a chance to redeem themselves in game two on Saturday.
The Bucs did just that and bounced back in a major way. Whitworth ended up winning the game 68-64. Three players ended with double digits in point totals and every guy who hit the floor walked away with at least two points. The Pirates' shooting totals rocketed upward after game one's result, going 42.6% from the field and 39% from downtown. Liam Fitzgerald led the charge for Whitworth, scoring 13 points while adding seven rebounds and three assists. Liam was one of four guys to miss last week's game due to Covid protocols and after a slow game on Friday, Saturday night was alright for hooping.
Whitworth handed Pacific Lutheran their first loss of the season to make their NWC record 5-1 while the Bucs now stand at 7-4 overall and 5-1 in the NWC.
After a poor shooting performance on Friday night and an end to an epic streak for the Pirates, Whitworth rallied back and made big adjustments to remind the league who they are.
"We were more strict with rotations and lineups and had planned sets for each lineup," said Anderson. "Our coaches did a great job deciding what would work best and everyone did a great job of locking in for it."
JT McDermott, junior post player for the Pirates jokingly added, "We also hit more shots than them. The biggest adjustment." Although the bus ride back was a tough pill to swallow for the Pirates, they have more games ahead of them and another opportunity to face off against the Lutes in the fieldhouse during early March.