by Zach McGuckin | Staff Writer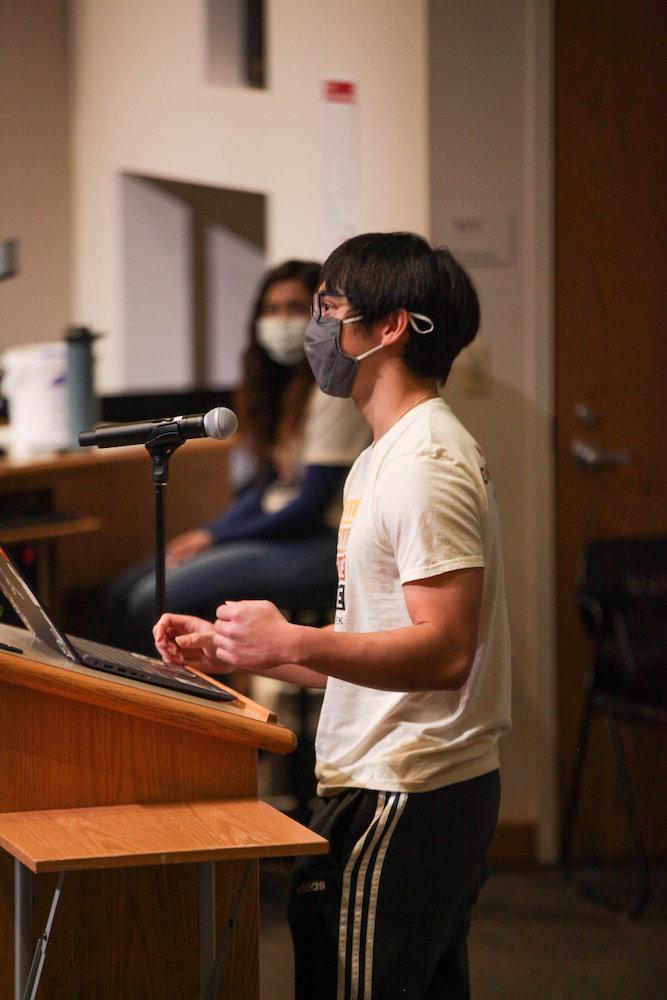 Whitworth's multicultural clubs hosted a variety of events during the week of Nov. 16 to 21 to celebrate and raise awareness about the diverse groups of cultures in our community. The affair began on Monday with the Multicultural Poetry Slam, followed by informational sessions over the next few days. The week culminated in the International Festival on Friday night, as well as the Whitworth Symphony Orchestra performance "Celebrating Black Composers" on Saturday.
Monday's Poetry Slam featured eight student poets sharing both original works and traditional poetry. Several students recited poems in their native languages with translations projected on the screen. The livestream of the event can be found here. 
 Michael Lie, a sophomore international student from Indonesia, recited an original poem in Indonesian. "There are differences between your culture and my culture," Lie said. "But that's what ties us together. Because each one of us is culturally unique and diversity has united us."
Tuesday featured a lecture and discussion on "Contemporary Native American Lives: Covid, Sovereignty, and Native Youth Leadership." Dr. Laurie Arnold, associate professor of history and director of Native American Studies at Gonzaga University, gave a presentation about these topics, which are important to the current Native American experience. 
Currently, 573 sovereign tribal governments are recognized by the federal government of the United States. "Sovereignty is the legal word for an ordinary concept – the authority to self-govern," Arnold said. 
She emphasized that these groups have always been sovereign governments. The United States didn't make them sovereign when they decided to classify them as such but rather recognized their already existing sovereignty. With regards to Native American cultures and traditions, Arnold said, "It's important that you remember it, that you think about it and you try to understand it." 
The Black Student Union (BSU) held a Black Indigenous People of Color (BIPOC) Mental Health workshop on Wednesday night. "Something we had heard over and over from our club members is the request for a self-care event," said Taylor Pannell, co-president of BSU. Dr. Roberta Wilburn led the workshop and implemented a variety of activities related to self-care. One particularly impactful one for Pannell involved everyone writing down what was stressful for them during this time. "It was really interesting to hear everybody echo a lot of what I had felt," Pannell said. 
On Thursday night, the Cultural Diversity Advocates (CDAs) led a workshop about microaggressions. Microaggressions are interactions in which the majority group devalues or invalidates the identity of a marginalized group. Such actions are typically subtle and unintentional. The CDAs presented on the subject and then ran a Kahoot quiz to test the audience's knowledge. 
The 35th annual International Festival was premiered on Friday night – the first one ever to be released in a digital format. The festival is an opportunity for students to perform and share their unique cultures. The international festival can be watched here. 
"The main goal [of Cultural Awareness Week] is that we want people to interact with the events that we are holding. We want people to think that even if they're not from a specific community, that they can come and learn and we can start to break down these barriers and start to break down these assumptions," said Pannell.
"Especially this year, I feel like more than ever it's important to start to shift even beyond education and into actual action. If you're a white ally you totally have a place here because if you know these resources that enables you to support the BIPOC in your life who are struggling. By you learning, educating yourself and learning those tools, then you can turn it into action," Pannell said. "We should recognize there's not one narrative and not one story."