by Samantha Holm | Staff Writer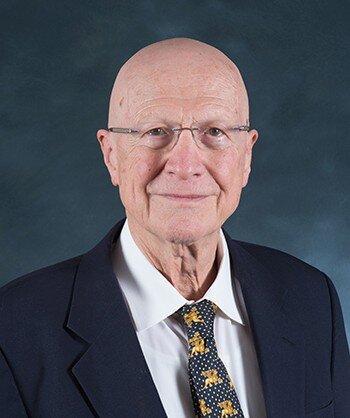 In the Christian faith, believers are called to be united in mind and thought, a specific injunction administered in 1 Corinthians 1:10. Instead of the harmony for which the author of 1 Corinthians seemed to hope, the history of Christianity has been discordant and divisive – evidenced by the 30,000 Christian denominations currently in existence.
As such divisions persist, so do the efforts of those who wish to reconcile them. Ecumenism was born out of these desires in the 20th century and its impact perseveres to this day. At this year's Simpson Duvall Lecture on Mar. 8, Dr. Peter Kreeft spoke on this issue.  
Kreeft, prominent Christian author and professor of philosophy at Boston College, laid out the history of division within Christianity. "Always, there's dissension. We are fallen and foolish sinners. Always, there are going to be mistakes."
He also discussed the ongoing battle between science and faith, as well as the current goals of ecumenism. Some followers of Christ are becoming more passionate about reunion, and there has been increased interfaith dialogue between Christianity and other religions.
Kreeft is a proponent of mutual understanding between different religions, but he fears it is "desired at the expense of proof." Unfortunately, there are always going to be fundamental differences between different religions.  
After establishing the history of division in Christianity and the current efforts of ecumenism, Kreeft turned his attention toward the future.
"The one thing that I'm quite sure about the future of ecumenism is that it is in your hands," Kreeft said.
Kreeft believes that Christians must return to Christ, who lies at the heart of all Christian denominations, regardless of doctrine and practice.
He gave students and faculty a list of virtues they can follow to push ecumenical efforts forward, including passion, hope, love, truth, prayer and fasting. He left the audience with ethical quandaries to consider about sola scriptura, Eucharist, the church and purgatory.
Kreeft is a Roman Catholic who converted from Calvinism. During his talk, he shared the issues this created within his family. He recalls having a disagreement with his Calvinist father about the existence of purgatory.
Kreeft remembers that his mother broke up the disagreement by pointing out the similarities between his beliefs and his father's. "If we're sinners here, and we're going to be perfect saints in heaven, then God's got to do something to us before we're fit for heaven," Kreeft said.
After his talk, the event transitioned into a Q&A format, where faculty and students of different religions and philosophies were able to question Kreeft.
"I went into the lecture not knowing much about ecumenism, but Dr. Kreeft was impressive in his knowledge about the subject," said junior Abigail Tingstad, an attendee.
The Simpson Duvall Lecture afforded students and faculty alike a time for reflection. For believers, it was a call to action to stop settling for division and start earnestly working toward unity with their Christian brothers and sisters.
Click here to watch a recording of Dr. Kreeft's talk.