by Samantha Holm | Staff Writer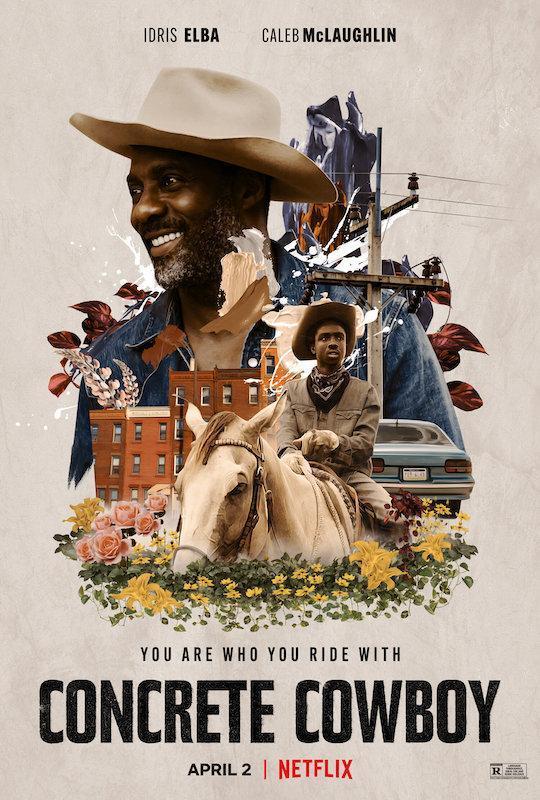 In his 2021 Western drama and coming-of-age film "Concrete Cowboy", writer-director Ricky Staub tells the uplifting story of a troubled teen reconnecting with his father and finding community among horseback riders.
The movie's story is based off the novel Ghetto Cowboy by Greg Neri. It is a fictional account of the Fletcher Street Urban Riding Club (FSURC), an inner-city African American horse-riding society in North Philadelphia, Pennsylvania. Although Neri's novel was published in 2009, the FSURC has existed since the 1940s and continues to engage Philadelphian youth in equestrian sports to this day.
Before writing the film's script, Staub spent two years visiting the Fletcher Street community and learning about its horseback riders. Adding a fascinating and authentic touch, the movie's cast comprises some real Fletcher Street horseback riders and features interviews with them in the credits.
In the film, fifteen-year-old Cole (Caleb McLauglin) is sent to live with his estranged father Harp (Idris Elba) in North Philadelphia after getting expelled from his high school in Detroit. Harp is an urban cowboy and an FSURC instructor, who lives in an apartment with a horse named Chuck.
The movie delves into the rich history of the Fletcher Street riders. Most notably, there is a scene during which Cole, Harp and Harp's friends are gathered around a fire. Harp and his friends swap stories about the glory days of the FSURC and bemoan the renovations around the area, which are stripping Fletcher Street of its Western roots.
However, the film explores concepts beyond the history of North Philadelphia, diving into intense, heart-wrenching topics. The movie shows a touching reconciliation between father and son. Harp goes from a terse, distant authority figure to the warm and nurturing father Cole was missing. In a particularly vulnerable moment, Harp tells Cole that he named Cole after John Coltrane, a famous African American jazz musician and composer who grew up without a father. Harp believed Cole would succeed like Coltrane even if Harp himself did not play a prominent role in Cole's life.
The acting is phenomenal and raw. The inclusion of real Fletcher Street horseback riders adds a piece of genuine emotion that would have been otherwise missing from the movie. A mix of orchestral music, rap and jazz, the music adds a layer of cultural richness that reflects North Philadelphia's striking scenery.
The cinematography captures the contrast between open green fields and clustered city, which adds to the realism of the film and helps the viewer to conceptualize Fletcher Street. The color palette of the film is dynamic, with hues of red dominating some scenes and earth tones within the majority of them. This choice creates engaging and visually stunning scenes that leave audiences transfixed.
Although there is much to adore about this film, the progression of the plot is slow, which is often distinctive of coming-of-age films. Cole's budding interest in horseback riding and his endeavors with his drug-dealing friend Smush (Jharrel Jerome) dominate much of the film, which can lead to a feeling of redundance. A series of disjointed events and emotional scenes leads up to an underwhelming climax. However, the captivating acting, as well as Harp and Cole's relationship, make up for these disappointing plot elements. 7/10 pinecones
"Concrete Cowboy" is streaming on Netflix.