By D'Asia Grain | Staff Writer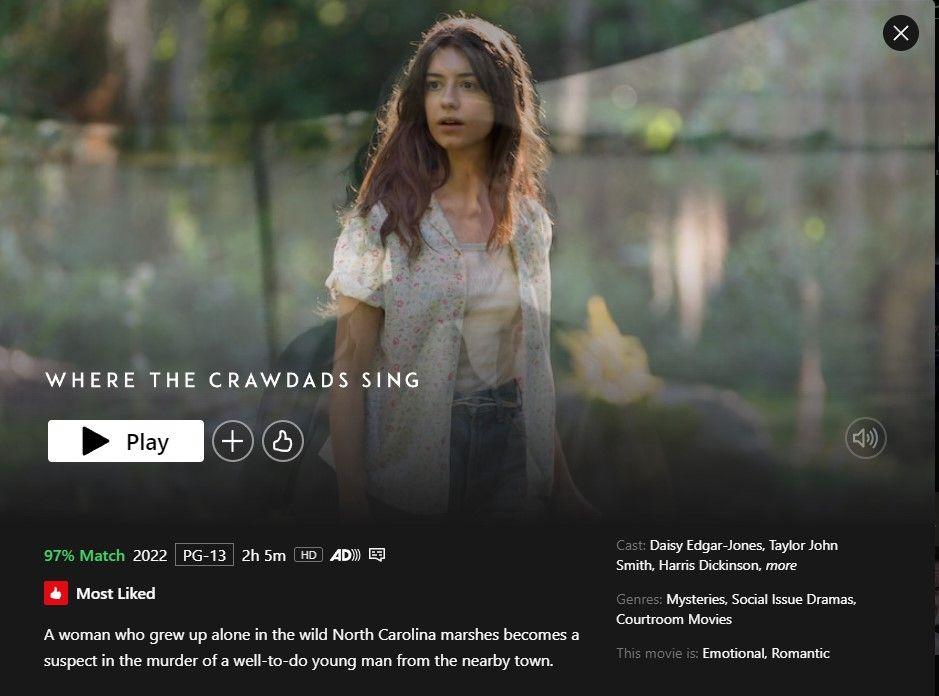 If I'm going to be honest, I have a bad habit of watching clips of movies and shows online before I jump into them. So, in my usual fashion, I watched clips of "Where the Crawdads Sing" beforehand. I do not apologize for my need to spoil things for myself, but in this case, the clips were so compelling that I was excited to watch the film.
Directed by Olivia Newman and with a budget of $24 million USD, this movie was a rousing success, generating $140 million in box office revenue. This movie was adapted from the book "Where the Crawdads Sing" written by Delia Owens. Owens has other works, but this is Owens' first and only fiction novel. After receiving an abundance of positive feedback, there is no question why this story has become iconic. 
The movie is set in 1952 within the idyllic, but eerie marshes of the fictional North Carolina town, Barkley Cove. Six-year-old Kya, our story's heroine, is the youngest of five with two parents. On the surface, Kya and her family appear normal and loving. That soon changes when we see the true inner workings of the family and the abusive nature of her father. Eventually, Kya's mother flees her husband's abuse, leaving behind her home and children. The cycle is then repeated with each of her siblings leaving in order of oldest to youngest, until Kya is left alone with her father. 
Kya is now stuck in a cycle of hope and disappointment as she continues with her life journey. As soon as her relationship starts to improve between herself and her father, he leaves as well. The illiterate and disparate Kya is forced to live on her own, making money by gardening, trading fresh mussels and smoked fish. When Kya meets Tate Walker, love soon starts to blossom between the two. Before Tate leaves to go to college, he teaches Kya how to read and write.
The movie leaps forward to 1965. When Kya, now 19, encounters football quarterback and playboy Chase Andrews, the cycle of hope and disappointment is forced to continue. A series of disjointed, unclear events lead to his body being found dead and Kya being forced to stand trial for his murder. She is fortunate to have people in her corner willing to offer support, including a loving Black couple that has helped her since she was young. 
"Where the Crawdads Sing" is both beautiful and haunting. It acknowledges the pain that Kya has gone through and continues to face. From the captivating cinematography making its way into almost every scene to the heartfelt narrations by Kya, this movie leaves you engaged from start to finish. Cheesy, familiar rom-com motifs are peppered throughout the film, making it a worthy candidate for every high school sleepover or lazy Sunday matinee. 8/10 Pinecones. 
"Where the Crawdads Sing" is now streaming on Netflix.