by Rachelle Robley
Name: Nate Strain
Year: Junior
Major: Physics/Theater
Junior Nate Strain couldn't pick just one passion to follow, so he decided to major in physics and theater. As a child, he took theater classes one summer and realized his love for performing. He enjoys the interactive aspect of performing and receiving feedback from the audience.
"I like making people feel. Watching a performance can help people find something new about life and themselves. It can be escape for them, but also introspective," Strain said.
Strain explained how he can apply what he learns in physics classes to theater and vice versa. Theater classes have encouraged him to think outside of the box for problem solving in physics, as physics classes have helped him think methodically when developing characters. Physics classes have also helped him with adapting to performance spaces and knowing how to project his voice effectively, he said.
Strain plans to apply for engineering graduate programs, as well as fine arts master's programs. Ideally, he'd like to pursue a career that combines both passions. He is interested in theatrically enthused engineering, stunt designs for movies, and designing performance spaces. He's looking into an internship with Walt Disney's Imagineering program, he said.
Strain believes theater can often be a way of conveying important messages to audiences. This year, he plays the character George, the main character's best man, in Whitworth's production of "The Drowsy Chaperone."
"If you want to play a character truthfully and honestly, you can't judge the character. You give a piece of yourself to the character, the character gives something back, and you give that to the audience," Strain said.
In the spring main stage production his freshman year, the "Laramie Project," Strain played nine characters with very different personalities, from an Eastern European man with an accent to a troubled, young gay man.
"With 'The Laramie Project,' it spoke to a lot of people and they weren't expecting it," he said.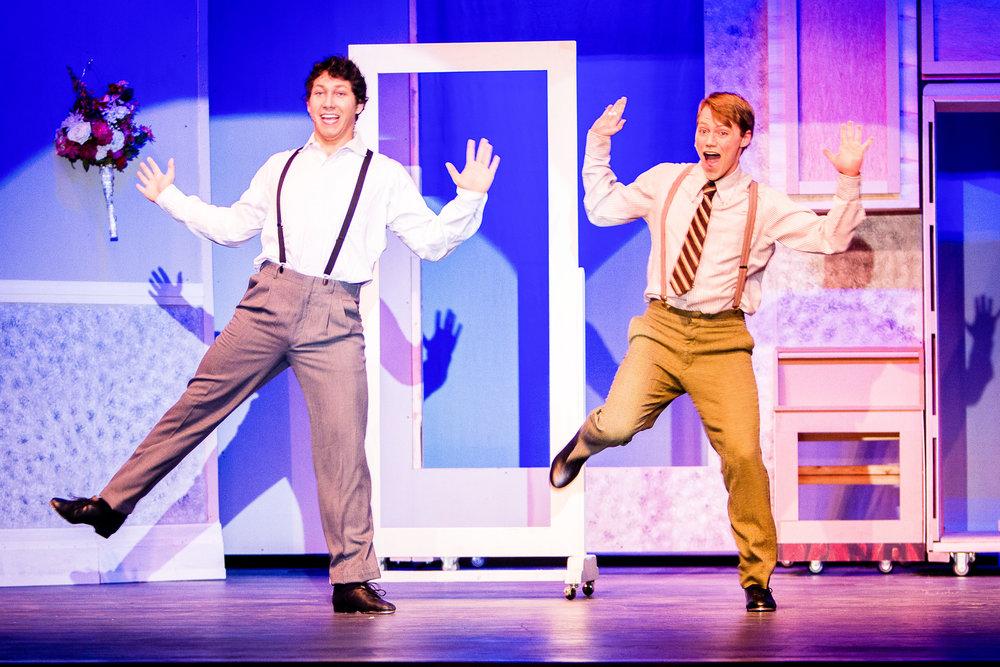 Understanding characters has allowed him to appreciate all different types of people and be less judgmental, Strain said, adding that he can look at people more honestly and sympathize. He also appreciate all genres of plays.
"There is a co-existent relationship between you and the audience that is directly proportional. The energy you give the audience is the energy you get back. The more excited you are, the more excited they are to see you," Strain said.
Strain said he tries not to let the size of an audience determine the quality of his performance, but always loves seeing a big crowd when the curtains open.
When Strain traveled to London, he saw fifteen plays during his stay and the overall experience reinvigorated his passion for performance, he said. After watching the performance of the Shakespearean tragedy "Coriolanius," the actors embodied something he would want to become if he were to pursue acting after Whitworth. Actors Kevin Spacey, Daniel Day Lewis and Tom Hiddleston also serve as inspirations for him.
Though Strain enjoys reading plays and dissecting characters, he also holds a great appreciation for light and sound design. Lighting sets the mood for a lot of the performance and he appreciates the small factors of a performance that often go unnoticed, he said.
In theater, backstage technicians and actors can hold stigmas toward each other because of a lack of appreciation for each other's craft.
"I like how liberal arts learning applies in the art department," Strain said. "Actors are forced to take classes on lighting and sound and light and sound technicians take acting classes. We gain an appreciation for each other and what we do."
Strain acknowledges the cohesive and friendly atmosphere that exists within Whitworth productions.
"Improv is definitely my biggest release for stress," Strain said.
As director of the improv group Cool Whip, Strain says they've been trying to develop a collective mentality this year. He feels different about being the person to give rather than receive advice and appreciates how receptive the members have been.
On Oct. 22, Cool Whip will host a joint primetime in Arend and Warren. The first official Cool Whip performance will be on Oct. 30 on Stage II, a small space in Cowles Auditorium.