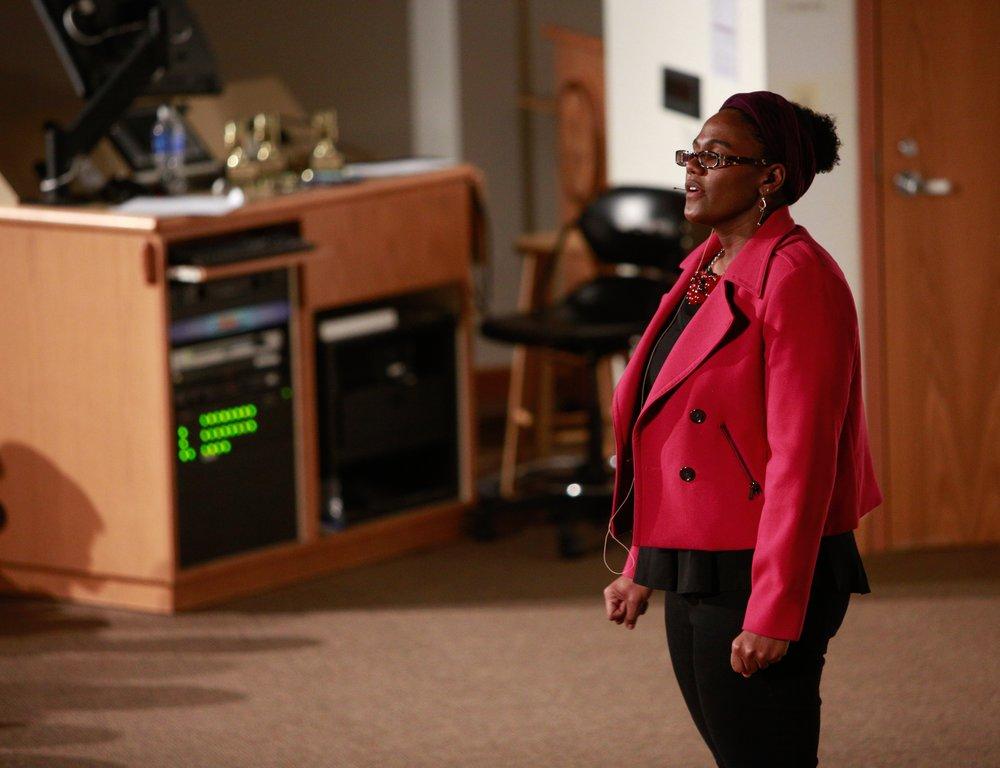 The monologues began with an introduction from President Beck Taylor. Taylor referred to Whitworth's mission statement which states, "The University's mission is to provide its diverse student body an education of the mind and the heart, equipping its graduates to honor God, follow Christ, and serve humanity." To be Christian means to be radically inclusive. To be Christian means to see ourselves as a part of a larger tapestry of human creation, Taylor said.
Coordinator for Diversity, Equity & Inclusive Ministries Stephanie Nobles-Beans prayed with the audience and for the students who shared their monologues before introducing David Garcia, assistant director of diversity, equity and inclusion. Garcia thanked some of the forty individuals who played a role in putting the event together.
Benitez introduced the students sharing their monologues and provided commentary on issues of diversity, equity and inclusion in between student performances. Benitez also shared some of his own poetry.
Senior Marianne Sfeir was the first student to share her monologue, "Tired: Reflection of a Lebanese-American." Sfeir is from Beirut, Lebanon which has suffered from the ramifications of a religious civil war, she said.
"Politics, religion, war," Sfeir said "These three words were the axis of my world. They told me who I was and who I am and who I am is Lebanese."
Junior Emily Thorpe thinks diversity is about more than people's race or ethnicity, which is a factor of diversity, but it is also about people's experiences.
"No two people have the same story and no two people see the world in the same way," Thorpe said. "So I think that's what diversity means to me."
Sfeir said that she's tired of the sectarianism in Lebanon, which divides people who hate and use that hate in the name of God. She's tired of the division that is created by the language of people, Sfeir. She came to the United States hoping to find something different. But she was disappointed, Sfeir said.
"In China they created this great wall," Sfeir said. "In America this great wall is called 'eamana' for which the English translation is blindness."
Blindness is a system that glorifies winners and losers, Sfeir said. It is calling others too sensitive when you have not taken the time to listen, Sfeir said.
"Community is when a human being looks into the eyes of another human being and doesn't stop at the divisions created by politics, religion, war," Sfeir said. "But with humility acknowledges their blindness and says, 'please teach me more'."
Freshman Olyvia Salter shared her monologue "The Art of Storytelling" about the elders of her family as well as the individuals who helped motivate her goals and dreams which include artists, writers and family members.
"I stand on the shoulders of giants. A foster child and militaristic man are my parents. A bipolar published poet is my aunt and a recovered addict is my grandmother," Salter said. "I am a product of survival."
Her habitat does not shape who she is but it creates knowledge and understanding, Salter said. She wants to use that knowledge to conform hearts and use her education, love, respect and creativity to reconstruct society, she said. She loves to converse with the older generation and the stories they tell, which may fall on their last set of ears, Salter said.
"I stand on the shoulders of giants. A believer and a war veteran are my parents. A social activist is my aunt. A caregiver is my grandmother," Salter said. "I am a product of survival."
The best part about the monologues was hearing from each individual, Thorpe said.
"It is so incredible that even though everyone was given the same prompt, each performance was completely different than the one before it."