By Emma Maple | Staff Writer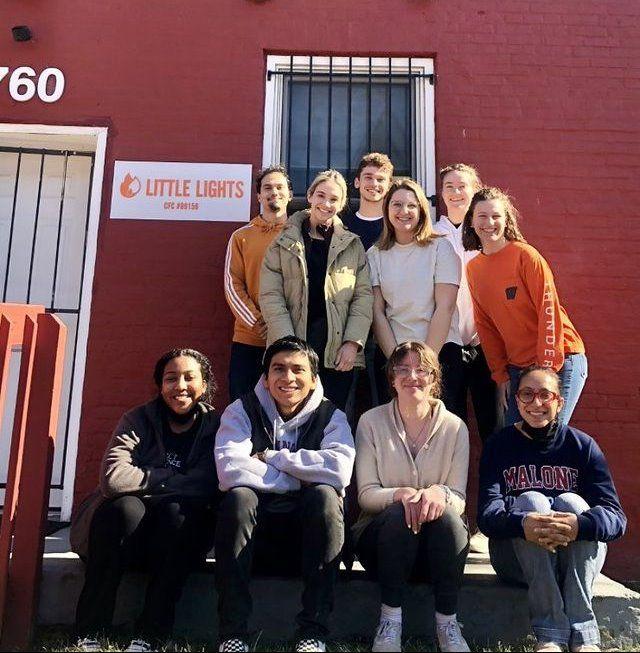 Emma Maple, staff writer for the Whitworthian and DC columnist, is participating in a study away program with the American Studies Program through Whitworth Off-Campus Programs. As part of this program, which takes place in the heart of Washington DC, she is reporting on events she attends and organizations she visits. This article, concerning the non-profit organization Little Lights, was written after her cohort did a service day at the organization.
Nestled in the corner of 7th and I street in DC is a small red building with a simple white sign that reads "Little Lights". Walk a few steps up the red wooden ramp, open the white door and you'll be greeted with a smile. The rooms to your left and right are classrooms, which from Monday to Thursday, are full of students participating in Little Lights' free after-school program. The walls are lined with colorful collages of toucans, lions and elephants, interspersed between pictures and quotes from civil rights leaders such as Martin Luther King, Jr., and Rosa Parks. A few encouraging Bible verses also decorate this space.   
These decorations illustrate the heart of Little Lights, a faith-based nonprofit that focuses on youth education, building community relationships and addressing practical needs.  
Little Lights was founded in 1995 by Steve Parks, who now serves as Executive Director. Little Lights' website states that "[their] story began with a friendship." While helping run a D.C. day camp that served under-resourced students, Parks befriended an 8th grader named Darrell. When Parks realized that Darrell couldn't read Dr. Suess books, Parks wanted to do something to help students like Darrell. This experience inspired him to start Little Lights to empower students in their education.   
Today, Little Lights has five locations and works with around 200 students and 300 adults in the D.C. area. The organization partners with three specific geographic areas: Potomac Gardens, Hopkins and the Benning Terrace/Heights communities. Little Lights' Program Director Karmen Taylor said that the "laser focus on these three communities" and the ability to "walk alongside the families in a very deep way" is essential to the heart of the organization.
Little Lights relies on long-term relationships with entire families. Taylor recounts one father-daughter pair with whom they have built a relationship over the years. The daughter, who became involved with Little Lights when she was 11, has special needs. As Little Lights was able to "create a space for her to thrive and be included," she quickly became their "most diligent student." Now Little Lights is in the process of assisting her with the college application process and finding scholarships to cover the costs. Her father also joined Little Lights' Clean Green Team and was employed by one of the organization's homework clubs, which pairs mentors with students for small-group homework help.  
Taylor says, "[Our ability to] be a part of this family's life…is a great example of how we're able to go deep with a family."
Little Lights also hopes to be "part of the solution in the racial divide." The neighborhoods that Little Lights partners with are predominantly African American and tend to subsist on 17% of the median D.C. income. As part of this mission, Little Lights offers a 12-week anti-racism training.
Along with their commitment to equity, Little Lights directs their energy and attention to the practical needs of their communities. Taylor says, "We're showing them the love of Christ but meeting these very practical needs of education, workforce needs, diaper needs [and more] while we're at it."   
From the pictures on the wall to the energy of the employees, every aspect of Little Lights illustrates the organization's heart for the children and families in the D.C. area.  
Taylor says, "I have [the mission of Little Lights] in my heart: to empower underserved youth, families and communities in DC by sharing the hope of Christ through compassionate action, relationships and racial reconciliation."