by Weston Whitener
Freshman twins Rigel and Orion Keller stepped onto their first longboards during their first year of high school, when their brother-in-law made them each a board for their birthday. Two years later, the duo had ridden the gifts to the point of breaking them.
"We rode them pretty hard," Orion said. "I feel like we were the extreme, the maximum they could withstand."
That did not stop the Kellers from continuing to ride.
"We've been taught that if you break something, you got to fix it," Orion said. "So, you have to learn how to fix it."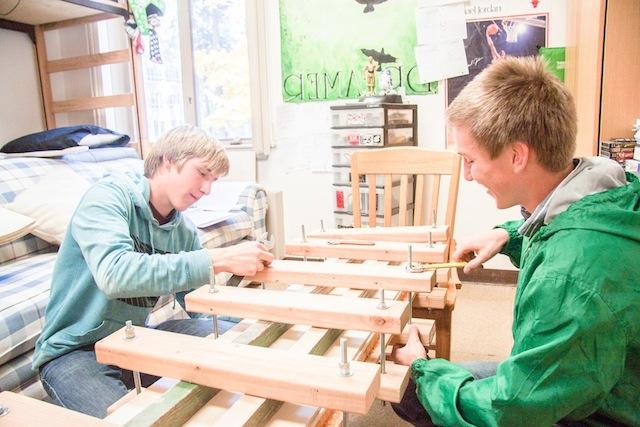 Using the woodworking and mechanical skills they learned from their father, their brother-in-law and on- line research, the brothers decided to not only build new longboards for themselves, but also to start their own longboard business.
Rigel still uses the first longboard the two made during their senior year of high school. Their first attempt produced a functional board, but its quality is well below their current products, Rigel said.
"It's basically a piece of wood that looks like a longboard, and we strapped some [wheel] trucks onto it," Rigel said. "It works, but it's not as good as the ones we now make."
Orion and Rigel do most of the work in their shared McMillan Hall dorm room.
"Now we have all the measurements, and everything is 100-percent symmetrical — pristine," Orion said.
They have created eight longboards thus far, with another two currently in production.
At Whitworth, a market has begun to emerge for their completely-customizable boards, turning their business into a reality.
"Your longboard is custom; whatever the customer wants, we'll do," Rigel said. "There are different variations of shape, of concave, and you get your own cool design."
To build a board, Rigel and Orion use four sheets of baltic birch plywood, which they laminate with glue and put into a press. The press seals the wood together and bends the longboard into the desired concave, which is the upward curve in the board. They then mold the board into whatever shape the buyer desires.
"We can do W-concave, or U-concave, or we can add gamber, which is just the tails or the kick-flips on the sides," Orion said.
Then, after waiting 24 hours, they transport the pressed board to their dad's machine shop in Moses Lake. There, they use a CNC Milling Machine, a type of automatic drill used to cut the longboard's shape based on a design drawn in a computer program.
"If you wanted an octopus-shaped longboard, we could do that," Rigel said.
After the board has been pressed and cut, Rigel and Orion sand it down, paint the customer's design of choice, and add six coats of finish.
With a smooth and shining finish, the board looks like something that just came out of the oven, Rigel said.
Once the platform of the longboard is finished, all that remains to be added are wheel trucks and grip tape, the material that covers the wood for increased traction. Finally, the longboard is ready to be handed over to the customer.
The longboard craftsmen complete the process, from pieces of plywood to painted and customer-ready boards, in 26-28 working hours. Twenty-four of the hours are spent waiting for the glue to set in the press. Orion's favorite step of the process is testing the product, he said.
Both brothers are avid longboard riders, and can be seen around Whitworth's campus doing a variety of tricks. They can make their boards turn 180 degrees while standing still, turn their bodies 360 degrees while riding in a straight line, slide with their boards and dance while riding, Orion said.
When they are not learning new stunts, the Kellers enjoy simply cruising around campus.
"It's always fun to ride them," Rigel said. "You're kind of gliding over the asphalt and cement."
For Orion, every opportunity to ride his longboard is one worth taking.
"From Mac to Weyerhaeuser, I longboard," Orion said. "I haven't sustained any major injuries, I have no reason to stop longboarding. I'll probably be doing this for a long time."
As for their business, the duo has aspirations for improvement. Rather than paint the boards themselves, the Kellers may hire an artistic friend to paint board designs for them.
They also might pursue making more complex bamboo boards, or may expand their longboard-making enterprise beyond their dorm room.
"That would be my dream life, to have that business," Orion said.
Contact Weston Whitener at wwhitener17@my.whitworth.edu