by Courtney Murphy
"Let the wild rumpus begin!" freshman Annika Bratton said while playing the character, Max. Directed by junior Kacey Cockerill, the Frosh On Stage production of "Where the Wild Things Are" gathered a large crowd on Stage II of Cowles Auditorium.
The play, which is based on a familiar children's book, follows the story of Max, a rambunctious little boy, as he is sent to his room without dinner and travels in his imagination to a land full of Wild Things.
Although the Wild Things crown him as king, he soon realizes he would rather be where someone loves him best, and travels back home.
Frosh On Stage was a positive experience for the cast members.
"I liked being able to meet new people," freshman Melissa Johnson said. Johnson, who played a giraffe-inspired Wild Thing, is no stranger to the stage. She has been in countless shows through community theater, junior high, high school and church, and loves musicals best, Johnson said.
"It's a live experience instead of just watching something," Johnson said regarding her love of theater.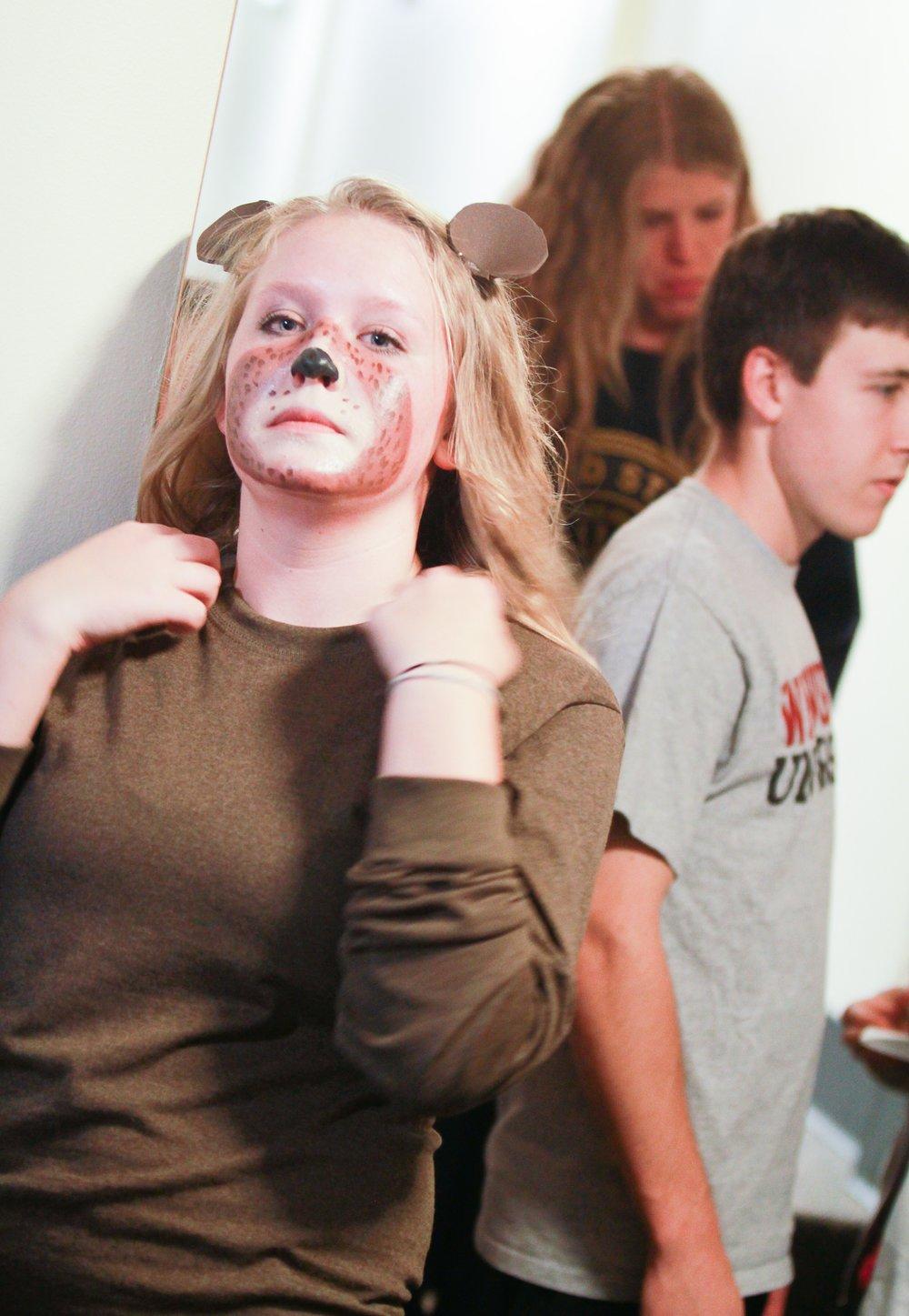 Freshman Kayla Bajema, who portrayed a cat-inspired Wild Thing, has also had much theater experience. Her favorite role to date was the lead in White Christmas, Judy Haynes.
"I loved it," Bajema said.
"My favorite parts [of theater] are the dancing and choreography and all the costumes that go with it," Bajema said, "and I like learning new dances."
Stage II is small, but the actors made the story come alive with creative choreography and costuming, each playing roles such as the ocean and narrator in addition to their castings as wild things.
"It was weird having the audience so close and not looking at them and acting like a wild animal," Bajema said.
"Sometimes it was hard to figure character things out, and giraffes don't make many noises, so it was hard to figure out an alternative to that," Johnson said.
Despite these challenges, the actors enjoyed their roles and felt that their director Cockerill "cast [them] very well," Bajema said.
"It was cool seeing our characters transform throughout the rehearsals, and we all sort of became our characters in real life," Johnson said. Where the Wild Things Are was Cockerill's first production as director.
Before the main show, students from Acting I and Performance Theory classes performed two short sketches titled Variations on a Snowball and One Scene, Two Stories: Catch and Release and Crack the Safe.
"It's important to give freshmen opportunities on stage," freshman Emily Wilson said in response to the event. Audience members such as Wilson and others harbored positive reviews of the show, commenting on its appealing minimalist nature and compelling choreography.
Other audience members were impressed with the show.
"It was crazy that they were able to do a show that in just a month of practice," freshman Rachel Henson said.
The actors also had similar thoughts about the show, noting that it is often hard for freshmen to get into big shows, Bajema said. Frosh on Stage is good exposure for them to enter into college-level theater.
"I wasn't planning on doing theater, but because of this opportunity I'm planning on continuing," Johnson said. The actors would like to thank everyone who attended "Where the Wild Things Are."