by Alyssa Saari
Fall is in the air—the aroma of freshly baked apples fills the parking lot and dry grass crunches underfoot as crowds of people make their way to the festivities at Green Bluff Harvest House.
"It seemed like a cool thing to do on such a beautiful Saturday," freshman Connor Nason said. Nason heard about the Harvest Festival from a few Warren residents, decided to tell a few friends and make an adventure out of it.
"What I liked the most was the adventure of doing everything," Nason said. The Harvest Festival had a lot to offer: the "Get Lost" corn maze, bounce houses, various food stands representing almost every sort of cuisine (Italian, BBQ, gourmet grilled cheese, pizza), little boutiques, the Harvest country store and kitchen, games, a hayride and the "Pumpkin Land" pumpkin patch.
With every pumpkin patch, there's a pumpkin princess. Hayden Roberts from Mount Spokane High School is this season's pumpkin princess.
"I make the pumpkins, so they made me the pumpkin princess," Roberts said when children asked how she became a princess.
"It's awesome. Anything you could think a Disney Princess would do, I do! I love the look on all the little girls' faces and how they come sprinting when they see me," Roberts said, explaining her princess duties and what she loves most about her part-time crown.
"The pumpkin patch is one of my favorite things at Green Bluff, especially when they bring out the pumpkin cannon," said sophomore Meghan McMichael, a current Whitworth student. She explained how they shoot pumpkins from a cannon to try to hit various targets. "It's funny because they never actually hit anything!"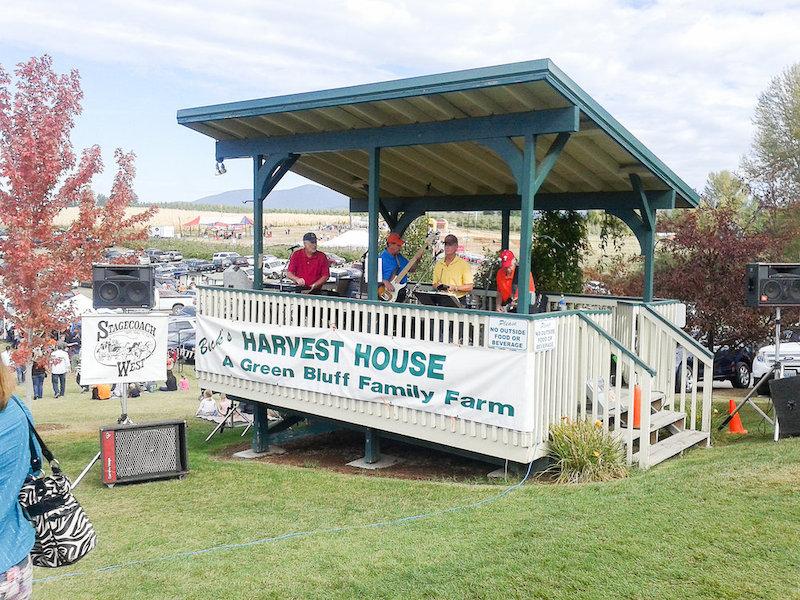 McMichael found out about Green Bluff two years ago from friends who were originally from Spokane. She has come back every year since and this year, as an RA for East 2nd West, decided that the Harvest Festival made a perfect hall outing event and brought all the girls with her.
"Everyone's just having a good time," McMichael said as she waited in line for the Harvest House's famous pumpkin donuts and homemade apple cider. The pumpkin donuts are famous and a secret Beck family recipe.
"The pumpkin donuts were really good," Nason said. His friends had bought a few and shared one with him. "If I had cash on me, I definitely would have bought one for myself."
The Beck family has owned the Green Bluff Harvest House since 1983. Gordon Beck, with a long line of farming in his blood dating back to the 1920s, left the family farm to pursue a career in construction. He soon couldn't resist the desire to farm and found Green Bluff, making it into what it is today. The orchard is a family-run farm and business. Beck's son, Todd, lives on the property with his wife and kids and helps to run the orchard. Todd and his wife will eventually take over the family business and pass it down through the next generation of Becks.
The Harvest Festival will continue every weekend up until the last weekend of October. For more information, go to www.greenblufffarms.com