by Meghan Foulk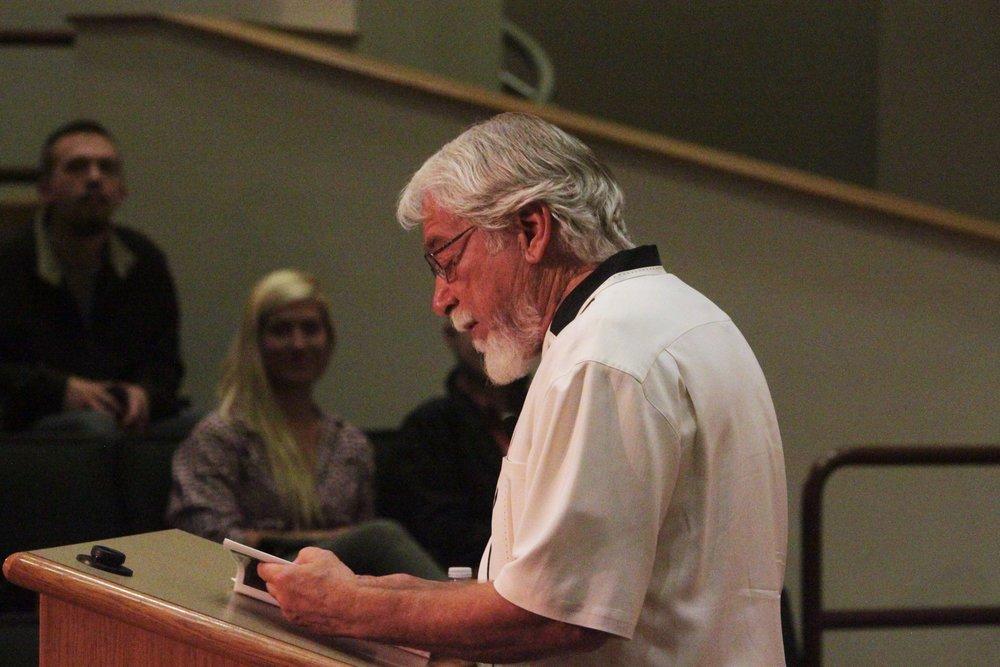 The audience listened with rapt attention as poetry filled the hall. The poet had each member hanging on for the next phrase, filling the space with the flow of his stanzas, spinning imagery and narrative.
B.H. Fairchild is an accomplished poet, and has won many awards such as the Beatrice Hawley Award, the National Book Critics Circle Award and the Bobbitt National Prize for Poetry, according to his Poetry Foundation profile.
Fairchild's poetry reading was held on Tuesday, Sept. 29 in Weyerhaeuser Hall. The performance drew in faculty, students and other members of the Spokane community. Some students were required to attend for various classes, and many were excited to hear the writer's work.
"I had read a few B.H. Fairchild poems in high school and I really liked it," freshman Jordan Seiersen said. "It was interesting hearing his poems out loud rather than reading them."
The reading reinforced the importance of reading poems out loud. That was especially true for Fairchild's poems because they are from personal experience, which gives his stories a deeper meaning and makes them applicable to the population. They are quite beautiful, Seiersen said.
English professor Thomas Caraway introduced Fairchild to the audience. A long-time fan of the poet's work, Caraway loves how Fairchild brings in sound, metaphor, figurative language, as well as interesting narratives and characters, which makes him such a powerful writer, Caraway said.
"He's able to combine all of the elements that make poetry so important," Caraway said. "All these things kind of come together like at the end of a symphony where you've had all of these individual strings. You know, the choir part is good over here, and the strings are good over here, and the brass, every- thing, and with the end, the crescendo it all comes together. And that's what his poetry does for me."
Fairchild read the poems "Language, Nonsense, Desire," "The Limits of my Language: English 85B," "The Deposition," "Cigarettes," "What He Said, What She Said" and other pieces from his book "The Blue Buick."
Fairchild provided commentary on each poem before he read them to provide insight into his personal experiences. He explained the inspirations for each piece, ranging from a high school Spanish video to his days working as a young adult in his hometown.
Fairchild spoke of his days before poetry, and his revelation that days of "work, eat, sleep" were aimless. He wanted a purpose, which he found in literature, because there is always a point and a promise. Poetry fulfilled that purpose, and the influences of growing up in a blue-collar American society is evident, Fairchild said.
His work explores the area where he was born and the empty landscapes that accompany it, along with the lives of the working residents. Many times his poems include his own family and friends, according to his Poetry Foundation profile.
The audience didn't stay silent throughout the performance. Many times the silence was broken by laughter, usually caused by Fairchild's humorous anecdotes. Students often take too many literary classes, and could not accept a poem for what it was an enjoy it, Fairchild said.
The friendly atmosphere brought many poetry lovers and new enthusiasts together.
Contact Meghan Foulk at meghanfoulk19@my.whitworth.edu