Alyssa Brooks
Assistant A&C Editor
Artwork hangs against white walls with spotlights shining in the basement gallery of Lied Center for the Visual Arts. Not just any artwork, but student artwork done by Whitworth art majors.
Junior art exhibits began March 10 with the opening of junior art major Ashton Skinner's exhibit "Paperspectives," featuring eight pieces of art created by employing the medium of cut paper. Four more exhibits will be happening throughout the semester.
"It's sort of a sense of accomplishment to take the work that you're proud of and put it on a wall," said Lance Sinnema, gallery director and art lecturer. "It's where you show off what you know and what you do."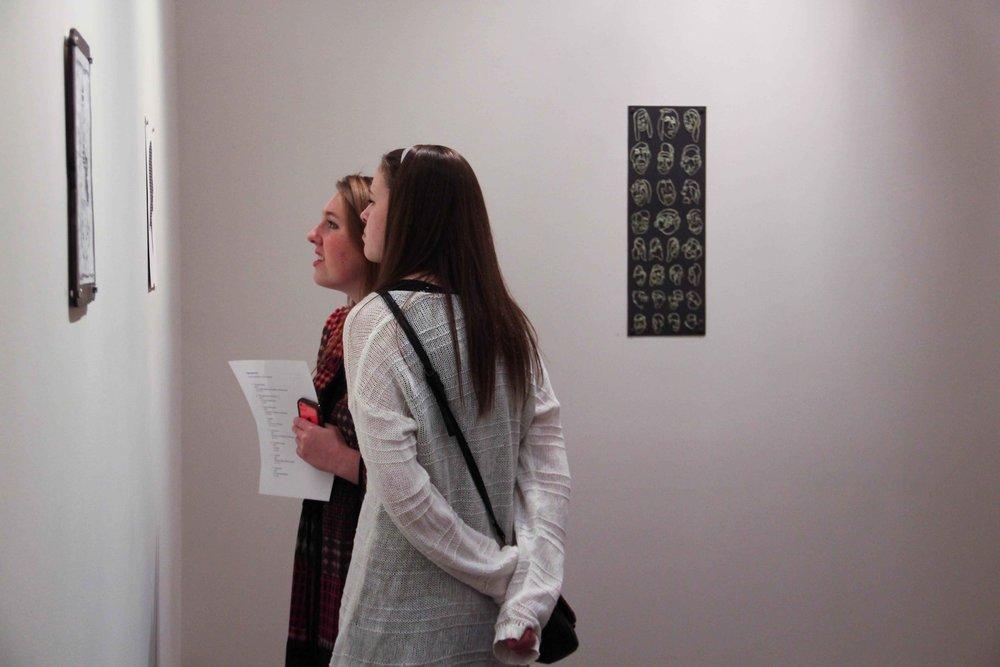 Sinnema teaches the one credit junior art exhibition class that all art majors are required to take in the spring of their junior year.
On a practical level, the junior art exhibitions are meant to help students gain experience in putting on an exhibition and displaying their work in preparation for the senior exhibition, Sinnema said.
"They have a faculty member come in and critique the work, and they have a write up of that," Sinnema said. "It's a very helpful stepping stone to what happens in senior exhibition."
Student artists have goals for their exhibitions outside of those specified by the department.
"For now, I just want people to see my work and start getting my name recognized a little more," junior art major Jessica Banzet said. "I don't think that this is going to do much for people starting to recognize my name, but it can go on art resumes, and that looks good."
Banzet and fellow student, Jasmine Pallwitz, host the second exhibition from March 17 to 21 titled "The Infinitesimal and The Enchanting," featuring a collection of eight pieces highlighting macro photography, focusing on small subjects zoomed in for a closer focus. Some of the pieces will specifically feature beauty in nature, Banzet said.
Exhibits highlight the artist's forte and feature work completed in Whitworth classes as well as work done outside of class, Skinner said.
"My theme is kind of tied to the medium which is cut paper," Skinner said. "It's something I didn't have time for in my drawing and painting classes, but I really wanted to do more of, because I think it's really fun."
An artist's medium is the object they use to create art such as paint, pencil, photography or paper, and the medium of an artwork can determine much about the piece.
"I think there's something about it that's more tactile to me than drawing or painting, because you really do have to engage with the material in a different way," Skinner said. "You're changing the material. You're not just adding to it. It is subtractive in nature whereas drawing and painting are additive, so that's another thing that's really different. You have to plan a lot further ahead, because you can't fix your mistakes."
Students find inspiration for their artwork in a variety of ways.
"I think my sociology classes really help me to find more content, because they help me to know a little bit more of what's going on outside of our campus and to think more about voices that aren't always heard, and that's really important to me," Skinner said.
Skinner's medium of cut paper conveys stark contrasts through positive and negative spaces. Positive and negative spaces have to do with the space that the object of an artwork fills and the space around it. She hopes to satisfy viewers' culturally-embedded need for binaries whether that is categories such as man and woman or black and white, and then challenge that stigma through her concept, Skinner said.
Exhibitions facilitate time for student thought regarding their medium. They also allow students an opportunity to learn about the easy tasks as well as the difficulties of putting on a display. They have also brought up students' observations about the art department's presence on campus as a whole.
"The easy part is getting people excited to come, because I think there's a lack of student work shown in the art department besides our work for classes," Skinner said.
Banzet echoes Skinner's statement.
"Anytime I see artwork [on campus], I don't think that it's student work," Banzet said. "I'm not sure if I'm aware of any student art around campus. If it was student, I wish that they would say so."
Sinnema offered his thoughts on student's opinions of a lack of student art presence.
"If an art student is concerned that there's not enough display opportunity on campus then they should go and find out what's available," Sinnema said. "I mean that's what artists do. Artists go and they find out where they can display work."
He sees a potential for students with enough motivation to gain practical experience by taking initiative when it comes to displaying their work on campus.
"That's an excellent opportunity for them to find out how to display, who to talk to, because you're going to have to fill out a form, fill out a contract probably, what those sorts of things mean," Sinnema said. "That's the best way to get those life experiences, just go and do it."
Contact Alyssa Brooks at abrooks17@my.whitworth.edu