by Meghan Foulk
The coffee shop opened to students and faculty ready to share stanzas and dessert on Nov. 13 . Students shared their work, with topics ranging from grandfathers to Italian plums to small moments that would be otherwise forgotten.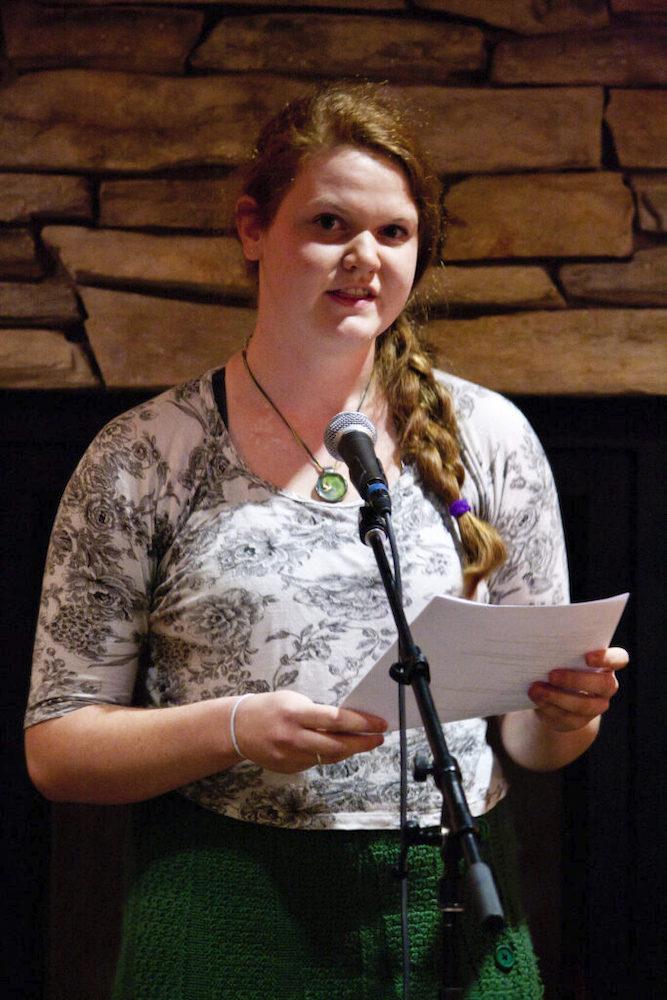 On Friday evening students gathered in the Mind and Hearth to share their thoughts and ideas through poetry. Along with poetry, the event hosted by English department club Westminster Round featured blueberry, apple and pumpkin pie.
Senior Hannah Cobb has attended Poetry and Pie three times prior to this year, and has always enjoyed hearing what peers and faculty read, she said.
This year, she read her poetry aloud for the rst time at the event.
"[Reading] was terrifying," Cobb said. I had never done this before…this is me kind of forcing myself out of my comfort zone a little bit to share it."
Cobb draws inspiration for her poems through moments she notices, she said. Poetry and Pie is a time for her not just to express her thoughts, but to hear everyone else's, she said.
"I just love hearing what everyone else is thinking," Cobb said. "I think poems are such an honest re ection of yourself and who you are and what's going on in your brain."
Some of the poets touched on serious subjects, but other works brought laughter to the coffee shop. One such poem by English professor Fred Johnson expressed a list of 10 situations a possum might find itself in, which had students chuckling all the way through.
The event also featured poet Cathy Bobb, wife of English professor Vic Bobb, who shared a handful of poems reflecting on tragedies in her life and on her family's struggles with mental illness.
Freshman Ainsley Detwiler attended the event, and liked Cathy Bobb's work for the background and depth that she put into her poetry, along with the eerie feeling Detwiler got after hearing some of the poems, Detwiler said. Cathy Bobb's work also features a favorite, titled "The Politics of Pie," where Cathy Bobb makes a pie for her family, but continuously eats it, making up excuses for each new helping.
Detwiler was also impressed by the unintimidating atmosphere the audience created.
"It was really relaxed…the people surrounding were very nonjudgmental, if anything they were really encouraging," Detwiler said. "It was all around very welcoming and cozy and supportive."
Contact Meghan Foulk at meghanfoulk19@my.whitworth.edu