by Meghan Foulk
Sex is an awkward topic. To avoid it, individuals come up with all sorts of filler words. Frick frack. The deed. Netflix and chill. When a topic becomes taboo, people become unwilling to speak about it and address the issues. That's what "Sex Signals," a sexual assault prevention program, seeks to break.
Founded in 2000, the Chicago-based program uses semi-improvisational tactics and laughter to open up the audience. The skits lead the students to ask questions about hard topics including gender stereotypes, coercion, consent and rape.
Anthony DiNicola, one of the two speakers, has worked with the program for five years. He and his partner, Hilary Williams, spoke highly of their company's tagline "fight fire with funny."
"[Our group] has an edge because we do use humor, and we don't shy away from using comedy, not to laugh at an issue, but to laugh sometimes at the absurdity of certain stereotypes; the absurdity of maybe even the media's coverage of certain issues, but the completely skirting of some of the real issues," DiNicola said.
Last Thursday, Sept. 25, the performance drew in a large audience in the HUB Multipurpose room, with overflow crowding around the back and into Lied square. The event was not short of laughter either, whether by DiNicola and Williams or the suggestions and questions of students.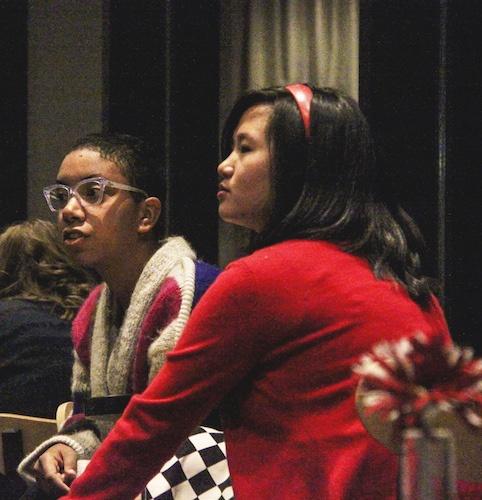 Skits throughout the night ranged from a 'douche bag' guy hitting on a nerdy girl, various scenes about being pressured by another individual or others involving audience engagement. Students were kept laughing while breaking down ingrained ideas about sex, intimacy and identity established through cultural norms.
With many pop culture references interwoven throughout the evening, the event felt more like an informal discussion rather than a serious lecture. Williams explained that they change parts of their script as the culture changes. This adds relevance to their material and keeps people engaged and interested.
"It's funny, [the performance] is based in comedy so that we can get people to talk about difficult issues," Williams said.
The discussion wasn't limited to learning about sex signals. Williams and DiNicola spoke on gender stereotypes that are prominent in our culture, redefining rape and the significance of knowing someone's preferred pronouns. They also spoke to the importance of defining terms like "cis-gender," which means one identifies as the gender you one is assigned at birth.
It's the small things that add up into being a problem, and one easy way to eliminate this problem is to kindly ask specific questions, DiNicola said during the performance.
"These are all the things that make us up as a person, it's not just simply that I identify as a man, that I have a penis, that doesn't define who I am, right?" DiNicola said. "I am defined just as much as my skin color, just as much as how I cut my hair, how I like to be funny, the Star Wars tattoo that I have on my arm, right?"
Ignorance is solved by taking the step to knowing more about the individual. It was also addressed that aspects such as appearance and sexuality do not define a person as a whole, DiNicola said.
"I am a collection of many, many, many different things, and sometimes using humor to sort of break down these barriers…is OK," DiNicola said.
Many students appreciated the discussion, such as juniors Emily Thorpe and Kaley Alness.
"It just something that doesn't get talked about here," Thorpe said. "I just think that it was really good for facilitating this type of discussion and for making people feel comfortable, and they were probably saying things that a lot of people were thinking but they really didn't know how to vocalize it."
The topics addressed in "Sex Signals" are often not seen as large or relevant issues on Christian campuses, but Alness agrees that topics such as sexual harassment, rape, gender and identity need to be addressed.
"[Sexual harassment] is not talked about, and it's overlooked so much, and there's so much victim blaming," Alness said.
Both women expressed the hope that those who attended the event would have a better understanding of the issues and stigmas surrounding rape and sexual harassment.
"Stop making assumptions." Williams said. "Start asking questions and start behaving like people."
Contact Meghan Foulk at meghanfoulk19@my.whitworth.edu