by Rachelle Robley
"This is your house, make us feel comfortable," Denice Frohman said. On Oct. 2 at 9:00 p.m., spoken word poets Denice Frohman and Dominique Christina of the duo Sister Outsider brought an energy of social change to the HUB MPR.
"There is a tension between the relativity of sisters and being an outsider. A sister is familiar, an outsider is not. We are at once, familiar and foreign," Christina said, in describing the meaning of their duo's name.
"Social issues will never be over-emphasized. We have to keep talking about it because these are real problems," senior Ashton Skinner, the cultural events coordinator, said. The first topic of the night was education reform. Sister Outsider performed their poem, "No Child Left Behind", a poem that combined both Frohman and Christina's written works about the Philadelphia and Denver education systems, respectively.
"I think the event was culturally important because it was a conversation about social issues. In class, these issues are often listed as facts," sophomore Krystiana Morales said.
The duo covered a variety of topics from the concept of home to misrepresentation of minorities and the LGBT community.
"You kill everything that's different, I preserve it," Frohman said, in her poem "Dear Straight People." The poem wasn't directed toward all straight people, but specifically toward straight people who go out of their way to make gay people feel uncomfortable.
"It's important for people to learn about opinions of others and know that not everyone has the same views, but that's okay," freshman Nick Fuller said.
Students cheered in agreement, but were also quiet during poems. There seemed to be a mutual understanding that what was being said was important, and that their words needed to be heard and understood.
"I tried it out, but I still felt like there was something missing. I was worried I was broken because I didn't like boys," Frohman said prior to performing her poem about her first kiss with a woman. The duo's poetic real talk allowed students to feel a sense of comfort in not always having all aspects of life figured out.
"People are struggling with identity issues thinking, 'Who am I? How do I be true to that?' They need people validating their questions, people who have celebrated that journey," Skinner said.
"Here is a poem, and I hope you feel disrupted by it," Frohman said, prior to reciting a Muhammad Ali poem about the importance of having the courage to speak up.
Both Frohman and Christina were very open about their awareness to discomfort within the audience.
"Challenges to make the audience feel uncomfortable help you grow," Frohman said. Considering the first poem was about education reform and the last about bloody vaginas, the duo evidently planned for a transition into intense topics.
In Christina's "Summer of Violence" poem, she speaks about the emotional impact she experienced as a college student when she attended the funerals of four friends whom she lost to gang violence.
"It's good for Whitworth to open our eyes because there really is a Pinecone Curtain and we can get too comfortable behind it. But this event made us uncomfortable in a great way," sophomore Alysia Morales said. The duo was aware of the effect they were having on the audience and the growing discomfort they were creating.
"They were conversational, but not confrontational," sophomore Kaley Alness said. Students may have felt this way during Christina's last poem, "The Period Poem," in which she speaks openly about the pride a woman should have in having her period and why men should be more accepting of that.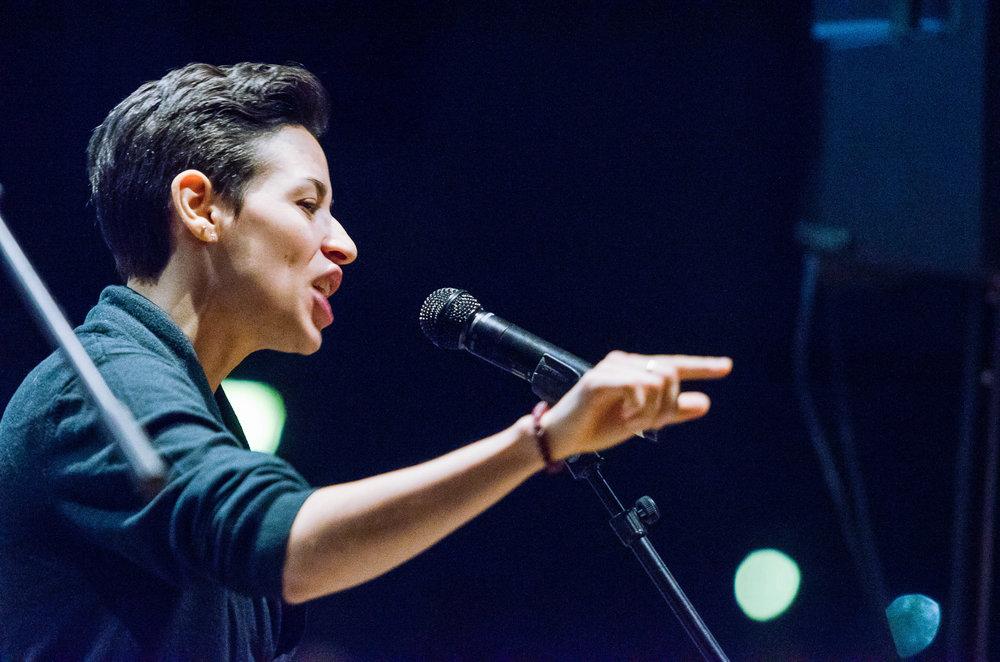 The next cultural event will be the Liberty of North Korea, or LiNK, event on Oct. 29 from 6:30 to 9:30 p.m.. There will be a film screening and discussion about the organization's mission and how people can get involved with bringing freedom to North Korea. On Nov. 21 at 7:00 p.m. in the HUB MPR, International Festival will take place. Sodexo will serve a variety of foods from different countries and international students will share poems, songs and fashion native to their countries. For more information about cultural events, contact Skinner at askinner15@my.whitworth.edu.