by Melissa Voss
"The Devil is in the Details" art showcase in the Lied Center for the Visual Arts houses a rotating gallery that changes twice a semester. Along with the galleries, the art department occasionally hosts classes to coincide with the featured art.
In a workshop on Saturday, Oct. 10, students had the opportunity to work with Massachusetts-based artist, Joetta Maue, to create unique textile art.
"We are working autobiographically with stitches," Maue said. "Working from ourselves."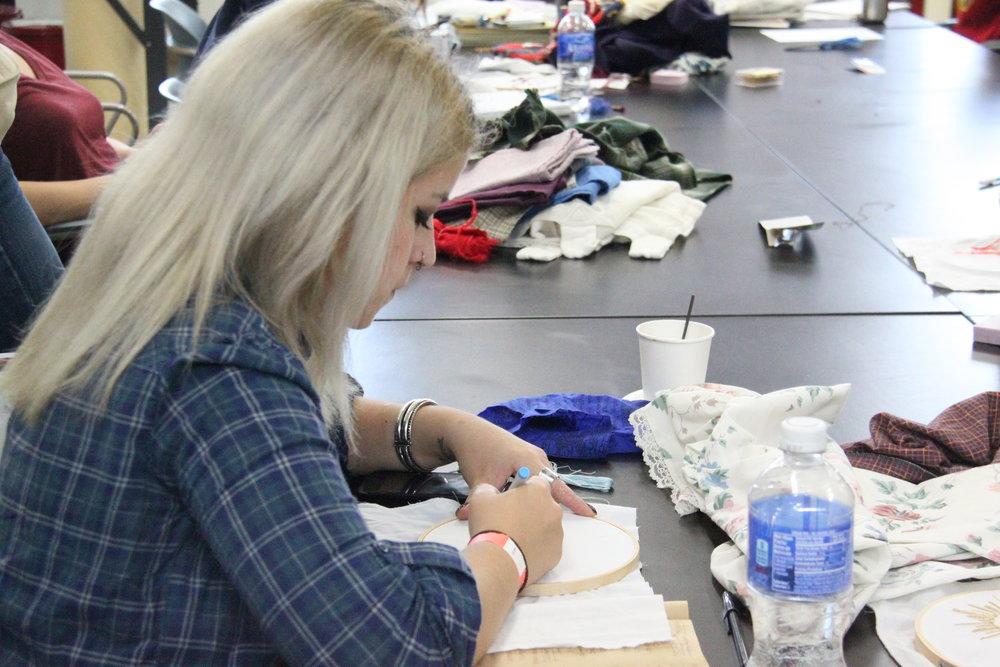 The workshop taught students stitching techniques in order to create their fiber-based projects.
Textiles and fabrics, which some students brought or were provided in the workshop, served as their canvas upon which to create their projects.
They used embroidery thread, water soluble markers and even buttons to create their vision on the textiles.
"I discovered that stitching and textile art is cool and easy," junior Annette Peppel said. "You can do it anywhere, even in a dorm room."
Working with textiles and embroidery, or "drawing with thread," as the artist called it , was a new experience for some students.
"It is peaceful and therapeutic," senior Olivia Newman said. "Very calming." Newman worked to create a piece reflecting on the experience of relationships, and the struggles that go along with them.
"Embroidery and textile is a cool way to create," senior Kolina Chitta said.
Students were encouraged to find inspiration through meaningful words or concepts for their projects, each finding a vision that was unique to them.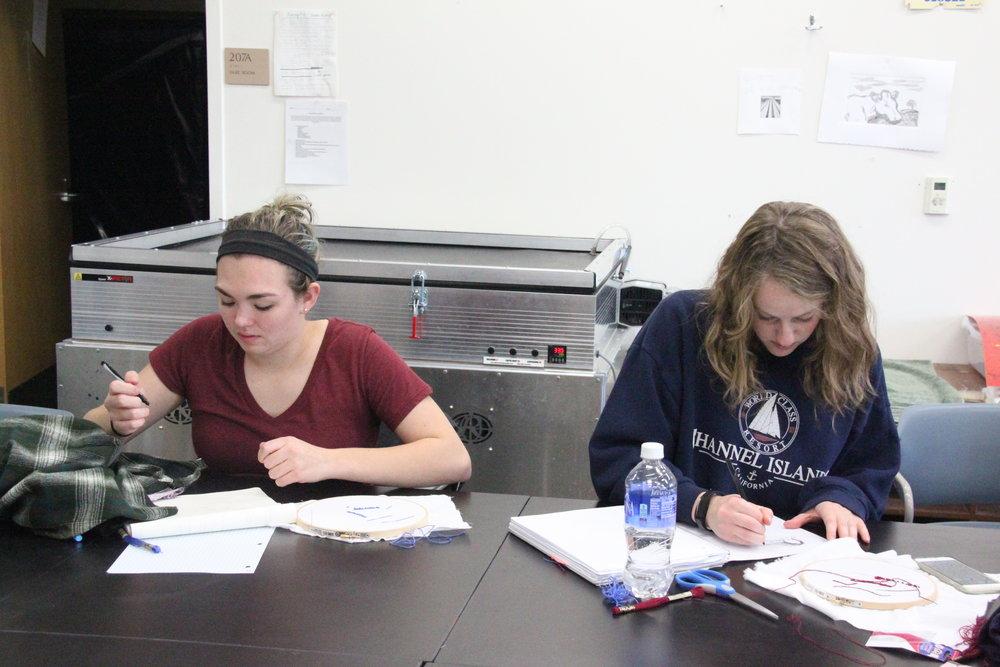 They spent time brainstorming and mapping out these words as well as how the colors, images and senses associated with them, may be interpreted into their art.
"We are pulling from our own experiences," Peppel said.
Peppel's project, a skirt, was inspired by the loss and mess of high school relationships and friendships, and the feelings that go along with it.
Each student that participated in the workshop chose to tell his or her story differently.
Junior Annika Stough's project was a clock with gears in it to represent the chaos of experiencing anxiety.
"I'm trying to make the concept of anxiety with a physical representation" Stough said.
"I am working off the theme of 'Where is Home', which is a big question for people, especially in college," Chitta said.
The goal of the workshop, as well as for the art exhibit in the gallery, was influenced by the grant that helped to fund it.
"The theme of the grant was 'Making as Knowledge'," Art professor Katie Creyts said, "We wanted to make an exhibit where handicraft played a role with contemporary materials."
Maue taught students unique ways to create, and encouraged them to work from within themselves.
"Your intuition is a really powerful thing," Maue said.
Students in the workshop were exposed to new art forms and concepts that are not the most common ways to create. The workshop as a whole supplied students with the opportunity, skill and mindset to create their personalized projects and communicate their own message through them.
"The goal of an artist is to communicate," Maue said.
This is the goal that she taught students to embrace in their art.
"As an artist, I celebrate, question, and reveal beauty in the sloppiness of our lives," Maue said in her artist statement in the art gallery.
"The Devil is in the Details" art gallery will be on display in the Lied Center for the Visual Arts until Oct. 30.
Contact Melissa Voss at mvoss19@my.whitworth.edu