by Melissa Voss
Students lounged outside of the Harriet Cheney Cowles library for an event combining free ice cream and jazz music on Thursday, Sept 24.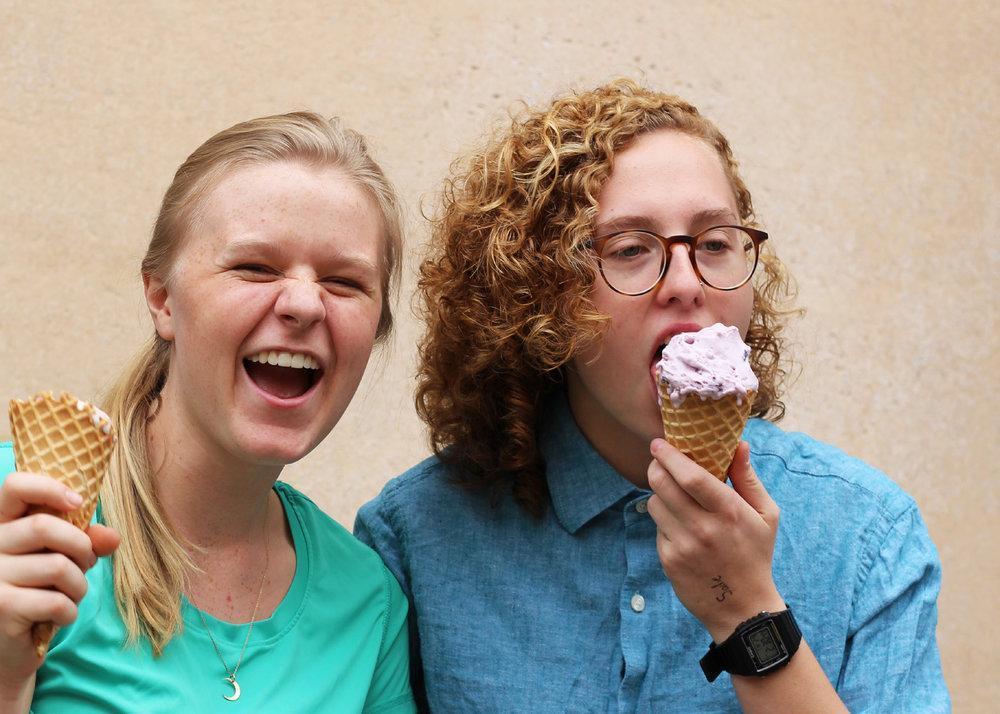 "Jazz music is essentially perfect and ice cream is essentially perfect, so they go really well together," freshman Jesse Denton said.
Ice cream and Jazz is an event that the library puts on every year in order to familiarize students with the library.
"It's always really appreciated. People vote with their feet and this is clearly very popular," said Amanda Clark, director of the library, about the extensive student turnout.
Many students came throughout the afternoon to sample the delicious offerings. The flavors of ice cream ranged from chocolate to huckleberry to mint chocolate chip which offered students many options for their sweet indulgence.
Sophomores Shari Scott and Kim Cook stopped by the event to take a break from studying.
"I told her there is ice cream, and we are going to go," Scott said.
Clark said that the event is something that she "inherited" when she took over the position a few years ago. She hopes that students are able to experience an "atmosphere of welcome and study" when they come to the library.
Over the past few years, the library has undergone many changes to make it a more comfortable and conducive space for students to study and hang out. A white board wall, more dedicated quiet zones and study rooms, comfortable furniture and a fireplace are among the new additions, Clark.
"I love that people can come and meet and casually enjoy ice cream and jazz; it's a really sweet way to relax," freshman Alana Fujimoto said.
Students appreciated the environment that the event provided.
"It has a really classy and relaxed feeling," freshman Maddie Gregory said.
As an opportunity to advertise for available and helpful library resources, the event seemed to be successful.
Not only was there a great turnout of students, but for some it was their first time experiencing the library.
"It worked, because this is the closest I've been to the library," Denton said.
Students enjoyed the music as well. The jazz helped to create a relaxed and fun atmosphere for students to chat and enjoy their ice cream with friends while also being able to appreciate the musical talent of their fellow students.
"The jazz is one of the best parts, our student musicians are phenomenal," Clark said.
Ultimately, the event was a successful and fun way to kick off the beginning of the year, say goodbye to summer and celebrate all that the library has to offer, agreed students and library staff.
Contact Melissa Voss at mvoss19@my.whitworth.edu